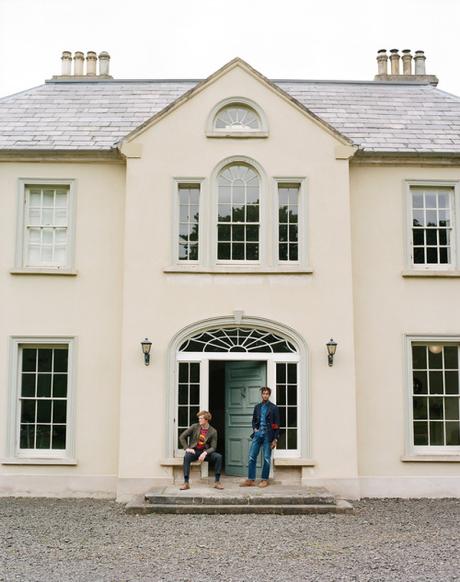 In academia, and particularly social science, research methods have become more rigorous, but the field has produced fewer big thinkers. Take David Ricardo, for instance, the British political economist who transformed the world at age 37 after reading Adam Smith's Wealth of Nations. Having already made a fortune as a stockbroker and loan broker, Richardo published his first political economy paper on the "bullion controversy" in 1809. He posited that the Bank of England's propensity to issue excess banknotes was causing inflation, an early theory in what is today known as monetarism. A few years later, in his "Essay on the Influence of a Low Price of Corn on the Profits of Stock," he articulated the law of diminishing marginal returns.
His most significant contribution, however, came when he studied Britain's protectionist Corn Laws. Using the simple, yet profound example of how Britain could trade cloth for Portuguese wine, he formulated the idea of comparative advantage — the basis for much of free trade thinking today. Like other great political economy theorists before him, such as Adam Smith and Karl Marx, Ricardo had the uncanny ability to arrive at complex conclusions without the mathematical tools deemed essential in today's academic research. In his book Price Theory, David Friedman wrote of the man: "The modern economist reading Ricardo's Principles feels rather as a member of one of the Mount Everest expeditions would feel if, arriving at the top of the mountain, he encountered a hiker clad in T-shirt and tennis shoes."
Ricardo's examples, however, were not arbitrary. Portugal at the time was renowned for its sweet port wine, and Britain excelled at producing woolens, linens, cottons, silks, and all things textile related. In the Scottish Border towns, tweeds and cashmere were woven and knitted from local and native wools. Further south, Manchester's steam-driven textile mills produced almost a third of the world's cotton, thus giving the city its nickname, Cottonpolis. Spitalfields, similarly, was known for its exquisite and lustrous silk. French Protestant refugees (Huguenots) in the 17th century established the silk trade in this East London district after fleeing from religious persecution. The tradition was later taken up by Irish immigrants who arrived with little more than their weaving skills. It was a simple example involving Britain's textile industries that helped to set up the following 200+ years of economic theory.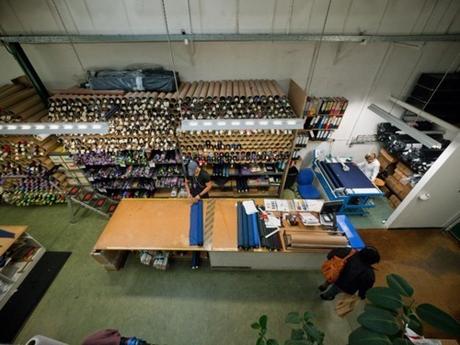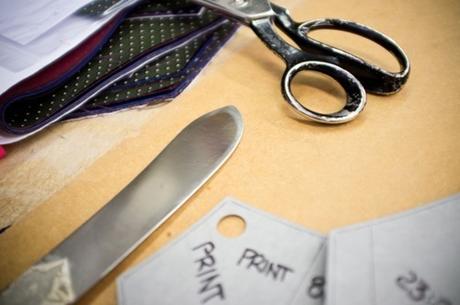 Today, only a shell of those industries remain. As British manufacturing has given way to knowledge-intensive services, production has moved overseas to take advantage of lower-cost labor (comparative advantage rears its head again). Most British textile mills and clothing factories have long-shuttered, but the ones that remain often employ creative strategies to survive in today's globalized economy. Drake's, for example, has transformed from a private-label wholesale manufacturer into a full-fledged clothing brand. They also started in East London in 1977, just a stone's throw away from the city's silk weaving roots in Spitalfields. And when legendary Macclesfield silk printer David Evans shuttered in 2002, part of their archive went to Drake's, where the designs live on.

Fifteen years ago, few people would have heard of Drake's. The British tiemaker's name occasionally showed up on co-branded neckwear labels, such as the ones you might find at Barney's, Bergdorf Goodman, and Isetan in Japan. But for the most part, the company relied on their hush-hush, private label wholesale business. They supplied both high fashion boutiques and conservative tailoring houses with what they described as men's "Scarves, Shawls, and Plaids." To this day, you can still tell when a vintage tie, pocket square, or scarf originated at Drake's. If the tiny black label has the initials MD, which stands for the company founder Michael Drake, the item was either designed or manufactured at this busy London factory.
Like other European factories, such as Private White VC, Bresciani, and Simonnot Godard, Drake's has had to be less shy about manufacturing things under their name. Today, they leverage their manufacturing know-how, design things with their vision, and sell goods with their label. The model has proven successful. Their lookbooks have become much-anticipated drops among menswear enthusiasts. The company has stores in London, New York City, Tokyo, Paris, and Seoul. Later this month, they'll also be moving their Clifford Street flagship to No. 9 Savile Row, right next to military tailors Dege & Skinner. For decades, Drake's supplied many of the Golden Mile's bespoke tailoring houses with their ready-made accessories. But soon, they'll be selling alongside them as a Savile Row clothier.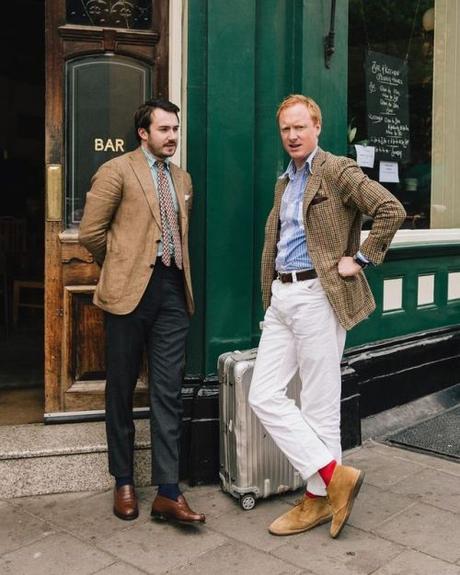 "The new shop is no more than 100 meters from our old location, but it's four times the size," says Michael Hill, Drake's Creative Director. "Now that there's a bit more in our collection, the new store will allow us to showcase our whole line. We've been busy buying furnishings and getting custom cabinets made from Austrian larch timber. The store is long and narrow and has a skylight at the back. I keep joking that we're going to put a forest in there, but it will be very lush and green. Fingers crossed, it should be open by the end of this month, along with a new website. "
Last week, they released their latest fall/ winter lookbook, which features photos of their expanding casualwear line. Forty years ago, founder Michael Drake made a name for himself by wearing English flannel trousers with soft Italian sport coats, American button-down collars, and purple wool socks before these things became internet memes. Drake's new casualwear collection expands on that same playful ethos. "We try to make beautiful clothes that are very thoughtful and considered," Michael explains. "At the same time, we try not to take ourselves too seriously. We like things that are colorful, joyful, and fun."

Drake's has not only helped keep British manufacturing alive, but also classic men's style relevant. Like how many men my age were first introduced to oxford button-downs and tweed jackets not at Brooks Brothers, but Ralph Lauren, I suspect Drake's is doing the same for a younger generation, but without the aspirational appeals to gentility. Drake's has a knack for making classic style feel approachable, not old or fusty, which is crucial if we want such things to survive.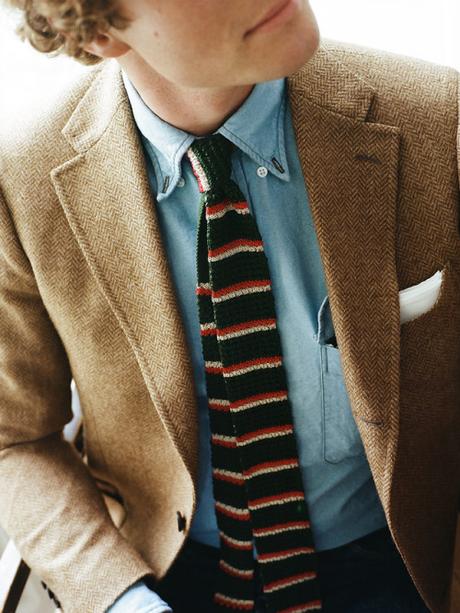 This season's lookbook, shot in Northern Ireland, at a country house an hour outside of Belfast, exhibits that same playful sensibility. There's the usual run of beautifully made accessories and tailoring, along with more casual items such as Aran knits, Casentino sportswear, and five-pocket cords. Most seasonal collections this time of year feel dour and brooding, perhaps to match the cool-weather conditions. John Keats' 1819 poem "To Autumn" is characterized by intense, painful feelings of melancholic reflection, just as William Butler Yeats' "The Wild Swans at Coole" compares the maturing season to one's aging self ("Delight men's eyes when I awake some day/ To find [the swans] have flown away?" he wrote).

Drake's lookbook, on the other hand, is much more upbeat and celebratory. The cheerful, smiling models are shown wearing everything from washable cotton suits to madras-red parkas. The lookbook moves more in tempo with autumn's lush abundance, rather than the winter's dreary decay. "This kind of presentation just feels very natural to us because it's who we are. Everyone is friends with each other, and we wanted to have fun with it," Michael says of the lookbook presentation. "If we did anything else, it would feel too serious and austere." I sat down with Michael last week to talk about the new collection, as well as some style lessons readers can glean from the photos.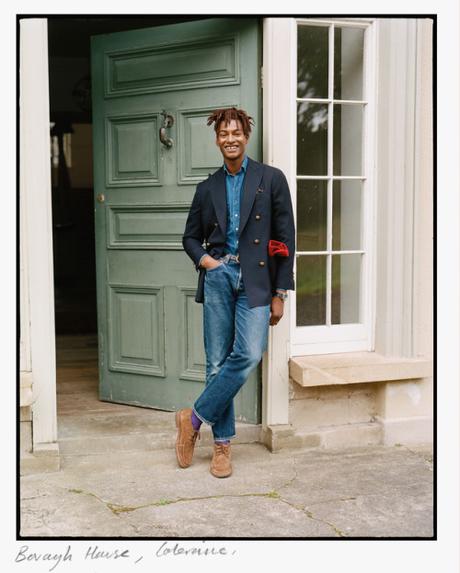 SPORT COATS WITH JEANS
Over the years, my position on how to wear sport coats with jeans has softened a bit. I still find that men all too often rely on this combination because they think it helps dress down tailoring. But, more often than not, the combo looks like a mullet — all dressy up top, too casual down bottom.
The key to making these outfits work is in the cut of the clothes. Drake's slim-straight-legged jeans, which have been recently redesigned, are a little higher in the rise and fuller in the thigh without looking like middle-aged dad-coverings. At the same time, their sport coats are a little sportier, softer, and more casual. "I wear all our sport coats with denim, but tweed is the easiest," says Michael. "I suppose there are two types of tweed — those with a spongey hand and others that are more tightly woven. Either would work with jeans, but a Shetland is a little looser set and more rugged, which makes it a particularly good pairing." 
Double-breasted sport coats can be scary enough, but tack on gleaming brass buttons and many men become afraid of looking like they're in costume. The one above from Drake's, however, is made with a slightly shorter silhouette, which makes it look a little more modern. "We commissioned custom buttons through this old Birmingham button maker," Michael says of the brass button design, which are casted with Drake's original crest. "With denim, it's the high-low thing we like. You can put that with a flannel shirt and jeans, or with a dress shirt and some trousers. I struggle to think what a navy DB blazer can't be worn with."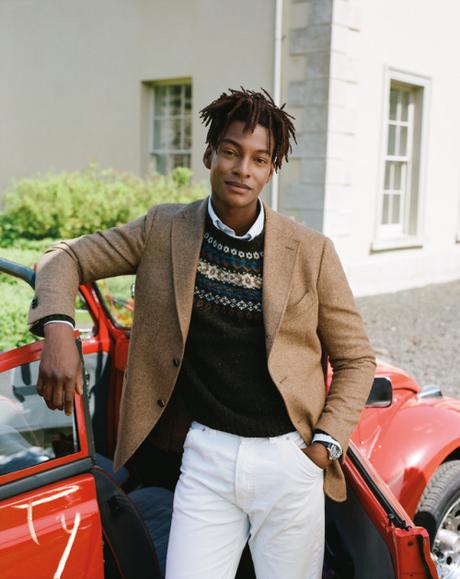 FIVE-POCKET CORDS
If denim with sport coats don't appeal to you, consider five-pocket cords, which sit in the middle in terms of formality. Drake's cords are made from a deadstock Japanese selvedge cloth and sewn at the same north England factory that produces their jeans. The selvedge cords have that bit of vintage sensibility that repro-workwear aficionados geek over, but are meant for a dressier crowd. "If you're headed somewhere where you think denim might be inappropriate, five-pocket cords are the perfect solution," Michael recommends. "Tailored cords can be incredibly handsome with a tailored jacket, but they're just a bit more formal. When your trousers are a little easier in their sensibility, it just helps dress down a sport coat that much more."
I like five-pocket cords most in rust brown, but the lookbook features them in a surprising shade of white. "People think that white trousers are difficult, but if you put them in five-pocket cords, the color can be very versatile," says Michael. "You may think it's only for spring/ summer, but on dry autumn days, I think they can be quite neutral. I would team them with everything from navy sport coats to tweeds, seed stitch jumpers to blanket-lined blousons."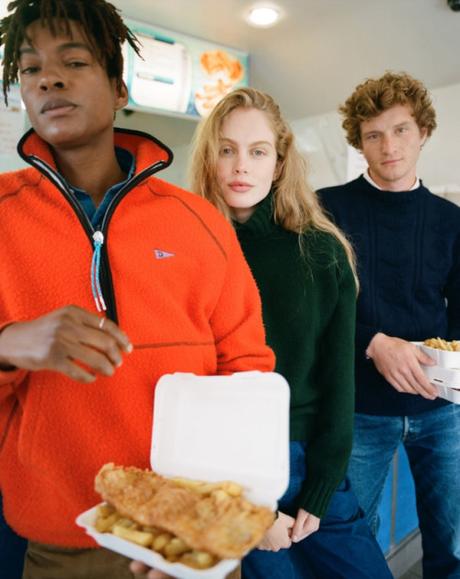 CASENTINO REMIXED

Men love to obsess over the texture of clothes, perhaps because men's style is so limited in terms of color and patterns. When it comes to tailoring, few fabrics are as beautifully textured as Casentino wool, a material that comes from a Tuscan region of the same name. The effect comes from the little ringlets that fly off the fabric's surface. During the Middle Ages, when monks used the cloth for robes, the texture was achieved by beating a fresh length of wool with a wooden stick (today it's done with machines). The process makes the wool both warmer and more durable, which is why Florentine men later used it for their double-breasted overcoats, often in bright orange. 
Sometime last year, Michael was looking over some freshly delivered Casentino swatches with a colleague. That morning, he had arrived at his London office in a navy Boston Running Club track jacket, which he's owned for ages. The process of looking over those swatches above his three-quarter zip gave him an idea. "I was like 'hold on a minute, should we try this for a laugh?'" he said of the new Casentino pullover. "I don't think we've ever been as excited about anything. As a piece of sportswear, it's a little outside of what we traditionally do. But it's also made from a fabric that has a bit of sartorial history. We think it's a fun jacket to wear out on a ski resort or in the morning when you're getting coffee."
I also love the raglan-sleeved Casentino overcoat this season. Wrapped around you with a chunky sweater underneath, it looks as though it would feel as reassuring as wearing a heavy blanket. "We tweaked the collar a bit on this season's overcoat, but it's similar to previous seasons' pattern." The sizeable reverse pleat at the back gives you movement, while the A-line silhouette adds shape without needing to cinch the waist. For fall/ winter, few things look as flattering as a roomy overcoat. This one is just textured.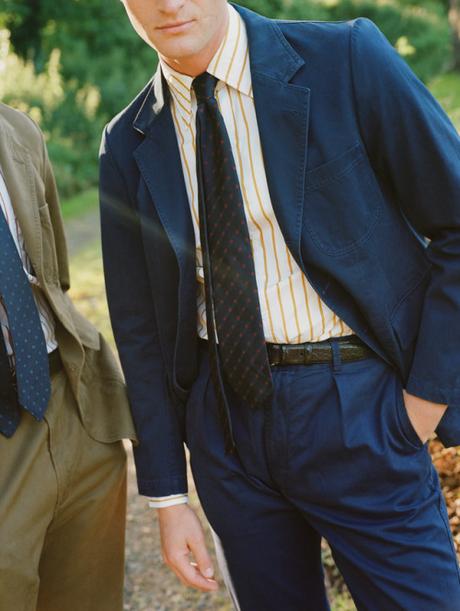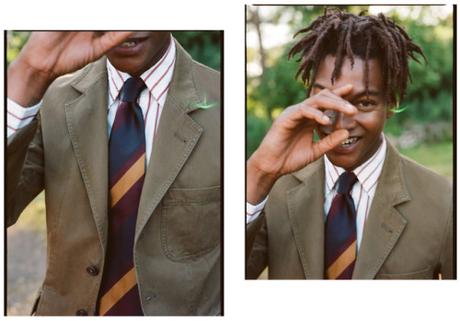 EARLY FALL, LATE WINTER
Dressing well for the second half of the year involves contending with the ridiculous weather pattern shifts that can happen from fall to winter. Autumn these days can be unseasonably warm, but things can turn on a dime at the onset of winter. When I think back to the legendary tailoring blog A Suitable Wardrobe, I suspect there was some wisdom in Will Bolhke saying that cotton suits are among his favorite garments for fall. More than just a spring/ summer piece, they're a shoulder season garment for people who live in temperate climates such as the Bay Area.
Drake's cotton suits this season, which come in dark blue and olive green, are machine washable. There's no haircloth, canvassing, wadding, or shoulder pads inside, which means you can pop them right into the laundry along with your shirts. "I've washed mine two or three times now," says Michael. "You can put them on a hanger afterward to drip dry. You may want to put a crease in the trousers, but I just fold mine over, so they form a loose crease." As fully unstructured jackets, these will wear more like casual outerwear than Drake's slightly more traditional cotton tailoring. 
For colder conditions, Drake's expedition parka is cut from a textured needlecord and then generously filled with down to create a pleasingly voluminous effect. "I used to love that old Eddie Bauer stuff as a kid," Michael says. "Down jackets today can look kind of technical. We wanted this one to be a bit more old school. We think of this color as Indian pink. It's like that red garment that has been out in the sun for too long, or something you've owned for many years and the color has washed out. We labbed it and found the perfect shade to create that look. It has a showerproof finish, sheepskin collar, brushed tattersall lining, and some hidden zips."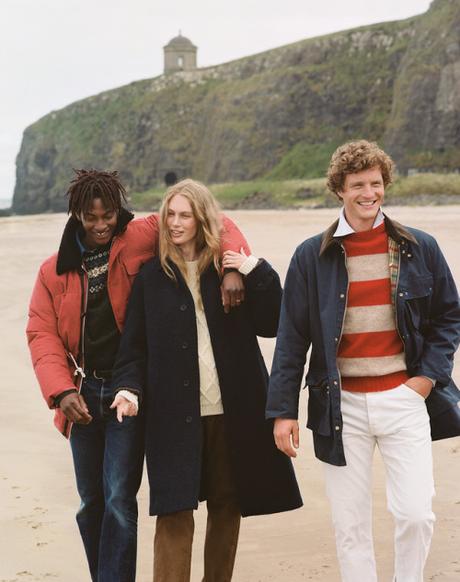 STILL TO COME

Drake's has some other things coming down the pipeline. As usual, some artist collaborations will show up in the form of pocket squares. They've also put together some exclusive looks for The Rake, which will include shirts, ties, and suits. But perhaps most exciting of all is the coming collaboration with Aimé Leon Dore, a leading streetwear brand based in New York City. 
"I think they could be the next Supreme," predicts Michael. "While we're very different companies, we have a mutual appreciation for each other and share many of the same values. That one will be a broader collection with caps, shirts, and a soft tailored jacket." This isn't Drake's first collaboration with a fashion brand – they did some knitted scarves with Comme des Garçons about 15 years ago. But it feels particularly well-suited for the times given the increasingly porous border between streetwear and traditional menswear. "We're a bit more sartorial, and they're a bit more casual, but I think that kind of collaboration is healthy." That refreshing sense of open-mindedness is one of the many things I love about this company. 
And for next fall? Michael says they have a teddy-bear-styled polo coat in the works, along with a beige-brown tweed Balmacaan coat. "The bal coat will have a strong and slightly hairy glen check," says Michael. As someone who's been looking for a tweed Balmacaan for a while, I can't wait.