Happy Friday to you! Today I'm sharing a few tips and ideas for putting together a long distance housewarming care package. My sister, Sarah, just wrapped up her PhD in Conservation Ecology at the University of Utah in Salt Lake City and accepted a post-doc position with the University of Tampa. So last week she packed everything she owned into her Toyota Rav-4, and road-tripped her way down to Tampa Bay. Talk about a big life moment!
I so wish I could have flown down to help her set up her new place, but between our trip abroad and our most recent jaunt to Alaska, it just wasn't in the stars for me, so I put together a care package of things to help her feel at home and sent it down to her.
My sister and I are very different creatures. She's a science nerd and I'm a design nut. And our differences in how we think and who we are is something I really appreciate about our relationship. Since our styles are quite polar, when pulling the care package together, I tried to keep her style in mind, and when in doubt, I stuck to universal home essentials that everyone might find useful–this way I couldn't go wrong!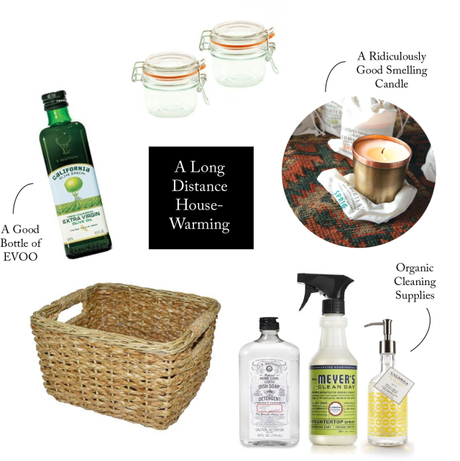 Here's what I included:
A Good Bottle of Olive Oil: I chose California Olive Ranch Extra Virgin Olive Oil, as you get a lot of bang for your buck with this one: a smooth subtle flavor with apple and subtle spice notes.
Specialty or Organic Cleaning Supplies: Since we don't always splurge on the good stuff for ourselves, it makes receiving them in a care package a bit more special. Try Caldrea Sea Salt Negroli Handsoap, JR Watkins Lavender Dishsoap, and Mrs. Meyers Lemon Verbena Countertop Spray.
Candles are a great way to make a new place feel like a home. Make sure to find out the general scent genre that your giftee is in to, i.e. floral, sweet, savory, etc. I chose Found Goods Small Batch Candles in Sprig.
Canisters: From storing dry goods to wrapping up leftovers, there are tons of uses for these little guys in the home. Try Anchor Hocking Canisters or Weck Jars.
Basket or Tote: I pulled everything together in a woven basket; a nod to Sarah's new coastal surroundings, the sea grass basket will keep everything in place on the UPS road trip down to her. Upon arrival it can be used for storing a variety of household items, and will hopefully help Dr. Sarah get organized. Target Threshold Basket.
Lastly, and maybe most importantly, don't forget a handwritten note expressing your congratulations on their new digs!
Though this care package was a long distance one, all the same guidelines apply for a housewarming closer to home. If you'll be delivering the care package in person, you might to consider including scones and jam or even a bottle of prosecco, something they can dive into while unpacking and settling in!