Mary, Fiona, Maxine & Noel in the London Walks office write… On Mondays & Fridays we'll be sharing reviews of our London Walks written by London Walkers. Firstly, THANKS to all who have written to us down through the years, your kind words are greatly appreciated! Our guides don't solicit these reviews on our tours – we believe that this would be a waste of your time. That's what makes these reviews all the more special – they have been sent to us by genuine London Walkers who have given up their valuable time to drop us a line or two, or leave a comment on travel message boards & websites. Thanks everyone.




Mary writes…
Thanks to Craig from North Carolina who joined us on three London Walks tours and left this lovely review on TripAdvisor…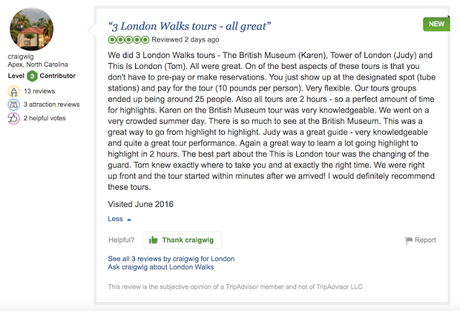 We did 3 London Walks tours - The British Museum (Karen), Tower of London (Judy) and This Is London (Tom). All were great. On of the best aspects of these tours is that you don't have to pre-pay or make reservations. You just show up at the designated spot (tube stations) and pay for the tour (10 pounds per person). Very flexible. Our tours groups ended up being around 25 people. Also all tours are 2 hours - so a perfect amount of time for highlights. Karen on the British Museum tour was very knowledgeable. We went on a very crowded summer day. There is so much to see at the British Museum. This was a great way to go from highlight to highlight. Judy was a great guide - very knowledgeable and quite a great tour performance. Again a great way to learn a lot going highlight to highlight in 2 hours. The best part about the This is London tour was the changing of the guard. Tom knew exactly where to take you and at exactly the right time. We were right up front and the tour started within minutes after we arrived! I would definitely recommend these tours.
A London Walk costs £10 – £8 concession. To join a London Walk, simply meet your guide at the designated tube station at the appointed time. Details of all London Walks can be found at www.walks.com.