Mary, Fiona, Maxine & Noel in the London Walks office write… On Mondays & Fridays we'll be sharing reviews of our London Walks written by London Walkers. Firstly, THANKS to all who have written to us down through the years, your kind words are greatly appreciated! Our guides don't solicit these reviews on our tours – we believe that this would be a waste of your time. That's what makes these reviews all the more special – t

hey have been sent to us by genuine London Walkers who have 

given up their valuable time

 to drop us a line or two, or leave a comment on travel message boards & websites. Thanks everyone.


Abigail S from Minnesota writes…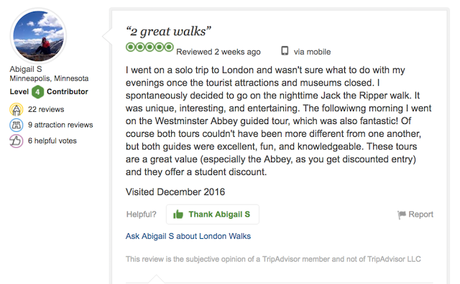 I went on a solo trip to London and wasn't sure what to do with my evenings once the tourist attractions and museums closed. I spontaneously decided to go on the night time Jack the Ripper walk. It was unique, interesting, and entertaining. The following morning I went on the Westminster Abbey guided tour, which was also fantastic! Of course both tours couldn't have been more different from one another, but both guides were excellent, fun, and knowledgeable. These tours are a great value (especially the Abbey, as you get discounted entry) and they offer a student discount.
Visited December 2016


Thanks Abigail!




A London Walk costs £10 – £8 concession. To join a London Walk, simply meet your guide at the designated tube station at the appointed time. Details of all London Walks can be found at

www.walks.com

.