"Canadian" cuisine is something very difficult to define. There are so many dishes that are popular throughout the country that either originated in other countries before coming across the ocean, or dishes that were innovated in French Canada, like poutine. However what I've found is that in place of having their own cuisine, Canadians, and Albertans especially, have become great at creating fusion dishes combining local ingredients with international favorites. While we were in Japser we found a great little spot that has made a name for themselves by doing just that. Evil Dave's has become a must-eat dining destination by serving heavenly food with devilish names.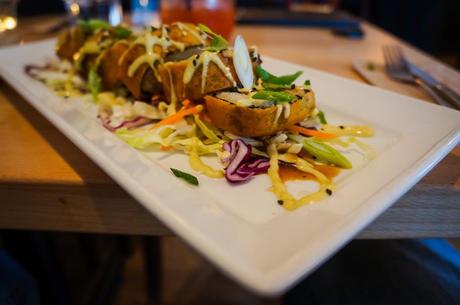 When I first arrived at Evil Dave's in Jasper I wasn't really sure what to expect. To be honest when I first heard the name of the joint, and then saw that the menu items all shared fun twists like Malevolent Meatloaf and Crazy Calamari,  I was expecting the restaurant to be a bit gimmicky and more of a tourist attraction than a serious place to eat. Then I looked beyond the names on the menu and I saw some pretty serious stuff. It's also worth mentioning that everything at Evil Dave's is also gluten free.
Before we could get into food though, we had to navigate the cocktail menu. My meal began with a classic Canadian cocktail, the caesar, while Lauren enjoyed a mango sake martini.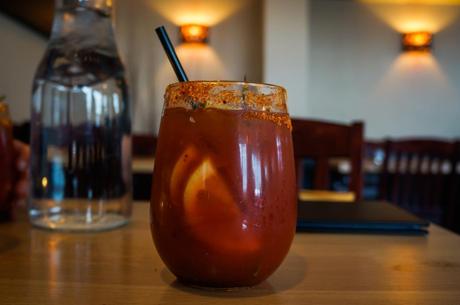 When it came time to choose appetizers we went with two choices that appropriately represented what Alberta is most famous for, Beef. The Cowboy Sushi (pictured above) was a battered and tempura fried roll stuffed with grilled tenderloin. Can you say succulent? We also tried one of my favorite Korean style dishes with a twist.  The Holy Cow features a green onion pancake topped with a Bulgogi beef and a chili aioli. The beef was cooked just right and the pancake was the ideal combination of crispy and flakey.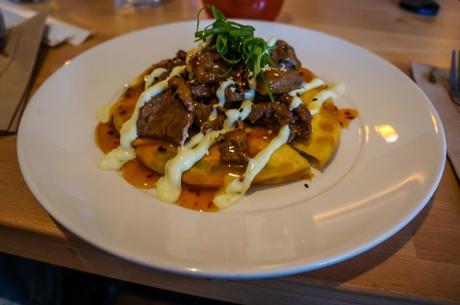 After downing a double serving of beef for our appetizers, we decided to order a change of pace for our entrees. Lauren ordered the Typhoon Noodles, which was a lighter, fresher version of what you get at a typical Chinese restaurant, and the shrimp were absolutely huge.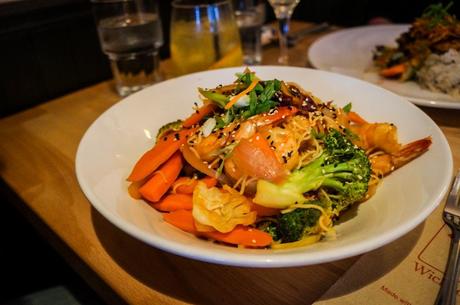 I, on the other hand, went for a vegetarian option. When our server told us that the Fiendish Falafel was stuffed with goat cheese and used Rice Crispies to keep it gluten free, I had to try it. One bite of that crispy falafel wrapped in warm naan, and I was sold.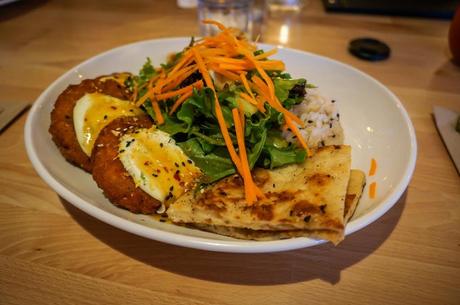 By the time we finished up our entrees, we finally figured out what made Dave's so Evil. The food is so fresh and delicious it's gotta be sinful to serve it. If you find yourself looking for fresh and fun cuisine in Jasper, give Evil Dave's a shot. Unlike many other sins, you won't regret this one in the morning.
I hope you enjoyed out post about Evil Dave's, here are some other posts related to the Jasper area.