Yesterday was perfect ... or near perfect, at least.
We collected Lena (remember? The friend I visited in Rome?) from the airport (with friends & family) and now she has returned for good. After getting home at her house, ,we drank some wine, ate some sweets and played a genius game called "Ratebärchen" (I'm not sure if my male best friend invented that name). Lena's parents had fun as well, throwing in characters we didn't knew or just the family is familiar with.
We had a lot of fun (the wine was very good) and I went home at 2 am. Luckily, I live right across the street.
"Ratebärchen"

For everyone out there looking for a simple but great game for "small" parties - here it is.
Everyone gets three little sheets of paper, writes down Names of People (fictional or not) and throws them folded into a hat or bowl or whatever you have.

There are three rounds:
1. Explaining the word without saying the name
2. Explaining the Character with one word
3. Act it out without any sound

Each round is finished if the bowl is empty; you put the names back in and start again. I guarantee you, it's hilarious. If you have that one friend who is a politics-genius, that other who loves series and the third one you seems to know every crazy artist on earth you'll even get to know a few cool persons.
It's okay to put names in it when only one person might be familiar with him or her (or it). That's where the fun starts.
Don't forget to make teams!
... Did you know, that everytime someone put a dictator (Stalin, Kim-Jong Un etc.) in the bowl, they all acted out Hitler and gestured "The other one". Every time. Well, it worked.
Also: I've put "McDreamy" (the grey's people know what I mean ;) ) in it and unfortunately the guys got it every time ... they tried to explain it with McDonalds and Fast Food. ... NO! It's not!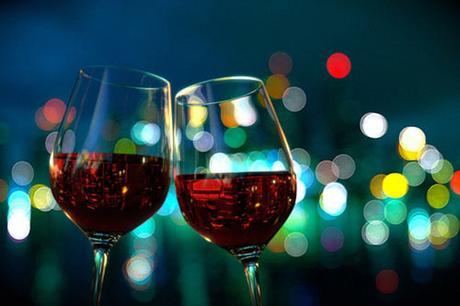 Gestern kam Lena nach Hause. Nachdem wir sie mit einem riesigen Plakat (von dem ich leider kein Foto habe) am Flughafen mit Freunden und Familie abgeholt haben, ging es zu ihr nach Hause (also bei mir über die Straße).
Nachdem ein wenig Wein eingeschenkt wurde, Süßes geknabbert wurde, kam jemand sehr geniales auf die Idee " Ratebärchen " zu spielen (Ich vermute, diese Wortkreation stammt von ihm).
Easy-Peasy, dieses Spiel und dabei auch noch sehr unterhaltsam!
Folgendes: Man nehme Stifte und Papier und zerreiße letzteres in kleine Zettelchen. Jeder bekommt mindestens drei Zettel und schreibt darauf eine Person (fiktiv oder non-fiktiv, hauptsache wenigstens einer am Tisch könnte es erraten). Zusammenfalten, in den Hut (Schüssel, Mütze, Teller ... ) werfen und noch einmal zusätzlich Lose für die Teams basteln.

Es gibt drei Runden:
1. Erkläre den Charakter / die Person ohne ihren Namen zu nennen
2. Erkläre das mit nur einem einzigen Wort
3. Stelle es pantomimisch dar (ohne Geräusche)

Jede Runde ist beendet, wenn die Schüssel leer ist. Dann werden alle Zettelchen zusammengefaltet und erneut hinein geworfen (glaubt mir, das klingt easy, weil ihr ja wisst was ungefähr vorkam, aber wartet's ab). Am Ende gewinnt das Team mit den meisten Punkten, aber irgendwann ist einem das so egal, weil man sich vor Lachen die Tränen aus den Augen reiben muss.
... Faszinierend war dabei, dass sobald der Jura-studierender Freund seine ganzen Politiker, Diktatoren und Geschichtspersönlichkeiten auspackte, man die Diktatoren (egal ob Stalin oder Kim-Jong Un) immer erst als Hitler mimte, um dann mit den Händen zu bedeuten "Nein, nicht der. Der andere".
Nicht gerade aufmunternder, dass "McDreamy" (alle Grey's-Fans werden jetzt grinsen) von den Kerlen stehts über BicMacs, Fast-Food oder McDonalds erklärt wurde. ... Kein Wunder, dass das erstmal niemand errät ;)
Image via here.