Dear Angel,

In three days' time, you will be sitting for your PSLE (Primary School Leaving Examinations) papers. It's the culmination of years of hard work and the final obstacle to cross before you officially become a teenager and step into another whole new exciting journey. While the exams are important and they are a major milestone, please remember that whatever grades you receive, they do not define your life, your character or you as a person in the slightest. You are worth so much more than the piece of certificate you are going to take home and I hope you know that. Values such as honesty, kindness, independence, creativity, reliability and perseverance are the things that I see in you but will not be written on the paper, which is why I realize I need to tell you so that you will know what how amazing you are and that you are an incredible gift that I treasure so, so deeply.

This year has been tough, I know, not just on you but likely everyone in the world too. Living in such precarious times amidst a global epidemic that shows no sign of faltering, it's normal to feel disheartened, stressed, exhausted and even scared at times. It's okay to feel scared of what will happen tomorrow, scared that one of our family members will test positive for the virus, scared that play time, birthday celebrations and gatherings with our friends can never resume, scared of having to be quarantined, scared that we might lose someone we love deeply some day. I feel the same too, yeah? And it's perfectly okay to admit that we have our fears.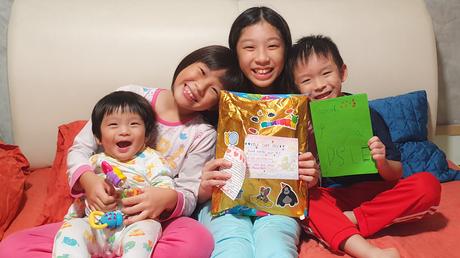 You sometimes say that life isn't fair. I totally agree with that statement, that life has never been and will never be fair. You didn't get to go on your overseas exchange trip because the pandemic hit right after you were elected and we signed the consent form. Your first and only SYF competition in your entire primary school journey was cancelled despite you having gone through months of practice prior to that. You love dancing during your CCA sessions but even those were taken away from you for nearly two years already.
 You are the first batch of students to do away with the T-score and use Aggregate Level scores instead, you struggled with disruptions during your Primary 5 year where you were supposed to have learned most of the syllabus, and this year, you had to handle all the curve balls thrown to you like having Home Based Learning intermittently, having Zoom class after Zoom class, sharing a laptop with your other siblings who are also doing online learning, doing ART tests, adhering to safe management measures in school and so on. Despite being the Vice Head Captain, you said you didn't even get to say your commands on stage because there hasn't been an assembly in the hall since all students are to report to their classrooms instead. You also went through rushed recesses due to the staggered timings and even though it is the only time you can have your mask off, you don't get to talk much, play or run around anymore. It's sad, I know, because I have been through primary school life where recesses were filled with fun at the playground or playing zero point and it's sad that we need to live in isolation these days. No one wants to, and all of us hope that life can resume one day soon where we get to head out without masks on, join in gatherings, give each other hugs and be able to see each other's smile.
The thing is, we might not be able to change the circumstances in our lives but we are able to decide on our attitude and outlook. You can see this challenge as a way to pull you down into the quicksand or you can view it as a challenge for you to rise up and soar high. You can grumble about the things we can't change or you can make the most of what you are able to do. The way I see it, this tough and unprecedented PSLE year might be a way for you to build your resilience and grit, for you to learn that you are tougher than you think, for you to look back one day and say proudly "Hey, I did it and I never gave up." You have always inspired me with your strong will and your determination, so keep striving, my dear, and don't stop till you get to the finishing line. For you can and you will.

We surprised you with a PSLE care pack over the weekend, It contained some stationery items like a box of pens, a transparent case and some of your favorite Sumikko Gurashi items like a file, memo pads, a pencil and a small plushie. It was a surprise for you and you were over the moon when you opened it, along with the handmade cards that each of us wrote for you. Yup, your siblings woke up early one morning to do the cards when you were sleeping and they even built a fort with pillows when they were wrapping the present so that you wouldn't see. It's so sweet and loving of them, I know, which also goes to show how awesome you are as a big sister whom they adore and look up to as a role model.  Being the easily contented girl that you are, you jumped in joy after seeing the present and exclaimed "Best Day Ever!" I hope you will always remember this feeling of being loved. You said something to me which made me laugh - "Mama, I always thought care packs include assessment books." To which I replied "Care packs are to remind you that we care for you and love you very much, and that you are not alone in this fight." And I mean every word of it. Remember that all of us are cheering and rooting for you, okay?  I don't want you to do last minute work or feel stressed cramming or mugging. Instead, I hope you can unwind, relax yourself and be in good spirits as we sprint towards the last lap. So long as you give it your best shot, like I've said so many times in my good luck notes to you, your best is more than enough for me. We've survived so far without tuition and no matter the results, please know that I am extremely proud of you for even making it up to this point. You are so strong, so sweet and so smart, and I wish you know how much I love you for being who you are. Yesterday, we learnt about the tardigrade which is the world's toughest animal that would likely survive an apocalypse. It can withstand exposure to radiation, boiling liquids up to six times the pressure of the deepest part of the ocean, and even go up to 30 years without food or water. It's amazing how it can adapt to its environment, repair its own DNA, and even stop metabolism to become 'immortal'. You know what? You remind me of the tardigrade and you're so much stronger, tougher and better than you think you are, my dear.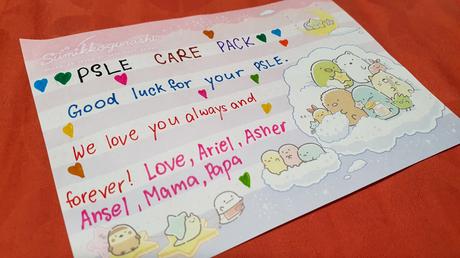 Let's remind ourselves that being able to even go for the exams is a privilege because there are some kids who have fallen ill and can't do so. Well, in fact, various schools around the world have been closed or suspended and many kids can't get to study even if they truly want to. We are lucky to be this tiny red dot during the hard times and to have food to eat, a house to live in, Papa has a job and you all have schools to go to, I think we are doing well. None of this should be taken for granted, just like all the good things in life, and we ought to be thankful and make the most of what we've been given.

So go in, do your best, hold your head high and come home each day with a smile, yeah? You know we will be proud of you no matter what happens. We can't wait to celebrate Children's Day and Halloween with you soon. Yes, they will all be intimate celebrations held in our cosy home with just you and your siblings but I know we are going to have a blast. If anything, this pandemic has given us so much more family bonding time and reminded us of the important things in life. As long as we have each other, that is all that matters, right? You've got this, dear Angel. 加油,恩恩,你能你行你可以!
 Love,
Mama