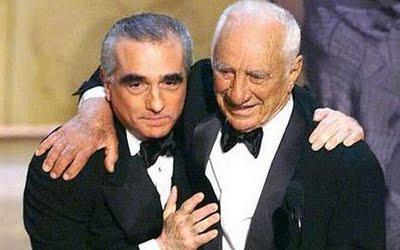 Elia Kazan was a brilliant filmmaker who brought a sense of realism to the movies and had a strong emphasis on acting, so much so that he was one of the cofounders of The Actor's Studio in New York. However he was a rigid sort and with each success he acheived, he found himself more perturbed and uneasy. Then during the HUAC hearings in the early 50s, he was pressured into testifying against leftist colleagues, something he did which led to him becoming a social pariah and also the best, most personal work of his career. A Letter to Elia isn't so much a biography of Kazan as much as it is what the title says it is: a letter, that of appreciation. The epistle is from Martin Scorsese, another master filmmaker who wrote, directed, and narrates this film. Scorsese takes us through his own life as a child, growing up in a rough part of New York, and finding his only refuge at his neighborhood church and theater where he discovered the films of Kazan. He noticed that the people in his film's looked like people he knew, not glamorized Hollywood types. He also said that Kazan's films stirred feelings in him he didn't know he had or didn't understand. Ultimately, he states how the films of Kazan made him want to make films of his own. Scorsese takes us through both his and Kazan's life while also dissecting On the Waterfront, East of Eden, and Wild River, three films that influenced him immensely. It is such a pleasure to watch such a knowledgeable, gifted master of film pay tribute to another and Scorsese does so wonderfully and graciously, a fine tribute from one great to another.
Reflections on Kazan
This was a short that played after the film, and is a tribute by those who knew the legendary director well. The reflections are surprisingly candid, providing insight on the demanding and brilliant man while offering takes on his work, personal life, and controversies. Interviewees include Acting Studio members (Al Pacino, Ellen Burstyn, and Alec Baldwin), actors who worked with him (Robert De Niro (The Last Tycoon), Eli Wallach (Baby Doll), and Lois Smith (East of Eden)), an assistant director (Ulu Grosbard (Splendor in the Grass)), a journalist who had written on his life (Patricia Bosworth), and his wife (Frances Kazan).