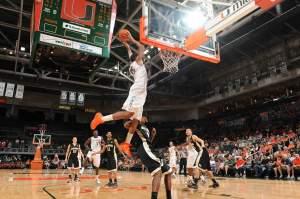 Miami is taking the basketball world by storm
Don't look now, but Coral Gables might just be the home of the best college hoops team in the country. The University of Miami is a paradise for football and baseball lovers. If someone told you at the beginning of the college basketball season that Miami would be in contention for a top seed in the NCAA tournament, you most likely would ask that the person making such a claim be subjected to a mental evaluation.
Quietly, however, first-year coach Jim Larranaga has taken the Hurricanes from the outhouse, to the penthouse. The Canes' are riding an 11 game winning streak after simply crushing the North Carolina Tar Heels at home today (they won by 26, but it felt like much, much more). Success runs in Larranaga's coaching blood. He took a George Mason squad from relative (no, total) obscurity and led them to the Final Four, creating a national theme that mid-majors could play with the power conferences. Watching the Patriots run in 2006 was a source of pride, as I grew up just minutes from the university.
Larranaga knows how to win. He utilizes quality control  and like all quality coaches he pays attention to the details. As a young middle school basketball player I watched him run through practices and attended his summer camps at George Mason; there is something about Larranaga that resonates with players. He runs efficient practices and gains his players trust, an invaluable aspect of coaching top-level collegiate basketball.
If the season ended today, Miami should be the top ranked basketball team in the country. Early in the season they beat a tough Michigan State team when no one gave them a chance. They then took on the heavily favored #1 Duke Blue Devils in Miami and routed them by 27, at times being up by 35. The game was a complete display of athletic prowess that created a certain buzz about Miami. PG Shane Larkin demonstrated pinpoint precision in his passes, rarely turned the ball over against a smothering Duke defense, and got the ball in the lane at will. Durand Scott and Kenny Kadji were unstoppable, making then Naismith Player of the Year candidate Mason Plumlee look like a junior varsity player. Julian Gamble was the x-factor and Reggie Johnson gave pure energy and effort, a true blue-collar worker in the paint. All of these aspects together created a memorable performance that launched the Hurricanes into the upper-echelon of college basketball.
During their 11 game winning streak, Miami has defeated their opponents by an average of 13.27 point per game, an impressive feat in any conference, let alone the ACC. They are 10-0 in conference play; possessing the only undefeated conference record in any of the power conference record. Early losses to Florida Gulf Coast, then #4 Arizona, and Indiana State have suggested that maybe the Hurricanes aren't worthy of a top ranking. FGCU, and Indiana State are almost unacceptable losses for a top team to accrue, and Arizona is not as good as previously thought. In the last five weeks, however, all five number 1 ranked teams have lost. This suggests that there are no truly great teams in the nation this year, much like last year and the year before that. Instead, we find ourselves watching a plethora of good teams and a handful of pretty-good teams. Miami's consistency in a tough conference and their "peaking at the right time" perpetuates that maybe they are the team to beat. Larkin, Kadji, and Scott are all star players and have potential at the next level. Watching the Hurricanes play is like watching The Departed for the first time. Throughout the game you're sitting there wondering what the hell is going on, and afterwards all you can do is say "wow". They are for real.
Are they a great team? No. But this college basketball season has no great teams, so make due with Miami. They can make shots, pass the ball well, and when they get out in transition, look out, not much help is coming your way. Miami can blow out a team, then win close games, something national title contenders must be comfortable with, because in the tournament no wins come easily.
Miami still has to play at Cameron Indoor on March 2nd against Duke. The Blue Devils will be ready, and they will not forget the national embarrassment they suffered at the hands of the Hurricanes, if Miami is not ready to play, Duke could beat them by 20. That game will truly reveal what kind of team Miami is; whether they are deserving of a number one seed, whether or not they are a legitimate title contender. For now, however, let Jim Larranaga and the canes'  enjoy, they've taken Miami and transformed it into a basketball school, even for just a moment.
Whether you agree or not, one thing is for certain, nobody wants to play Miami right now; not in Coral Gables, not in the tournament, not even in the Atlantic Ocean.