As a stay-at-home mum, I may not be a good chef but I do try my best to cook for my kids. I have to admit that it can be a daunting task trying to cook while solo parenting on weekdays and having kids trying to break through the kitchen door, having to settle sibling squabbles and having a toddler clinging onto my leg are things that I have gotten used to. You see, the cooking part might not take long but the chores are tiring - including shopping for groceries, preparing the ingredients, wiping the messy floors and tables after a meal, clearing the rubbish and cleaning the mountains of dishes. Yup, that explains why we eat out on some days of the week, especially if I have to send the kids for enrichment classes. Still, we enjoy having homecooked meals in the comfort of our own house regularly and the fact that the kids say they prefer Mummy's simple food to outside salty food is a very strong source of motivation. 
Well, it has always been my dream to have my very own kitchen. This wasn't possible for the past half a decade because we lived with the in-laws and the kitchen had to be shared even though they were usually not around throughout the day. Let's just say we have different cooking, storing and eating habits so while we accommodated each other all this time, it was a huge relief for us (okay, for me in particular) when we moved to to this new house because guess what, while the in-laws have their own decent sized kitchenette with plenty of storage cupboards and a space for a huge fridge, I get my dream fulfilled by finally having a kitchen that I am proud of and makes me happy to be in. Let me show you more of our kitchen in today's A Happy Home tour.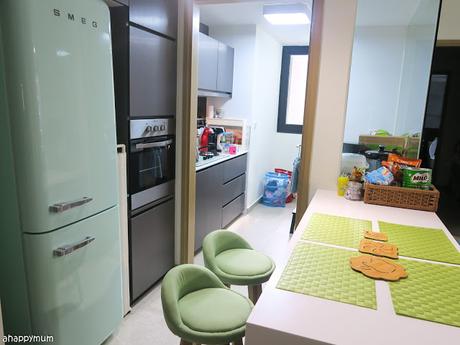 Our kitchen comes with ready made cabinets which saved us a good deal of hassle since we did not need to do much renovation. I love how it comes with a wet kitchen where I can do all the frying and washing, as well as a dry kitchen for light cooking, baking or eating. Separated by a door, the dry kitchen has a counter top that extends from the wet kitchen and is the perfect spot for us to have our breakfasts, snacks and sometimes lunches/dinners too!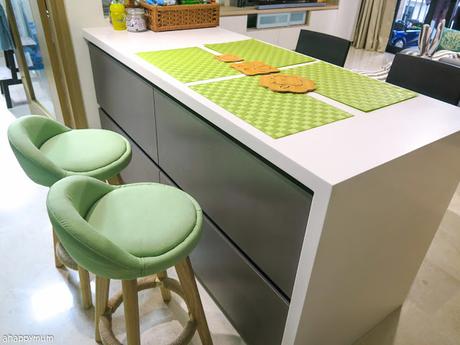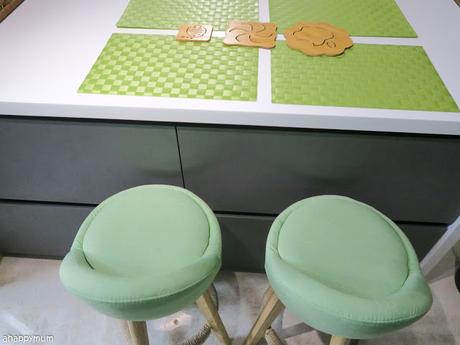 Can you guess what is my favorite colour? Yup, you will see that aplenty in the kitchen - GREEN! I also love turquoise and since the hubby likes blue, I tried to make these the theme colours in our kitchen and the living room too (do you remember our sofa cushions in the living room tour?) I don't deny, my emphasis was certainly on green in the kitchen because I'll be the one spending the most time here anyway, right? So, I bought two bar stools from Taobao and assembled them on my own, and I love how the wooden legs and light green seats (which can swivel somemore!) match our Scandinavian theme. Actually, I wanted one in blue and one in green but the hubby was the one who said that the green looked better and so we got a pair. Not sure if he was just being honest or generous but the important thing is he was right, the chairs fit in wonderfully.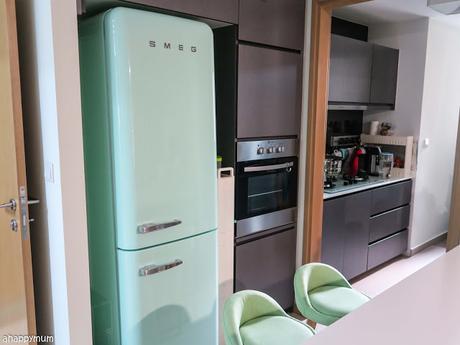 Oh yes, and the highlight of my kitchen has to be our beautiful, sleek, eye-catching Smeg retro fridge which I will be doing a review on soon. Love, love, love the mint green colour, which I knew would be my obvious choice even though the other colours in this series were just so pretty too.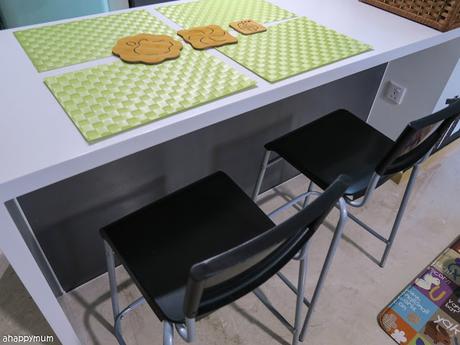 On the other side of the counter, we have two black bar stools with back rests which were left behind by the previous owner. They fit nicely into the small space, are easy to clean and provide backing for the kids so we wanted them to stay. So this is where the kids wake up and have breakfast daily and it's really nice to have this small, cosy space that is within reach of everything.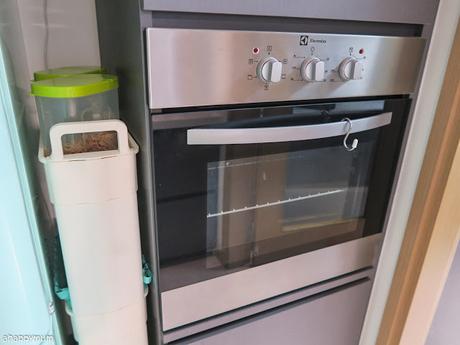 This is the Electrolux oven that is ready built and customised to fit into the cabinet, which I thought looked really nice and neat. I have dreams of teaching the girls to bake soon so that we can fully utilise this oven that sits right behind the counter, serve freshly baked pastries and cookies and bond over a nice cup of tea (I mean tea for me, Milo for them). It will happen, I promise!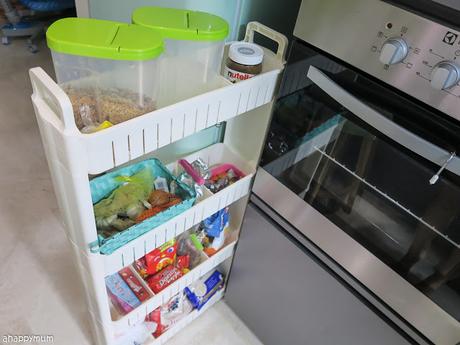 Some friends and relatives have been intrigued by this slim storage rack that I bought from Taobao and I must say it is very handy! The shelves measure only 17cm wide (54 cm long and 115 cm tall) but look at how much they can contain. Yup, it stores stuff like cereal, biscuits, oats, snacks and spices and tucks them away neatly between the oven and fridge so that no one actually seems them till you pull out the rack. A clever use of tight space, right?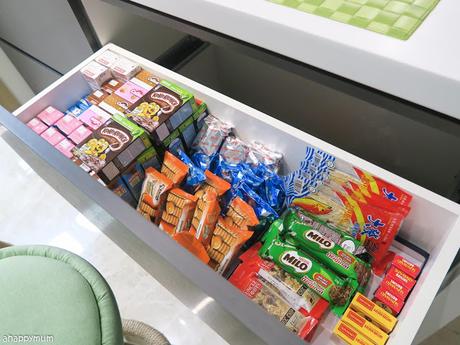 I set up this snack bar so that the girls can easily choose, reach and pack their desired snacks and drinks into their bags every night. Yes, they actually find it very fun to do and are always checking it out to see if I have restocked it or added any new supplies. Haha.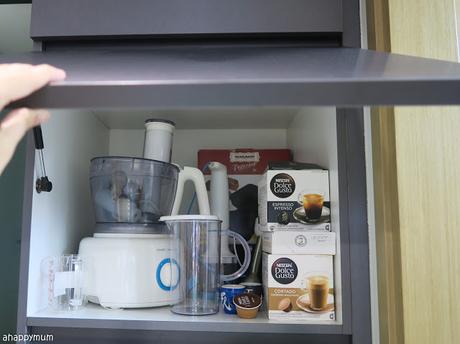 I'm not going to bore you with the contents of every cupboard or drawer but here's a peek into one of them. I love how the hydraulic system makes the door flip upwards and inside this cupboard lies my food processor, blender, baking pans and the hubby's Nescafe Dolce Gusto capsules.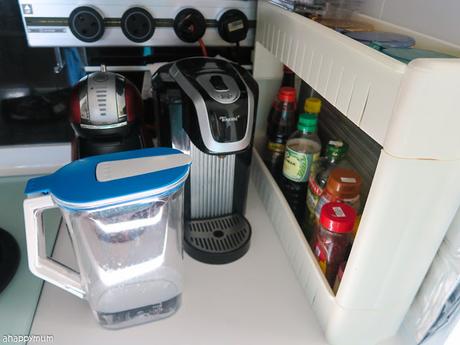 Moving onto the wet kitchen, yes, I have yet another storage rack here and this one helps me to keep all the seasoning bottles and jars organised neatly. Oh, in case you haven't read about it, here is our experience with the sleek looking, innovative Eubiq power outlet system and I just really love it so much!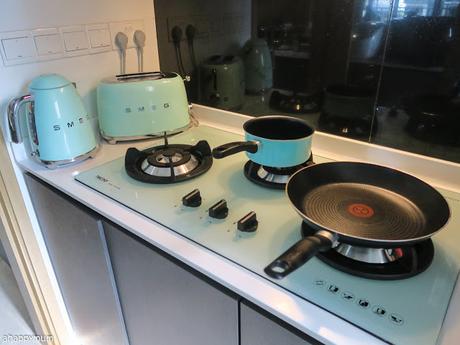 Thanks to the Electrolux gas cooker hob recall recently, we got this new Techno one installed not long ago and instead of the dull black one that we had previously, we decided to go for sparkly white instead. Yes, I'm sure you have seen our pretty Smeg small appliances (review coming up soon!) by now and these match perfectly with the fridge. Besides them, two other commonly used items are the cute turquoise coloured from Supor and my trusted non-stick frying pan from Tefal.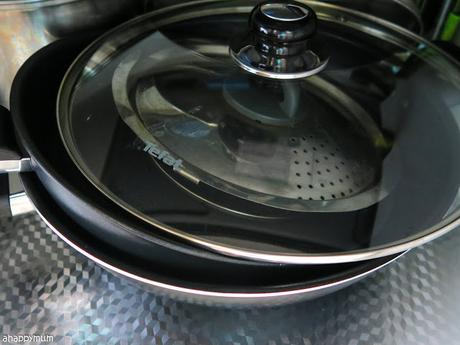 To make the cupboards a little easier to maintain, I lined the shelves with this aluminum liner that I got from Taobao too. Yup, it kind of functions like adhesive foil and not only does it make the cupboard look shiny and glossy, it also allows you to wipe off stains and dirt more easily too.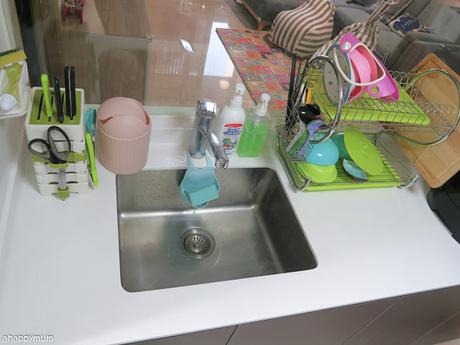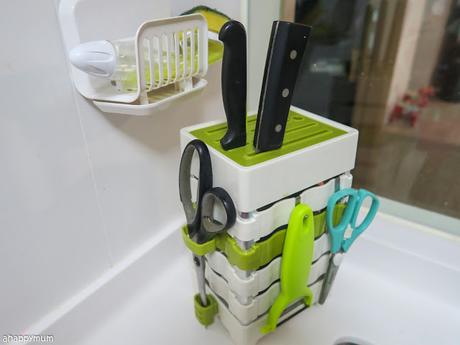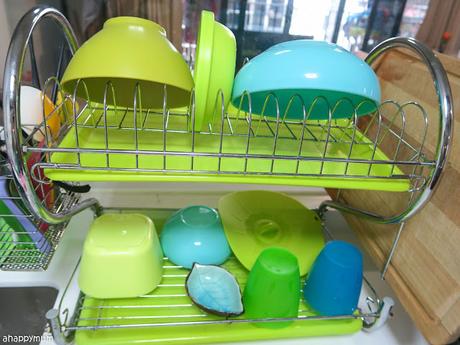 Moving on to the sink, though I wish that there was a partition in the middle, I also love that it is deep which makes for easy washing. Right, I know, maybe I overdid the green part a little bit but hey, if it makes me happy, why not? So yes, I bought a green knife holder, green peeler, green dish drainer, green chopping board, green/turquoise bowls, cups and more! I was really pleasantly surprised at the deals I got off Taobao, for instance I paid only $6 for the dish drainer and $8 for the knife holder (shipping excluded). Good deals, right?
You know what is the best part about this kitchen? It's the huge see through glass I have right behind the sink, which allows me to see the living/dining room in full view and I can have an eye on the kids while cooking at the same time. Yes dears, I know everything that you are doing!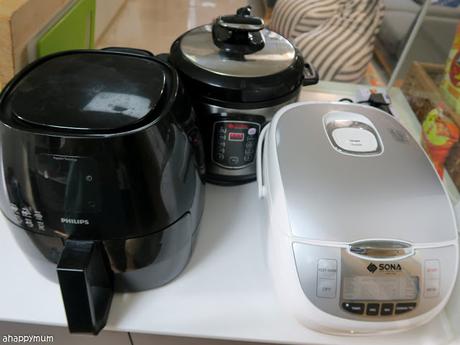 On the right side of the sink lies my handy pressure cooker, rice cooker and air fryer. Yup, these are the three things that I use quite often for now and thus they have to be easily within reach.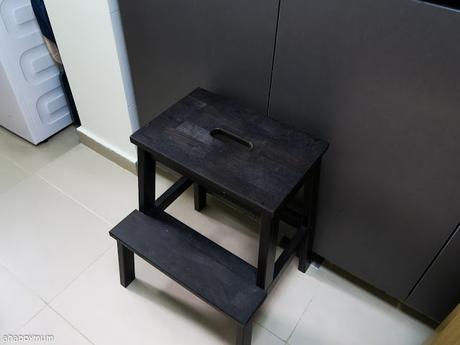 I've been getting the big girl to wash her own dishes and so a step stool is a must for now. We got this BEKVÄM black step stool from IKEA and although it does take up some space in the not-so-huge kitchen and the hubby has complained about it, I think it is needed for now because if the kids were to clean up after themselves. I prefer this type of sturdy stool over a foldable one (which I will end up being the one who folds and unfolds and keeps).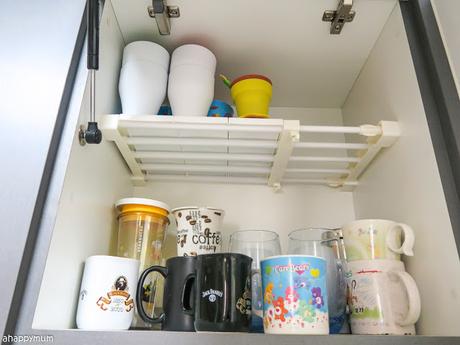 Here's a peek into the cupboard for the mugs and cups and can you see how much space I created by inserting that extra shelf from Taobao? Yes, no drilling needed at all!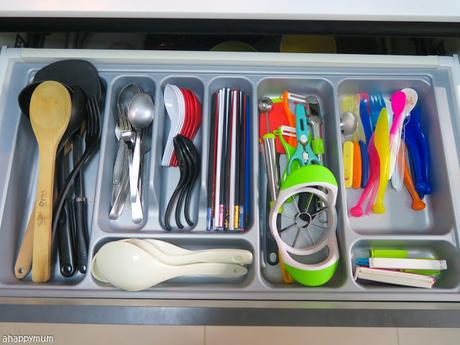 The top drawer is where we keep all the utensils and I love how the cutlery tray keeps them neatly organised and easily accessible.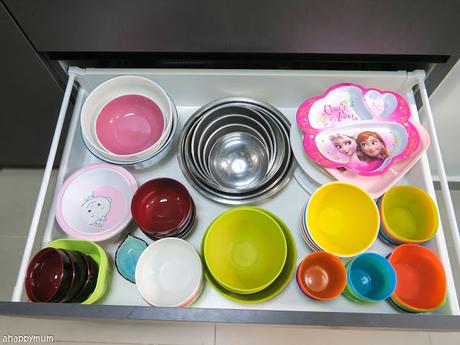 Here's where we keep our bowls and plates and I like that there aren't a lot yet more than enough for our humble family. Yes, not surprisingly, we like to use plain, simple bowls and plates instead of elaborate and fanciful ones. Life is complicated enough on its own, right?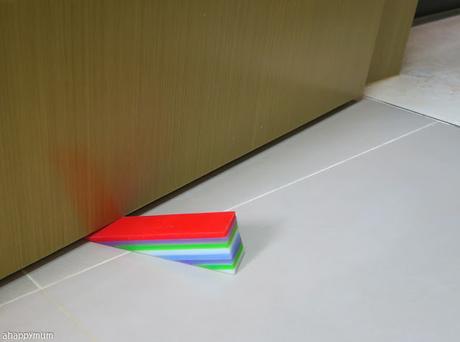 Check this out, we have this irresistibly cute nine-layered kueh door stopper! Yup, this door leading to the kitchen always slams shut when the wind blows in through the window so I have to make sure we have a good stopper in place. The hubby got this kueh one from I don't know where but I sure haven't seen it before and thought it looked great.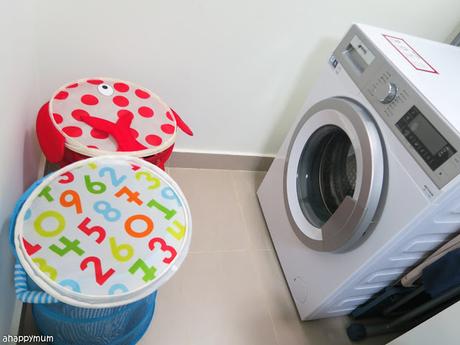 Right at the end of the kitchen lies our yard, which is a small area that fits a washer and a couple of laundry baskets. Read our review on the 11kg Smeg front load washer here. You know, at some point, I found it silly of me to have rejected a dryer sponsorship. Particularly when the rain wouldn't stop and my laundry wouldn't dry for days. In my mind, I wanted to actively engage the kids in chores and one of it will be doing the laundry every alternate day. Besides increasing electricity bills and making clothes more wrinkled, I had also assumed that having a dryer will reduce the need for my kids to participate and thus, I decided for us to survive without it. Or the temptation of it. Smart or dumb, I'll figure that part out soon.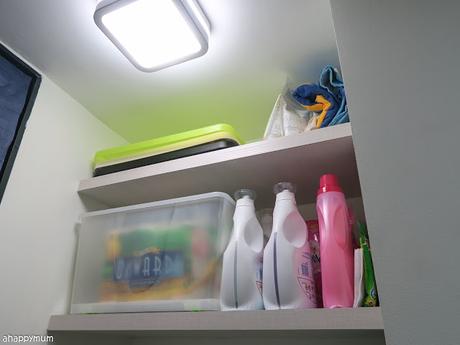 Anyway, the only furniture we added in the kitchen were two wooden shelves above the washer in order to create storage space for the detergents, softerners, kitchen wipes, laundry nets and other items.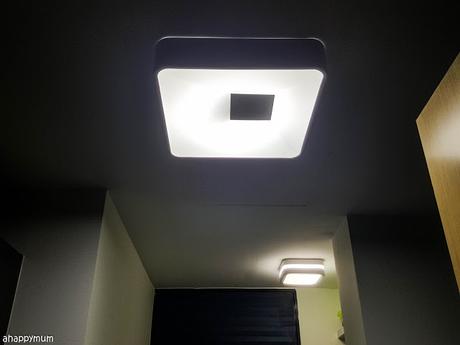 Last but not least, these are the downlights that we bought from Chan Huat for our kitchen. While we chose round ones for all the toilets, I wanted these to be a little different so we went for squarish ones. The main light can be controlled with a remote and there are dual tone lightings too so you can choose if you like white or yellow light or how bright or dim you want it to be. Cool, right? Wouldn't have bought it if there wasn't a 50% sale for this light though!
So, that marks the end of the tour around our cosy kitchen. Next up, I will be showing you around the study area and that means we will be coming to the end of the house tour very soon. Awww, I'm really going to miss writing on this series and I hope you will stick with me till the end!
******
This post is part of the "A Happy Home" series where I share all about our new Scandinavian-themed house, the renovation process and some tips and thoughts. Moving is never easy but it comes with an indescribable sense of joy in building up the house of your dreams. Remember, home is where the heart is and nothing is more important than being able to build memories with the people you love.