You probably haven't yet had the opportunity to visit a space station and see how everyday life in zero gravity looks like. In her final days as Commander of the International Space Station ISS, Sunita Williams of NASA recorded an extensive tour of the orbital laboratory, just hours before she departed with two colleagues in a Soyuz spacecraft for a landing on the steppe of Kazakhstan.
Sunita takes you on an amazing tour through the different part of the ISS and shows how they are sleeping, eating or getting to the toilet in a place where there is no above and below. You have a look at their workplaces with computers and pencils, see a training machine for strengthening the muscles or peep into the cockpit of the Soyuz spacecraft with which they are going back to earth. Of course you also have a look "down" to the blue planet where you and I are somewhere living.
"A 25 minutes video worth every second of watching" wrote my Indian friend who sent me the link today. And that's true.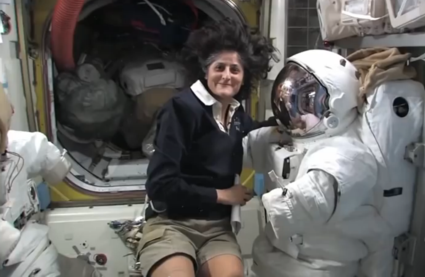 Sunita Williams explaining a spacesuit, picture (c) from the video.