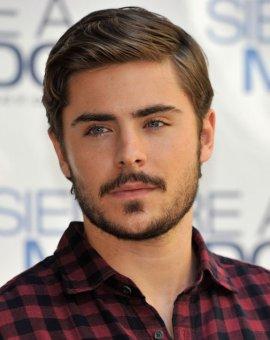 To get such a fine look as Zach Efron, you need to find the right hair styling product for you!
Using men's hair products is a great way to obtain a refined, polished, clean look. For those of you who have never tried using hair products, you should definitely give them a go, as, even if you use only very little, you will see very big results. Today, men's hairy styling products come in more options than they came in the 1980s when big hair was the trend: from spray to wax, the hair styling products come in such a wide variety of versions that you can really find the right one for you!
It's essential for your hair to look its best in ordered to complete your look. There are hair styling products for all kinds of men: for those who want to make a show of their hair and for those who wish to keep it simple and subtle!
Among the main hair styling products, the most noteworthy are:
Hair gel
Hair gel is one of the most used hair products by men. And for a good reason, as it the most efficient product a guy can use to keep his hair steady and in place. Gel works for a very wide variety of hair types: from waves and curled to relaxed and textured, there's almost no guy who can't use gel for something. Gel works great for both natural and colored hair and lasts a long time.
You can use it to slick your hair to the side, to the back or to get spikes, but you can also make use of it if you decide to use a more uncommon styling techniques, such as scrunching, molding, sculpting or freezing.
A quality gel will condition and moisturize your hair for many days. However, we wouldn't recommend keeping hair products on yourself for such a long while. Avoid buying gels (or any other hair products) that contain alcohol, as they will damage and dry your hair.
To get the best effect, you can use a bean size amount of gel and rub it with both hands into your towel-dried hair. Then, style your hair and give it the shape you wish. To get a maximum hold you should blow dry it, but if you want to get a shiny look you should let it dry naturally.
Hair gel is great because it will keep your hair in place even in windy weather conditions, but it can get messy if you need to redo your hair in the course of a day.
Pomade
Pomade is a great product as it provides a combination of styling, shining and conditioning ingredients. Its best use is for short and medium hair. You can count on pomade if you need holing, shaping and getting a sharp definition of your hairstyle. Pomade is great as it adds texture to your hair but also gives it a natural look. If you want to get the well-known "messy" look, you can always use pomade to do the job.
You can use pomade by skimming a small quantity on your fingers, which you then rub together and apply to your hair evenly.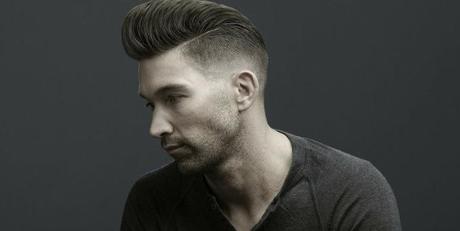 The modern pompadour haircut
The advantage of pomade is that you only need small amounts of it to obtain great results, but the downside is that you really need to know how much to apply. Too much and your hair will have that greasy look from which we advise you to stay away. Pomade also has another disadvantage, which is that it can take several shampooings to remove it completely from your hair.
The difference between pomade and wax is that originally, pomade gave your hair a shiner and slicker appearance. However, today the difference between the two is not so big, as a lot of pomades contain beeswax. You will find pomade under other names, such as "whip", "putty" or "paste", and the difference between them lies in their consistencies, but they usually achieve the same results as pomade or hair wax.
Hairspray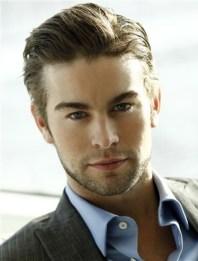 Use a little hair spray to polish your Chace Crawford look!
Hairspray can be used for a variety of purposes. It can be used to style your hair or to finish a look you styled with something else. Hairspray makes your hair appear thicker and it can also add shine to it. What's great about hairspray is that most brands that produce hairsprays include UV sunscreen protection. Make sure your hairspray has a good UV protection if you spend a lot of time outdoors.
You can spray it on wet hair and style your hair as you wish, but it is also great for adding an extra fix to an already-made look. Depending on the style you want to get, you can blow dry it or let it dry. Whatever you do, make sure you don't use it near cigarettes, open flames or any other fire sources.
Make sure the spray you use doesn't smell too much or that you use so much that you smell like it. There is cologne for that.
Hairspray is great if you need to redo your look, as with three or four sprays you are done, but the disadvantage is that generally, hairsprays have strong smells. Moreover, if you use too much of it, it can give your hair a crunchy and dry texture.
Mousse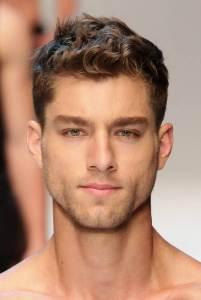 Mousse is the perfect choice for more voluminous haircuts!
Men with fine or thin hair can use mousse to gain volume.
To make proper use of it, always remember to first shake the bottle, then dispense a small amount in your hand and apply it in your hair, and then style it with both hands. For maximum hold, you can always blow dry your hair after applying the mousse. The main advantage of mousse is that it lasts long and is not sticky, but the disadvantage is that it is quite expensive and is not very strong for those who need a very powerful product.
Mousse is perfect for guys who want to get 1980s hairstyle or anything that has a lot of volume.
Wax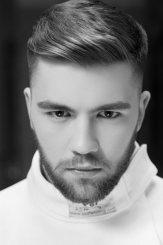 Wax used right can really fix your hair!
Hair wax is considered a "matte" hair product, but, as we already saw, it is similar to pomade. Wax is the best choice if you need something very strong to hold your hair. As opposed to pomade, waxes don't provide a "wet" look to the wearer, but they are stronger than pomades.
If you have a hard time deciding what to choose, you can use your hair type as your deciding factor. Men with oily hair should use wax, as pomade contains oils that will make your hair look even oilier.
When you apply wax, you can warm it up in and distribute it evenly in your palms. This way, you will be avoiding clumping and an awful look. You can use wax on both dry and wet hair, but it is easier used on wet hair.
Cream
Styling creams are great for men who want to keep it simple and not to spend too much time on doing their hair. They are much lighter than wax, and therefore very easily to place in your hair. Using a styling cream will make your hair look great, but still flexible and "in shape".
We highly recommend hair creams for men who don't generally like to use many hair products, who want something simple and who also don't have complicated haircuts, such as quiffs or modern pompadour styles.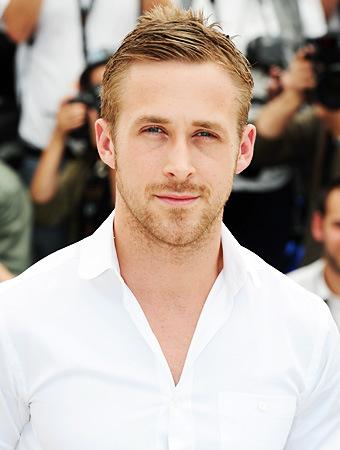 Even if you want to go for a subtle look such as Ryan Gosling's, you should still use some hair styling products!
Hair creams are a great as they are the subtle detail between "nothing in your hair" and a polished look. They are easy to apply and long enough. Hair creams can also be used a finishing product after you have used another product.
As you can see, the products you use should serve the styling you want to do and not the other way around. Think of what look you want to convey and decide on the product that will get you the best results.
Fraquoh and Franchomme
P.S. What do you think? Should men use hair products or keep it natural? What products do you use? What results are you going for? Share your thoughts in the comments below!
Share on Tumblr
0
'