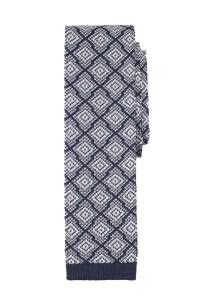 An amazing navy-white silk flat knit tie from Salt+Dapper
Knit ties are in a class of their own, even though they are part of the big category of men's ties. What's special about them is not only the way they are made, the way they look and feel due to the manufacturing process, but also the fact that they are generally square end ties. A knit tie can add a touch of sophistication to your wardrobe because of its interesting fabric and texture. Knit ties are very versatile themselves, but you can also change the feel of your outfit by changing your tie. There are many knit ties out there on the market. One of our favorite brands offering knit ties is Salt+Dapper. Besides making a wonderful array of suspenders, scarves and regular ties, they also make a fantastic collection of knit ties. They look really amazing and would make a great addition to any man's wardrobe. If you don't have a knit tie yet, you should get one. Salt+Dapper is definitely a place where we would start to look for one, as they have a variety of styles, from more neutral ones to some really eye-catching designs.
The right tie
Square end ties, also called flat-end ties are ties which from the point of view of the design look just like a regular tie, but instead of ending in a "sharp" tip, they end in a straight line. Some men have issues wrapping their heads around this idea and around the idea of wearing a knit tie, but there are many advantages to knit ties. Knit ties come in cotton, wool and silk, just like any other tie.
So, if you decided to step out of the box and wear a different tie, there are some things you should know about these ties. Flat bottom ties became fashionable in the 1950s and 1960 and rapidly became a popular alternative to the classic tie. Knitted ties look great when they are around 2 to 2.5 / 5 – 6 cm wide. You will also find ties which are wider. These ties, which are about 3.25 inches/ 8 cm wide, are great to be worn with double breasted suits and jackets that have wider peak lapels, as narrow ties usually go with narrower lapels.
When you are buying a knit tie, a factor you should take into consideration is the weave density. Pieces with a bigger density are, as the name says, denser, while ties with a lower weave density can even be see-through. We would recommend that you get one with a bigger weave density.
The when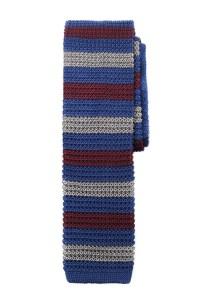 A ribbed silk knit tie by Salt+Dapper. The silver-blue-burgundy combination looks great, doesn't it?
Knitted ties and flat-end ties in general are on the casual side of men's fashion. Even if you are wearing a silk knitted tie, it's still considered to be very casual. If you are wearing clothes that you feel are too formal for the moment you are wearing them, consider wearing a knit tie to dress down the outfit. You can change the feel of your outfit by simply changing you ties. Say you are wearing a causal suit with a formal tie. You can change the whole feel of the suit, by simply changing the formal tie with a knit tie. This way, you can easily transition from a formal look to a look that is more appropriate for a casual setting.
Knit ties are appropriate when going out, and other semi-casual occasions. They are not the best choice you can make when you are going to a job interview.
When it comes to the seasons, some say that knit ties are to be worn only in the warm seasons. Why that is, remains a mystery. To clarify this, we need to say that knit ties can be worn during any season and on any day of the week. If you want to use the seasons as your style statement, you can choose to wear muted, darker shades, such as black, brown or green during the fall and winter, while brighter and more vivid colors, such as orange, yellow or red during the warm seasons.
The most popular patterns knit ties have are simple horizontal lines or polka dots. This is something you can definitely work to your advantage, as wearing a tie with a pattern might make you feel less worried about wearing other patterns. Wearing a tie with a pattern will definitely add more depth and volume to your outfit therefore making it more visually appealing.
The how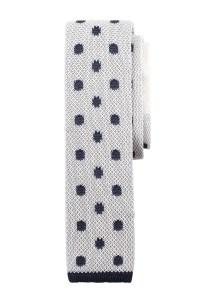 A knit tie with a navy pattern by S+D.
Of course, since knit ties are casual, they go best with casual outfits. Never wear a knit tie with a formal suit or with shoes that are considered to be very dressy. Chinos, casual shirts and even jeans are the things that go best with these ties. Many men choose to wear knit ties with denim shirts, which makes for a good combination, but to be honest, we have our doubts about denim shirts in general.
Our recommendation is to wear a knit tie with a shirt that feels and looks a little different from the tie. If your shirt and tie are blending, the effect created by the texture of your tie will be diminished. Because knit ties differ from regular ties by having a different feel and more physical depth, these are the features you want to showcase.
Since knit ties are the perfect accessory for a casual environment, the way you tie them is also very important. To complement the casual fabric texture of your tie, knots that are slightly asymmetric and casual are the best. We think that one of the best ways to go is of course, the Four in Hand.
Knit ties go great with spread collars as well as with point collars, so you have your options laid out for you!
In short, knit ties are perfect to be worn with casual outfits on casual occasions. They can be paired with almost anything and add texture to any outfit. Knit ties can be worn anytime, anywhere, as long as it's not a formal setting.
Fraquoh and Franchomme
P.S. What do you think of knit ties? Do you like to wear them? How about the square ends? Share your comments below!
Share on Tumblr
0