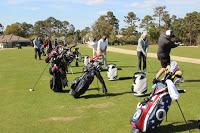 In last week's Golf for Beginners column, the benefits of golf clinics were examined from the perspective of a group gathering, so that the gathering could discuss common problems and receive quick range fixes from the lesson.
A speedy review of your golf swing issues at the time they occur as well as a quick drill to help you overcome that slice or pull can help you at the moment but then you must consistently practice that drill in order to make sure it becomes second nature...so you don't have to think about it on the golf course. 

Many people come away from a golf clinic with a better understanding of a certain problem they have but rarely remember to practice exactly what they have learned...but most of the folks on-hand were NOT beginners.
For the golf beginner, a single lesson or series can help you get a more in-depth knowledge of your golf swing - it's spring so you want to get better at the game, don't you?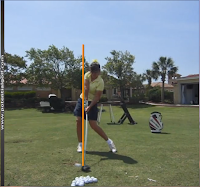 A lesson might last for a half-hour or even an hour, and will consist of a conversation with your golf instructor about where you are and where you want to be in the game,
any problems you are currently having (can't get the ball in the air, for example),
and then he or she will ask you to take a few swings to assess your level of competence.
Golf instructors have the option of using state-of-the-art technology to see everything from your set-up to ball launch speed but usually start a lesson by observing your golf swing.
Golfers can also opt for a package consisting of three or more personalized lessons so an instructor can get to know you, to assess any issues you are having and know your future goals. Golf instruction is a process and, if you stay with it and properly practice what you have learned after each lesson, you should see improvements for the very next session. I spread out each my lessons over a week or two so that my body and mind have time to ingrain what I have learned.
In conclusion, if you are looking to improve your golf game, whether you are a beginner or a seasoned amateur, the future of your golf swing is determined by lessons given by a qualified professional and proper practice ...take a notebook with you if you cannot remember everything you learned and stick with the process!
Share your thoughts on this golf blog in the comments section of this golf blog and on Twitter @Golf4Beginners.