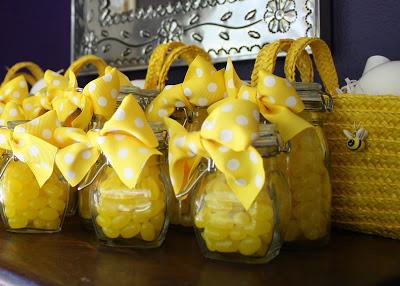 A yellow outside summer wedding....it just sounds happy.  There are so many great ideas to welcome this warm sunshine color into your big day.  I hope you will be as delighted as I was when I saw the images I am about to share with you.  Made this gloomy day a little bit brighter.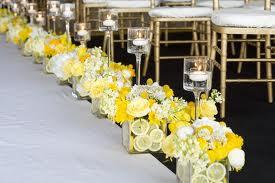 www.weddingcircles.com


Don't forget to put traces of your wedding color in your marriage service.  I thought these boxes of sliced lemons in water with an assortment of fresh flowers was unique and cooling at the same time.  A perfect add on to an old church that may not have air conditioning.  I also think that it gives a great country feel.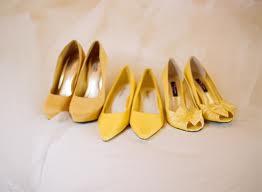 www.DeborahStilettos.com
Simple pretty little shoes are a perfect addition to the bridesmaid dresses.  I have also seen more and more brides wearing shoes in the wedding color they have chosen.  I think  it is a nice touch.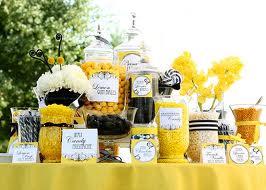 www.homekeeters.com 

How sweet is this array of sweets for the wedding?  I like this so much that this might have to be presented to my bride later on tonight.  So love different shapes of containers and that they used black and white as accent colors with flowers.  It is just very pretty.  It might be a nice thing to roll out after the cake and dinner when everyone is cutting it up on the dance floor.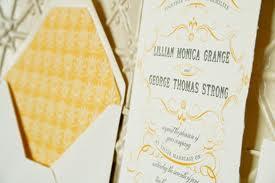 www.BestUniqueInvitations.com  

The inside pattern of the envelope makes the rather simple invitation just ooze with class and sophistication.   Can't say enough about this.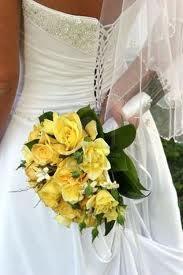 www.weddingcircles.com
So many beautiful shades of yellow flowers to choose.  One of the easiest colors to find flowers for second only to pink.  They also make the white on her dress look especially sparkly and clean.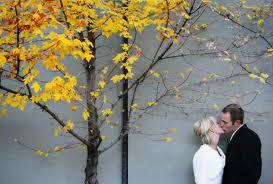 www.erichegwer.com
A beautiful backdrop for pictures if you are having your wedding indoors.  I thought is was creative that they were able to sneak their wedding color in a subtle way without making it planned looking.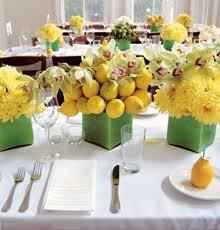 www.onewed.com 

Another example of how flowers don't have to be the only thing used as table decorations.  Lemons certainly work here although I think the boxes would have been better off white of natural wood as they are somewhat distracting to me.

  

Lovely yellow....a possibility for your wedding?

  

Kisses,

 

Deborah Stilettos

www.Facebook.com/MyDaughterIsGettingMarried