Sometimes, we can learn a lot about men's fashion from the wisdom of fashion professionals.
Many designers, editors and other fashion pros, as well as other well-renowned cultural icons have said things that have put a fresh perspective on the world of men's fashion, style and lifestyle.
The wonderful thing about quotes is that they put the fashion one sees in a new context, they bring the runway collections to your bedroom, your dresser and your office.
Let's take a look at a series of quotes on men's fashion you are sure to enjoy:
"Style is the answer to everything.
A fresh way to approach a dull or dangerous thing
To do a dull thing with style is preferable to doing a dangerous thing without it
To do a dangerous thing with style is what I call art" - Charles Bukowski
"It's a new era in fashion - there are no rules. It's all about the individual and personal style, wearing high-end, low-end, classic labels, and up-and-coming designers all together." - Alexander McQueen
"Don't be into trends. Don't make fashion own you, but you decide what you are, what you want to express by the way you dress and the way to live." - Gianni Versace
"Clothes mean nothing until someone lives in them." - Marc Jacobs
"Style is the perfection of a point of view." - Richard Eberhart
"It is both delusional and stupid to think that clothes don't really matter and we should all wear whatever we want. Most people don't take clothing seriously enough, but whether we should or not, clothes do talk to us and we make decisions based on people's appearances." - G. Bruce Boyer
"The boor covers himself, the rich man or the fool adorns himself, and the elegant man gets dressed." - Honoré de Balzac
"To attain style in dress, you must look perfectly happy and relaxed in your clothes which must appear part of you rather than a wardrobe you have just donned." - Hardy Amies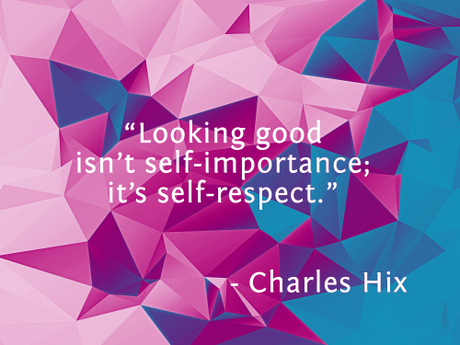 "Looking good isn't self-importance; it's self-respect." - Charles Hix
"A man should look as if he had bought his clothes with intelligence, put them on with care, and then forgotten all about them." - Hardy Amies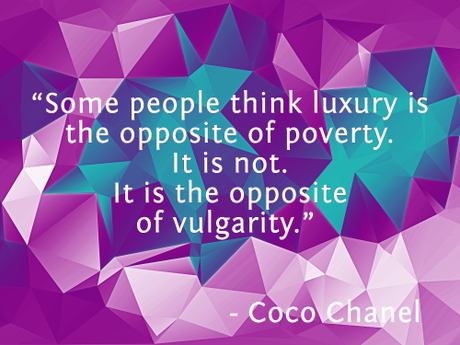 "Some people think luxury is the opposite of poverty. It is not. It is the opposite of vulgarity." - Coco Chanel
"Real luxury is understanding quality, and having the time to enjoy it." - G. Bruce Boyer
"Do the clothes suit you? Do the clothes suit the occasion? Do the clothes suit each other?" - Richard Plourde
"A well-tied tie is the first serious step in life." - Oscar Wilde
"Style is knowing who you are, what you want to say, and not giving a damn" - Orson Welles
"Menswear is about subtlety. It's about good style and good taste." - Alexander McQueen
"Clothes and manners do not make the man; but when he is made, they greatly improve his appearance."- Arthur Ashe
"Dressing well is a form of good manners." - Tom Ford
"If people turn to look at you on the street, you are not well dressed, but either too stiff, too tight, or too fashionable." - Beau Brummel
"Fashion is what you're offered four times a year by designers. And style is what you choose." - Lauren Hutton
"Dress up your sportswear and dress down your formal wear." - Luciano Barbera
"There has been a change in men's attitudes toward their clothes. Men are more aware of fashion; they're not afraid of it." - Calvin Klein
"Fashion should be a form of escapism, and not a form of imprisonment." - Alexander McQueen
"Clothes are inevitable. They are nothing less than the furniture of the mind made visible." - James Laver
"Putting on a beautifully designed suit elevates my spirit, extols my sense of self, and helps define me as a man to whom details matter." - Gay Talese
"To achieve the nonchalance which is absolutely necessary for a man, one article at least must not match." - Hardy Amies
"Elegance is refusal." - Coco Chanel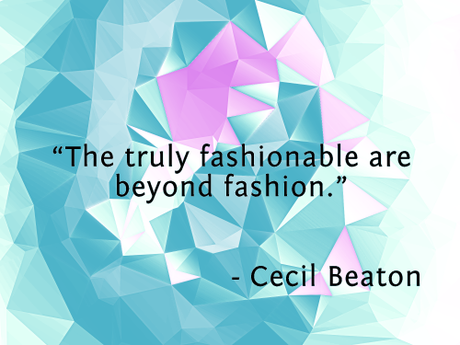 "The truly fashionable are beyond fashion." - Cecil Beaton
"Well-dressed men know that nothing worth-while is ever outmoded, that a superb tailor's work is ageless." - Finis Farr
And, to quote ourselves, "In fashion, the ordinary always has to be extraordinary" - Fraquoh and Franchomme
As you can see, there is very much to learn from the wisdom of others and we are sure that any man can benefit from reading and living these quotes!
Fraquoh and Franchomme
P.S. What is your favorite quote? Do you have a personal style-related saying? Share your feedback, questions or thoughts in the comments below! For more articles on style, fashion tips and cultural insights, you can subscribe to Attire Club via e-mail or follow us on Facebook or Twitter!