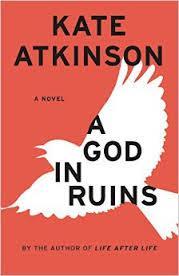 Thank you, Kate Atkinson, for this fantastic book.  I've been a fan of Atkinson for years, but while I could appreciate Life After Life, the multiple-life plot device made it hard to really get into the story.  A God in Ruins was exactly what I'd hoped for, and more.  It's about the life of one character, Teddy Todd, from birth to death and everything in between.
Teddy is the brother of Ursula Todd, from Life After Life.  He's also a World War II RAF pilot, a nature writer, a father and a grandfather.  He's also a genuinely kind and decent man.
You might be thinking, how interesting could a story about a kind and decent man be?  Somehow, Atkinson makes Teddy a living, breathing character, not just a nice guy.  She takes no shortcuts.  He struggles with his memories of the war, and has a hard time sharing those experiences with his wife.  His daughter hates him – she's vicious and cruel, but also heartbreaking at times.  You can be a good person but that doesn't make life, or family, any easier.
This is great historical fiction; I was fascinated by the war years and Teddy's experiences, even though I know nothing about planes and don't really care to.  My husband and I looked up the different bombers Teddy flies, which will tell you something about how much this book captured my imagination.
Atkinson weaves together themes of morality and what it means to be good.  The title comes from this quote by Ralph Waldo Emerson: "A man is a god in ruins. When men are innocent, life shall be longer, and shall pass into the immortal, as gently as we awake from dreams."  She also brings in a lot of complex symbolism and references.  This is the kind of book where I'm sure I missed a lot, but I loved it anyway. There's so much here about art, about truth and fiction, and about life and what it means to be happy. This is a book you could study, but you will also enjoy reading.
While this is a story of one man, it's not told in a linear way.  Atkinson jumps around in time, artfully revealing some aspects of Teddy's life before others.  We know he survives the war, we know he marries his childhood sweetheart, and we know his wife dies young.  In some books, revealing things out of order feels staged, a plot device, but here it works to keep you interested in every part of Teddy's life.  And often it's a pretty quiet life, and that's okay.
This is a powerful book that really lived up to expectations.  The writing is absolutely gorgeous.  There was one scene I found completely heartbreaking, but the entire book is really moving.  Teddy is someone you'll feel like you know.  His pain is our pain, from wartime to his lonely last days.
A God in Ruins was nominated for the Baileys Prize longlist but didn't make the shortlist.  I haven't read most of the shortlisted books, but it's a damn shame this book wasn't included.