A God in Ruins relates the life of Teddy Todd - would-be poet, heroic World War II bomber pilot, husband, father, and grandfather - as he navigates the perils and progress of the 20th century. For all Teddy endures in battle, his greatest challenge will be to face living in a future he never expected to have.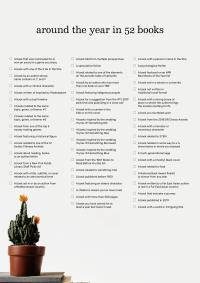 This gripping, often deliriously funny yet emotionally devastating book looks at war - that great fall of Man from grace - and the effect it has, not only on those who live through it, but on the lives of the subsequent generations. It is also about the infinite magic of fiction.
Those who loved the bestselling Life After Life will recognise Teddy as Ursula Todd's adored younger brother - but for those who have not read it, A God in Ruins stands fully on its own. Few will dispute that it proves once again that Kate Atkinson is one of the most exceptional novelists of our age.
***
['Mummy, I'm hungry']
***
(Black Swan, 31 December 2015, first published 1 May 2015, 552 pages, paperback, Around The Year In 52 Books 2019, a book with more than 500 pages , bought from @AmazonUK)
***
***
Atkinson is one of my favourite writers. Life After Life blew me away so I couldn't wait to read this book about Ursula's brother. It's a very different tale to Ursula's. I loved every page of this book. The narrative weaves back and forth in time telling the story of Teddy, his wife and their daughter Viola, before during and after WWII. It's a dazzling novel that touches on so much and really sticks in your head. The book explores the horrors of war and it's lasting impact, getting old and the good and bad that come with it, love, loss, illness and above all hope. There's so much to love in A God in Ruins. I was awed by it. What an astonishing book!