Film at 11, cute youtube video about a girl and her dog who travel from Wisconsin to Hollywood….
https://www.youtube.com/watch?v=jqeyjwoemyM&feature=youtu.be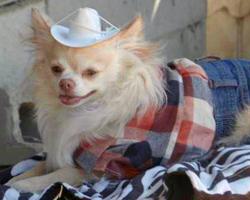 EPISODE DESCRIPTION:
Jahnna and her dog, Gizmo, move from Wisconsin to Hollywood for her attempt at becoming a famous actress. The film crew documents the outlandish obstacles that take place when the two try to find a place to live.
2Fur1 2:1 – Gizmo, We're not in WI anymore!
2Fur1 Web Series 2013!
New episode every Tuesday!
There's a total of 11 episodes!
TAGLINE:
Will a Midwestern gal, a talking dog, and her film crew survive Hollywood?
ABOUT:
2Fur1 is a comedy mockumentary where a film crew follows two best friends, a girl and her talking dog, to Hollywood. The star struck girl can't catch her big break while her dog seems to be making his mark. The dog lands every acting audition and pays their bills even though he wants nothing to do with the industry. Will their friendship stay strong or will the dog end up stealing the show?