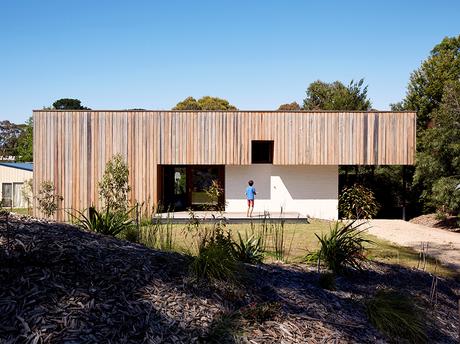 Rachel Nolan and Steven Farrell's weekend house is located a couple of blocks from the beach on Australia's Mornington Peninsula. Built with passive principles in mind, the low-slung structure features double-thick brick walls for thermal massing. The vertical wood cladding is unfinished spotted gum, a local timber.
Project  Merricks Beach House Architect 
Kennedy Nolan
The appeal of a getaway just an hour's drive south of bustling Melbourne has lured many to Merricks Beach, a small seaside community on Australia's Mornington Peninsula. Originally farmland, the area experienced a brief building boom in the 1960s, when vacation homes sprouted among the dirt roads and gum trees. Little has been developed since then, and the enclave retains its pastoral appeal; few houses and even fewer vacant lots end up on the market. So when architect Rachel Nolan and her husband, Steven Farrell—longtime visitors to the area—discovered an empty parcel in 2010, they immediately scooped it up and hatched plans to build a modest weekend retreat. 
Nolan and her business partner, Patrick Kennedy, established their Melbourne practice, Kennedy Nolan, 16 years ago and have since developed a diverse portfolio of projects, ranging from residences and schoolyards to mixed-use developments. Their work expresses the modernist principles of rationality, utility, and sensitivity to location. When it came to designing a vacation home of Nolan's own, those principles remained paramount. 
"We thought carefully from the start about what is different about the 'weekender,' about how we experience time away from our city life," Nolan says. "This house had to make us feel a certain way. There are emotional associations from when you're on holiday as a child, and those things that appeal to your senses or memories are quite evocative when you think about how you're going to live in a particular place."
Beyond the intangible, the house needed to fulfill certain practical criteria. It had to be inexpensive to build, easy to maintain, and durable enough to withstand heavy use. Nolan and Farrell wanted to rent out the place when they weren't using it, a decision that guided the design from the start. For example, they originally specified a complex folding-door system but scrapped the idea, favoring ease of use over esoteric details. "If we were renting to someone who didn't know how to use that, it would easily break," Nolan explains.
Nolan and Kennedy selected robust materials, such as concrete, brick, and spotted gum and tea tree wood, that are likely to hold up to a parade of renters while staying true to the firm's signature sensibility. "Materials are a big part of the practice and what we call 'handmade modernism'—that strength that comes from something being built by somebody, not machine-made," Nolan says. She and Kennedy avoided fragile finishes in favor of surfaces that would weather and build character—"materials that really hold their beauty and age in a lovely way," Nolan says. She used drywall only on the ceiling. 
Environmental responsibility and privacy were at the heart of Nolan, Kennedy, and Farrell's vision. The architects optimized the structure's orientation and ensured cross ventilation to keep heating and cooling to a minimum—and also to block views from passersby. "People park and walk around, so it feels like a little country town," Nolan says. "It really had to be private from the get-go." To that end, the single-story, 670-square-foot house wraps around a central courtyard, the main outdoor gathering space. Nolan and Kennedy restricted floor-to-ceiling windows to the inward-facing sections and kept most of the street side opaque. Deep eaves shield the glazing, allowing Nolan and Farrell to forgo drapes and blinds. Rooftop solar panels produce energy for the house—"Kind of a no-brainer," Nolan says.
For Nolan, Farrell, and their three children—Ignatius, Nell, and Clare—time in Merricks Beach is about togetherness and flexibility, priorities that are reflected in the open layout of their home. The kitchen, dining area, and living room flow together so that people can easily converse throughout the house. When the sliding glass doors are opened, the space merges with the courtyard and becomes an expansive indoor-outdoor room. 
To further the classic Australian-weekender vibe, Nolan and Farrell outfitted a spacious room with four bunk beds. "A bunk is so exciting for the kids," Nolan says. The room, set away from the central living area, has become a secondary lounging and play area for the children, where horsing around needn't interfere with the adults' enjoyment. "We wanted the opportunity to have two types of living rooms because there's often lots of kids down there, and they can very easily drive you crazy," Nolan says.
In the winter months, the family often drags spare mattresses onto the ledge surrounding the sunken living room and huddles around the wood-burning stove. "There's something really lovely about going down there  in the quietness of winter," Nolan says. "I really enjoy sitting quietly at the fire because we don't get to do that very often in daily life."
If there is an overarching theme, it's simplicity—from the hardy materials to the uncluttered layout and the utilitarian details. There isn't a "razzle-dazzle" moment in the design, Nolan says. Rather, the house features a number of deftly executed, understated elements. She cites the Australian modernist Robin Boyd, who wrote  in his influential 1970 tome, Living in Australia: "The object of a design, in architecture as in anything else, is to say or do the essential thing as simply and directly and purely as possible."
"As an architect, I sometimes feel almost a little defensive about how simple this house is," Nolan says. "But ultimately it is its simplicity that I crave when I am not there."
Log in or register to post comments