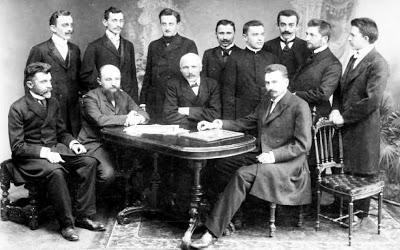 Professors & 4th-year graduates of philosophy at Lviv University (1904)
Source
.
Antoni Łomnicki
is standing 3rd from left. (
He was killed by Germans
in the Massacre of the Lviv Professors.) Here's an article (
pdf
) about the people in the pic. Seated at the right is physicist and mathematician
Marian Smoluchowski
.
Anthea
Bell
's translation of Friedrich Torberg's
Young Gerber
is out from
Pushkin Press
(an excellent publisher whose website is not excellent). Here are two reviews. The book is about a tragedy in an Austrian school.
Speaking of which, Duncan Richter has
a couple of posts
on
Musil's The Confusions of Young Törless
. The novel was also the springboard for some reflections on value and culture.
Mr. Waggish has an essay on Musil's Man Without Qualities
.
An interview
with Susan Bernofsky, conducted while she was translating
Gotthelf
's
Black Spider
. David Auerbach (aka
Mr. Waggish
) says via Twitter that the book's release date is Oct. 8. It's strange that
the NYRB site
has no info about the book (neither does
their Tumblr
).
The book (as Mr. Auerbach says) is on Amazon
. Is it just me, or does the right half of the face on the cover look like Margaret Atwood?
Bookslut's review of Frierich Reck's Diary of a Man in Despair
. It's also reviewed
at the Guardian
, by Common Reader,
Futile Preoccupations
, and Mookse and Gripes. This time,
NYRB does have a site for the book
. Reck, aka
Friedrich Percival Reck-Malleczewen
, died in Dachau.
Here's a lengthy piece on him in German
.
A review of
Eduard Habsburg
(-Lothringen
)'s novel,
Lena in Waldersbach
.
From David Wilson's review of Alain Badiou's
Wittgenstein's Antiphilosophy
: 'Badiou's bombast finally testifies in defense of Wittgenstein. Not that Badiou admits that Wittgenstein might be right. But this uncharitable and incomprehensible critique shows it. For silence would say so much more.'
Wuthering Expectations has several posts on Austrian writers,
on Bernhard
,
Broch
, Hofmannsthal, and Stifter (twice).
On the death of Anton Webern
.
On James Joyce in Trieste.
Here are some nice old and new photos of the country houses that Patrick Leigh Fermor came across in Transylvania
and Fermor's
postcard from Cluj
.
Neglected Books Page has an entry on You Still Have Your Head
, a book by Franz Schoenberner.
Review of a newly translated French biography of Émile Durkheim
.
Llosa on why Proust is important for everyone.
A podcast of John Marenbon on Boethius
.
This strikes me as depressing. The
Journal of Happiness Studies
published this paper,
'Arthur's advice: comparing Arthur Schopenhauer's advice on happiness with contemporary research'
. According to the Abstract, 'We summarize [Schopenhauer's] recommendations and compare these with conditions for happiness as observed in present day empirical research. Little of the advice appears to fit current research on conditions for happiness. Following Schopenhauer's advice would probably make us unhappier, even if we had the same neurotic personality.' It's open access.