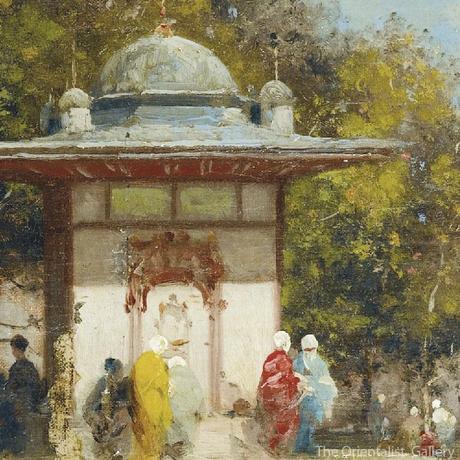 Artist: Germain Fabius Brest (1823-1900)
Title: A Fountain by the Sea in Turkey/Fontaineau bord de la mer en Turquie
Medium: Oil on Canvas
Size: 8 /13 x 15 inches
In Turkey public fountains were often the water supply for the community. Throughout the Ottoman reign  sultans and their closest relatives would endow the construction of a highly ornate fountain as a sign of their countries prosperity. Due to the elaborate ornamentations these structures would eventually become an important part of Turkey's architectural tradition  .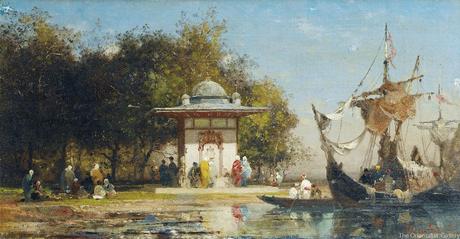 The artist must have seen this fountain by the sea during one of his travels to Turkey and inspired to create. this panoramic painting.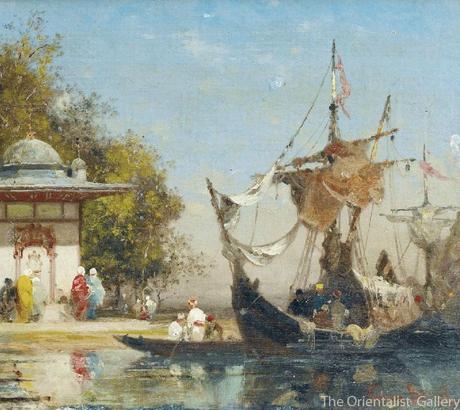 The handling of the reflection on the water surface is superbly achieved and adds a lovely lively atmosphere to the painting.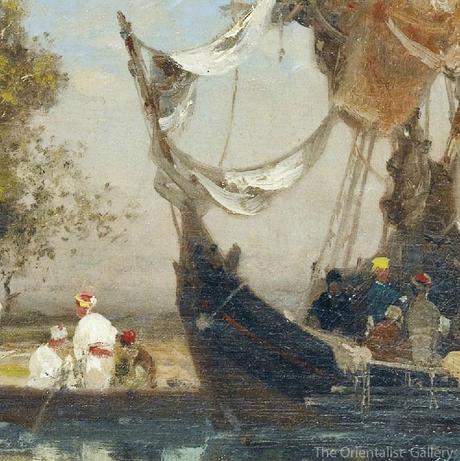 Note hoe none of the faces are rendered. Unlike Jean Leone Gerome whose paintings show every minute detail, Brest has chosen to concentrate on the overall setting and impression he must have received when he first glimpsed this setting.
~
Painting Commissions are Happily Accepted ~
 Layaway Plans are Available!
★Thank you for Visiting!★ 
Join Me on Facebook
~ Return to Portfolio ~ Return to Blog
Share on Tumblr