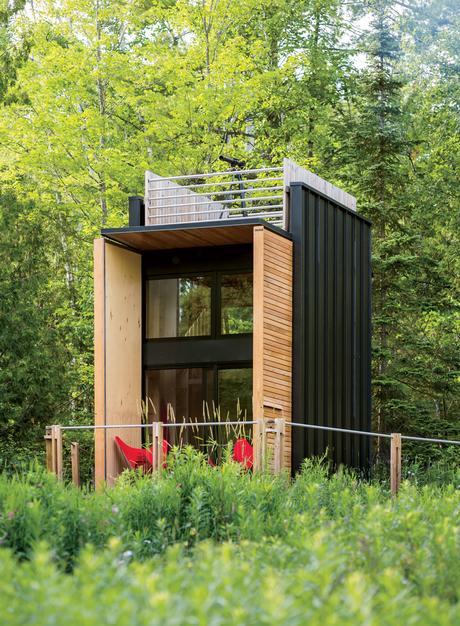 Architect Bill Yudchitz asked his son, Daniel, to help him create a self-sustaining multi-level family cabin in Bayfield, Wisconsin. 
Project  Nest Architect  Revelations Architects/Builders
A vision of an archetypal little cabin in the woods—reinterpreted with a contemporary aesthetic and a sustainable footprint—inspired Bill Yudchitz and his son, Daniel, both architects, to put their years-long dedication to the small home movement into action five years ago. "Everything we saw was ugly, corny, and Spartan," says Yudchitz. "We wanted to prove that architecture can be artful and soulful, but still tiny, affordable, and green." With Yudchitz's practice, Revelations Architects/Builders, in Stevens Point, Wisconsin, and Daniel working for architecture and engineering firm HGA in Minneapolis, the experiment would also yield a pair of weekend retreats for their families. 
Finding lakeside land proved surprisingly daunting; many idyllic spots, such as Wisconsin's Door County, have zoning ordinances with minimum size requirements larger than what the Yudchitzes planned to build. In September 2009, after seeing dozens of sites, they landed a 2.78-acre lot with water access on a wooded bluff overlooking Lake Superior's Chequamegon Bay for $52,500. It's 2.6 miles outside Bayfield, Wisconsin, population 530, and about a four-hour drive from each of their homes.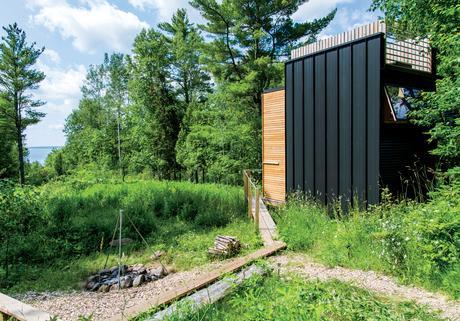 A standing-seam steel roofing panel clads a portion of the exterior, while the aluminum pipes also serve as the railing for the roof deck. The family cooks all their meals at the fire pit outside.
Four months later, they completed a cabin they christened the EDGE (Experimental Dwelling for a Greener Environment), a striking rectangular structure clad with a white-oak rain screen, topped with a playful butterfly roof, and sporting integrated multifunctional furnishings that doubled the livability of its 325 square feet (plus two 85-square-foot sleeping lofts), Yudchitz estimates. But because of the two men's admiration for Pritzker Prize winner Peter Zumthor's exquisite construction details, it was built with the painstaking precision of a Swiss watch—and it was pricey. "It cost at least $100,000 to build because the materials were crafted to within .002 inches, so it's expensive for what it is," says Yudchitz.  
"As an antidote, we built Nest," he quips. They started work on the structure—about 130 feet away from their EDGE cabin, but hidden by the woods and plopped on a platform of treated framing lumber supported by concrete piers—in July 2013. Working only on weekends, the pair completed Nest in a little over a year. To mitigate costs, they used leftovers from prior projects and filled it in with newly purchased supplies, making an exact budget tough to pin down. "Not counting time, it will take between $15,000 and $25,000 to build the Nest, depending on materials selection," says Yudchitz, who believes almost anyone can do the job from their plans. "We managed, and we're not finish carpenters. The only tool we used that required any real skill was a miter box. The Murphy bed was the hardest thing in the place to make," he says.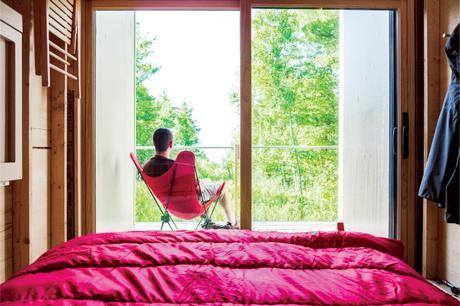 The sleeping bag is from Gander Mountain. A Murphy bed provides more sleeping space downstairs. 
Measuring only 9 by 10 feet and standing 12 feet high, Nest is a smidgen taller than a typical storage shed. But the similarities stop there; true to the Yudchitzes' vision, it's artful and soulful. The standard lumber used for the framing and sheathing gets a dose of modern style from black metal panels on three sides; they're actually standard  standing-seam roofing with a Kynar finish. The fourth side, facing south and overlooking the lake, is edged in standard residential glass patio doors. Awning windows top them, and floor-to-rooftop doors border the window wall and swing open to form an enclosed porch, or close to protect the structure when it isn't in use. They're made of white-oak rain-screen panels and lined with aspen plywood. The flat roof is also an observation deck and overhangs the doors by four feet as a shield from the elements. Behind the structure is an outdoor shower, fed by a sand-filtered water cistern that funnels water off the roof.
Inside, the space morphs for lounging, eating, and sleeping, thanks to its fold-out, drop-down furnishings made out of Baltic birch plywood. Collapsible chairs come down off of walls; a table and bed fold out of the same; a wash-basin, fed by a two-gallon water jug, slides out from a corner; and a ladder along the wall leads to a nine-by-five-foot sleeping loft. From there, another ladder leads to the rooftop that adds another 90 square feet to the cabin—in good weather. Without a refrigerator or stove, food is fresh and cooked outdoors on a camping grill, "so if it rains, we head to town to eat," Yudchitz says with a laugh. Solar lanterns charged outside come inside to light the space at night.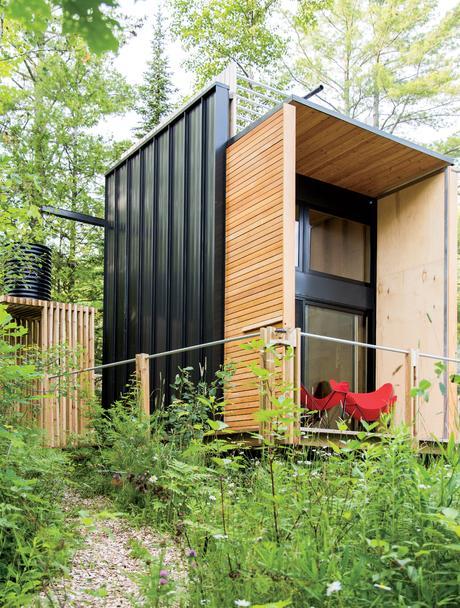 A rainwater catchment system feeds a cistern and outdoor shower. The Butterfly chairs are from Hayneedle. 
The family is at their Nest at least three weekends a month from spring to fall. (They head to EDGE in winter.) Yudchitz says the house can hold "three adults; two adults and two kids; or four adults if they're young and in love." He's most proud of the fact that "we did a lot with a little." And he's pleased that they were able to pack everything they wanted into such a minute footprint.