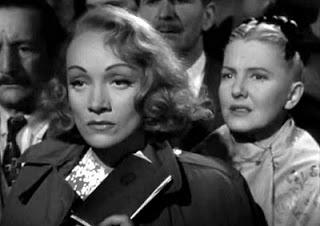 "Take my lovely illusions, some for laughs, some for tears."
Billy Wilder interrupted his stream of postwar dramas with
A Foreign Affair
(1948). Wilder parlayed his experience denazifying Germany's film industry into a broad, biting comedy.
Iowa Congresswoman Phoebe Frost (Jean Arthur) joins a fact-finding mission to postwar Berlin. She's alarmed by American soldiers' fraternization with the German population, going undercover to investigate. Her contact, Captain Pringle (John Lund), carries on with Erika Von Schlutow (Marlene Dietrich), a singer reputed to be a Nazi sympathizer. Phoebe enlists Pringle to investigate Erika, the two falling for each other. Things grow thornier when Erika's ex-lover (Peter von Zerneck) resurfaces with a death wish.
Much of
A Foreign Affair
seems like
The Third Man
played for laughs. Wilder films on location in Berlin, contrasting its ruined buildings and downtrodden populace with bored, horny Americans. GIs woo frauleins with nylons and chocolate, deflating our image of righteous servicemen. This humor plays against officials discussing denazification, hoping to "kick the goosestep out of them" through elections, youth camps and cultural conditioning.
It's to Wilder's credit that his comedy rarely seems crass. Corruption cuts both ways, with Americans reduced to black market hucksters (Pringle has a wife in Iowa) and Germans debased pursuing survival. Only Pringle threatening to throw a delinquent teen into the gas chamber leaves a bad taste, redeemed by a silly visual gag. It's strange to think that Wilder filmed
Affair
the same year as Rossellini's peerlessly bleak
Germany Year Zero
.
Beneath its political subtext, Wilder and his writers construct a complex love triangle. Phoebe's a prig wooed to warmness by Pringle; he corners her in an office with filing cabinets. Erika punctures her righteousness, explaining that everyday misery overrides an outsider's moral judgment. But
Affair
refuses to ridicule Phoebe: Birgel's reappearance vindicates her concerns, showing it takes more than nylons to eradicate fascism.
Jean Arthur plays with grave, haughty dignity, alleviated only in her romantic scenes. She's equally endearing masquerading as "Gretchen Gesundheit," singing Iowa's state song or chewing out a pompous General. John Lund's charming roguishness proves a good match. Marlene Dietrich delivers waspish barbs and sultry songs in scene-stealing support. Millard Mitchell and Peter von Zerneck play straight roles.
Billy Wilder viewed American culture with an immigrant's grateful attachment and amused distance. Farther removed from the war, his
One Two Three
(1961) offered a stronger critique of America's cultural imperialism. In
A Foreign Affair
, it's a silly necessity, both complicated and sweetened by love.