Guitarist.Vocalist.Multi-instrumentalist!?Dad! This edition of Fistful of Questions goes out to Zac Crye of Hudu Akil and his solo project Zac Crye.
Zac Crye
ZC Solo-man 5000
What bands are you actively involved with?
My solo project and my band Hudu Akil, a stoner metal band in Phoenix.
What was the first instrument that you played?
Guitar
Tell me about one of your first musical memories?
I remember I had this Alvin and the Chipmunks vhs when I was a toddler and it had videos of Elvis, The Beatles, and Michael Jackson. I was thrilled with Michael Jackson, his videos really blew me away when I was a kid.
What was the name of the first band you were in?
Dead Set or some dumbshit like that
Tell me about the genesis of your solo project.
I recorded these songs myself in January of 2019, just before we began tracking the most recent Hudu Akil album. It was my intention to release it as a follow-up EP for Hudu Akil. I recorded it all myself because the band was focusing on the full album and I didn't want to pile on even more material.
Once the pandemic hit and live music stopped, I thought it would be cool to release the EP as a solo album. It's something I've toyed with in my mind for a while, and it would give me the chance to reach an even broader audience. I could do more creative things with my social media because it didn't require the entire band to be present, it's been a lot of fun. The plan has always been to express new territory with these solo releases and to pass the momentum back to Hudu Akil, so you will most likely hear Hudu Akil playing Zac Crye songs. I think it's All the Same anyway.
How long did it take you to write and record All The Same?
The album is a collection of songs I've had written for some time. It wasn't until I wrote 'Look Out Above,' and the title track that it really took form.
I recorded the entire EP in two back-to-back 8-hour sessions.
If you could insert yourself into any one band what band would it be and why?
I would love to insert myself back into my own band, Hudu Akil.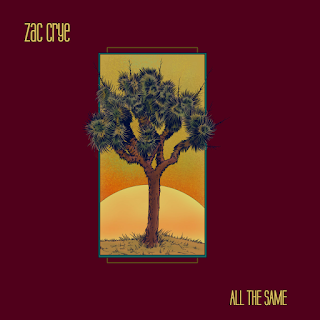 Have you ever heard a song and immediately wished you had written it?If so... What was the song and artist?
I've felt that feeling, sure. I felt a similar feeling when I heard Holy Death Trio's song 'Bad Vibrations.' It's like, 'oh yeah, it was right there all along.' A lot of songwriting is like being a conduit for the song. I think a lot of songs are floating around waiting for the right conduit. Sometimes they just hit you all at once.
Do you have any non-metal musical inspirations?
The most non-metal music that inspires me would be Kendrick Lamar's music. I know his entire discography.
Non-metal song that you'd like to do a cover of.
Maybe a Bob Dylan tune.
What band have you played with that has really impressed you with their live show?
Great Electric Quest always put on a fantastic show!
Do you have a favorite venue to play at?
Not yet.
Do you have a pre-show ritual?
I stretch a little bit, warm up my instrument, maybe a shot of tequila, throw on that Norman Greenbaum and hit the stage.
What is your favorite thing about touring?
New people and places, it's a lot of fun.
What is your least favorite thing about touring?
Missing my kiddos is the toughest thing about going on the road.
Is there a city that you love to hit while on tour?
All of em!
What's the weirdest experience you've had on the road?
Hanging out with the people at Slab City.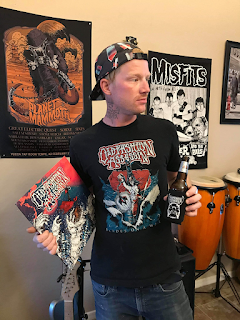 The year is 2008.Where are you at and what are you listening to?
In high school listening to Pantera and Megadeth.
What advice would you give young musicians that are just starting out in the music industry
Do this because you enjoy it, work like it's a full-time job because it is, invest in yourself.
What is an absolute band killer?
Girlfriends?
What's the longest time you've gone without bathing?
Probably 3 days
What's one thing that most people don't know about you?
My dad was an Elvis impersonator.
Is the Fistful of DOOM show in the top 10 of your favorite music podcasts?
Absolutely!Shoutout to Jamey!
Do unicorns sleep standing up?
They sleep clung to the backs of crippled giants.
Tell me two things that people should absolutely know about Arizona.
It's a beautiful state.
It's a dry heat.
You're driving cross-country and you can only listen to one album the whole time.What album will it be?
Songs for the Deaf, I suppose.
You are writing a book about your life thus far.What is the title of that book?
Look Out Above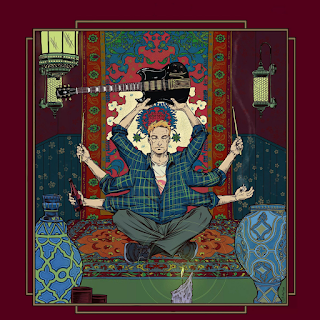 What is your favorite song by Willie Nelson?
Couldn't say...
Wo Fat or Mothership (if you had to choose)?
That's an unfair matchup, though I'm partial to Mothership.
Doobies or Boobies (if you had to pick one)?
Doobies
Waffles or Pancakes (if you had to pick one)?
Pancakes
Star Wars or Star Trek (if you had to choose)?
Star Wars
Favorite band t-shirt you own?
Old Fashion Assassin
Steak and Potato
Think and Grow Rich
Pulp Fiction, maybe.
I don't think I have one, honestly.
Many, many thanks to Zac for taking the time to answer my questions.I appreciate it."All The Same" drops on April 16th and there's a single available over on Bandcamp.Click on over and give it a listen and go ahead and pre-order the full album. Also, check out Hudu Akil over on Bandcamp while you are there.
https://zaccrye.bandcamp.com/album/all-the-same
https://huduakil.bandcamp.com/album/eye-for-an-eye
Look Out Above (lyric video)