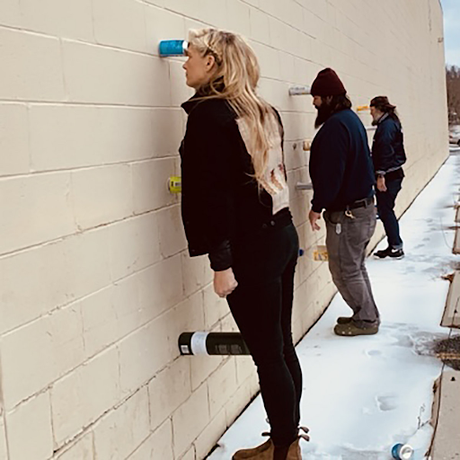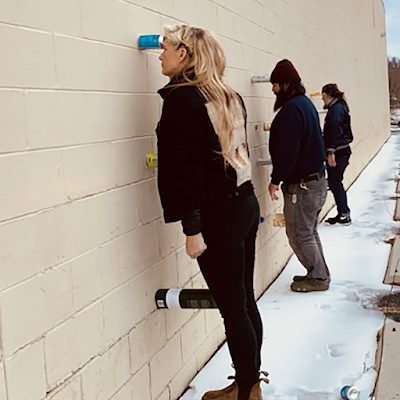 Vocalist.Guitarist.Drummer.Sampler.Synth-est?!Trekkie.Road Warrior!Damn!MRC wears a lot of hats and he is also the recipient of this edition of Fistful of Questions.

First things first…. What in the hell was it that inspired the promo photo with the cans (which I absolutely love)?

Hahaha thanks! That picture was inspired by the funniest meme I ever saw. At any time of time and situation I can pull that meme up and we will laugh just as hard as the first time we saw it. Jess hates "promos" and said if we ever had to do them again she would only do something fun. This fit the bill ;)

What is your full name?

Michael Rudolph Cummings

Do you have any aliases?

A lot of my friends call me mister. mRc gets used a lot too

What bands are you actively involved with?

Currently I jam in a few. BOOZEWA is happening full on right now, I play drums and sing in this. Backwoods Payback I have been a part of since it started in 2002 and I play guitar and sing in that one. I'm also in All Else Failed, which is a little more sporadic as we are all spread across the country. In AEF I handle samples, synth and vocals.

What was the first instrument that you played?

The first instrument I played was the bass. Electric four string I started when I was 13 years old.

Tell me about one of your first musical memories?

Music was always on in my house growing up. My mom is a huge music fan and she always has it playing somewhere in the house to this day. Neil Young's Harvest was a big one that I recall vividly in all seasons of the year.

What was the name of the first band you were in?

I think it was called Devience? It was 9th grade, I sang in it and we played a talent show.

Tell me about the genesis of Boozewa.

Jess and Rylan and I all live together kind of in the country. We all played in Backwoods Payback together about a decade ago and when quarantine happened in 2020 we were basically three musicians in a house with a basement full of gear. We couldn't go anywhere or see anyone so we did the only thing we really know how, we just started playing for the sake of playing.

What inspired the name Boozewa?

It's a take on bourgeois. It's fun to yell. BOOZEWA!!

How long did it take you to write and record First Contact?

Those songs were in the first batch of stuff we wrote. Time wise I'm not really sure, it's all been kind of a blur. I'm guessing we wrote those in about two weeks or so? I started recording in my old four track again in the midst of everything and just was always tracking whatever we were doing. I think these tales were from the earliest runs as well.

If you could insert yourself into any one band what band would it be and why?

As a member I don't know, there's so many intricacies involved in making music with people. To just "jam" I'd love to plug in, turn up and just vibe with Neil Young. Solo/crazy horse/promise of the real/anything really. He always inspires me

Have you ever heard a song and immediately wished you had written it?If so… What was the song and artist?

I haven't. There are songs that mean the world to me and that I cherish deeply, but I never wished I had written them. They have to come from within, from each person's experiences and life. That's what makes them so individual and so special.

Do you have any non-metal musical inspirations?

I make solo records and tour as a solo artist as well as everything i mentioned before. I have two records pretty much complete and sitting for the right time to be heard...I have a feeling 2021 will see one of them release for sure.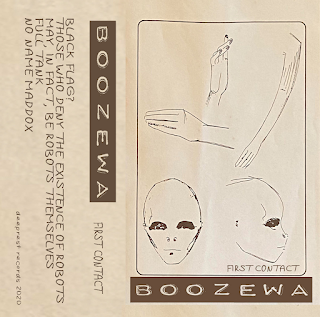 Non-metal song that you'd like to do a cover of.
Boozewa's been kicking around jamming a few Squeeze songs lately.
What band have you played with that has really impressed you with their live show?
We have toured with and been playing alongside Royal Thunder for the better part of a decade. They never cease to blow me away with their passion and energy. Every night they leave everything out there. It's hard to find folks that feel it as deeply as you sometimes.
Do you have a favorite venue to play at?
In the states we are lucky enough to have my fav venue to see a show or play right here in Philly, Kung Fu Necktie. Overseas I would have to say either Blackheart or Underworld. Both in Camden Town London. Amazing places run by amazing people that support artists fully.
Do you have a pre-show ritual?
Pre show I usually stretch a bit, do some vocal warm ups and run throughto loosen myself up overall. Afterward is a little more important for me personally. I have to take some time and some space and clear my head, come back into the room so to speak.
What is your favorite thing about touring?
Traveling somewhere everyday and playing. As simple as it sounds, Willie Nelson summed it up perfectly and there really isn't much else to say about "the life I love is making music with my friends, and I can't wait to get on the road again."
What is your least favorite thing about touring?
Nothing really. Long hauls and not seeing the most important people in my life for extended periods of time is probably the only downside I can see. Missing important dates in my friends and families lives has been hard but they have always supported me and what we do. That means the world.
Is there a city that you love to hit while on tour?
I LOVE Atlanta. It's like a second home to me at this point and it really feels like a giant breather and welcome home stop every time I am there.
What's the weirdest experience you've had on the road?
Man there are too many to count, and I couldn't do one justice off the top of my head. Running into Mike Bordin from Faith No More at a coffee shop in North Carolina was a fun one :)
The year is 2000.Where are you at and what are you listening to?
2000...depending on the time of year I am probably on tour in the states somewhere and we are rocking an advance bootleg of the Radiohead KID A album that we scored while down south at a record show we decided to go to on a day off lol.
What advice would you give young musicians that are just starting out in the music business?
Play. Just play. Play for yourselves, play what makes you happy and feels right for you. It doesn't matter what else happens, as long as you are making the art for yourself nothing else matters!
What is an absolute band killer?
Code Orange is absolutely killer. On all levels, musically, visually, and as people. They are a total inspiration in this past year.
What's the longest time you've gone without bathing?
Way longer than I care to admit, probably close to a month.
What's one thing that most people don't know about you?
When I was little I couldn't stand having my arms held against my sides. I still hate it. It's one of the only things physically that bothers me.
What are two things that people absolutely need to know about Pennsylvania?
We call it Lager, not Yuengling. The word Jawn is real, we take it seriously and we think it's kind of weird it's taken the rest of the country so long to pick up on it. rePAzent
Is the Fistful of DOOM show in the top 10 of your favorite music podcasts?
For sure. I don't really listen to many music podcasts but they have always supported Backwoods Payback and had our backs. That's probably how I started listening to it, but I've been turned onto a slew of great bands that I might not have heard of otherwise. My other music podcast I listen to regularly is You Don't Know Mojack, which is two fellas from Canada going through the entire SST Records catalog one release at a time. It's fantastic as well!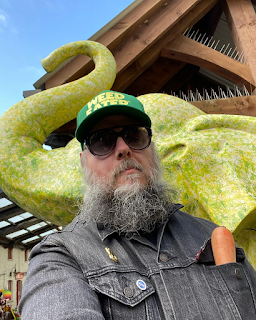 Do unicorns sleep standing up?
Nah, they sleep lying down. I meant they CAN sleep standing up when they choose to, but they are way into that good rest. That good lying down rest.
You're driving cross-country and you can only listen to one album the whole time.What album will it be?
It would probably depend on the time of year but right now I'm going with The Essential Waylon Jennings. It captures all moods needed and is a long ass record. Perfect waking up music, perfect hauling ass music, perfect winding down music.
You are writing a book about your life thus far.What is the title of that book?
"You know how I get"
What is your favorite song by Mac Miller?
I don't really have a favorite, but our friend that does merch LOVES Mac Miller and always puts him on in the van. I dig it totally.
Live or Hall & Oates (if you had to choose)?
Hall & Oates without a doubt!
Doobies or Boobies (if you had to pick one)?
I'm not really a big weed guy, so Boobies I guess?
Waffles or Pancakes (if you had to pick one)?
HOT CAKES!!!! (South eastern Pennsylvania name for pancakes!)
Star Wars or Star Trek (if you had to choose)?
Fuck this is the hardest question. I LOVE Star Trek but I have to go STAR WARS because it's literally ingrained in me. I saw Empire in the theater when it was released again right before ROTJ and I have been basically obsessed ever since. This is the way.
Favorite band t-shirt you own?
A baby blue bootleg Pearl Jam shirt I bought outside the venue the first time I saw them in Washington DC in 1995. Only 1500 people got tickets and it was Jack Irons first show as their drummer. It was L7, Neil Young/Crazy Horse, and Pearl Jam. I get goosebumps just thinking about it to this day!
Favorite meal?
Homemade burritos from my mom
Favorite book?
It changes all the time. Post Office by Bukowski is always up there near the top of the list
Favorite movie?
PeeWees Big Adventure, Halloween or Empire Strikes Back
Favorite album?
Damn, another one that changes all the time, but Pearl Jam VS, is just about always at the top of that list!
...end transmission...
   Massive thanks to Michael for taking the time to answer my questions.I appreciate it.If you were paying attention Michael quoted Willie Nelson, The Mandalorian and Metallica all in one interview.Although… I don't think the Metallica one was intentional.Be sure to check out Boozewa's latest release First Contact which I've taken the liberty of dubbing, "The unkempt bastard child of sleazy rock n'roll."Also.. do yourself a favor and wrap your ears around some Backwoods Payback!
~El Pedo Caliente (aka Uncle Jameson from The Fistful of DOOM show)
https://boozewa.bandcamp.com/album/first-contact
https://backwoodspayback.bandcamp.com/album/use-magic-to-kill-death