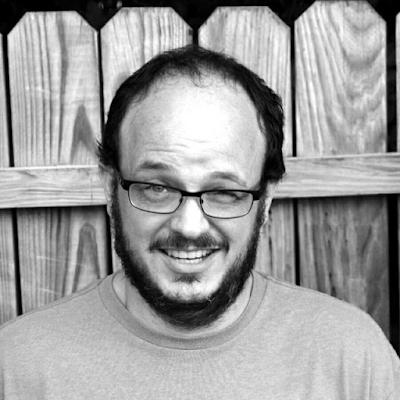 If you look up D.I.Y. in the dictionary there is a better than average chance that the recipient of this addition of Fistful of Questions will, at least, have an honorable mention.This guy is a multi-instrumentalist, artist and curator of the heavy music fest aptly titled Heavy Mash.
Mark Kitchens wears many hats and he wears all of them well.He not only creates the artwork for Stone Machine Electric and Slow Draw, but also produces the flyers for the numerous live shows that he is involved with through each of these projects including, but not limited to, Heavy Mash.He has also been known to dabble in t-shirts.
With all of those irons already in the fire Mark very generously agreed to answer the queries of yours truly.

  


What is your full name?
Mark Kitchens. I have a middle name, it ends with ass, and starts with Dougl.
Do you have any aliases and/or nicknames?
Kitchens. It was Frugal back in high school. It came from that PBS show about the frugal gourmet, and somehow got linked with my last name.
What is a Derwooka?
Derwooka is the name I use for my artwork. I previously used it for music, but now it is strictly for my art. You can still find derwooka on bandcamp. It's kind of weird stuff. I did an album entirely on cigar box guitars under this name, along with some dirgey improvised stuff.
Tell me about one of your first musical memories.
Depends on how far back you want to go. How about not singing in the elementary school Christmas show. Several years later I was trying to teach myself The Doors "Wild Child" on guitar, before I even knew how, or that I needed to tune the guitar.
What was the first instrument you played?
That would be guitar.
What is the name of the first band you were in?
I played guitar in a band called Kaos, named after the international organization of evil in the show Get Smart. We did our own rendition of the theme song for Land of the Lost. We also covered Cheech&Chong's "Earache my Eye". (That is fucking awesome.Get Smart was one of my favorite tv shows as a kid and I also enjoyed watching the reruns on Nick at Night as a teenager.)
How would you describe the band's sound?
An out of tune version of the Dead Milkmen.
Who are some of your biggest musical influences?
Depends on what you are talking about, I guess. Frank Zappa first comes to mind just because of the breadth of material and "genres" he successfully covered, as well as the humor that goes with a lot of his material. He's always had amazing drummers in his line-ups.
Give me three of your favorite Zappa albums.
The Grand Wazoo Apostrophe One Size Fits All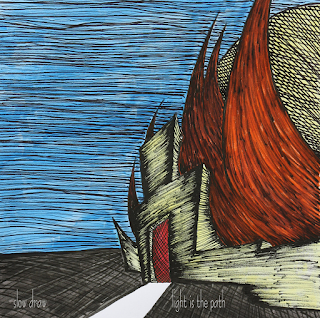 What bands are you currently active in?
Stone Machine Electric, Momentary Gamelan Ensemble, and my "solo" project Slow Draw
What inspired you to start your solo project Slow Draw?
I wanted to try and do something a little more drone, but that I could also pull off as a one-man band live if it ever came to it. It's kind of a mix of Stone Machine Electric and Momentary Gamelan Ensemble. I have played out a couple of times now.
Is the other member of Momentary Gamelan Ensemble a one time member of Stone Machine Electric?
Yes, Mr. Terry Horn played bass with us before we recorded and released our self-titled album. Great dude!
How did Momentary Gamelan Ensemble come together and how would you describe the vibe?
Momentary was previously call Hentai Improvising Orchestra. It was around before I joined them, and the cast transformed over its lifespan. When I got onboard it was 4 gentlemen - myself, Terry, Ken Shimamoto, and Matt Hickey. Ken and Matt left the group, and then it changed over to Momentary as we were scaring away some folks with the "Hentai" part** - they thought that was going to be in the performances. It's always improvised, mostly ambient, and a little experimental. The use of instruments changes periodically.
Is there a new album on the horizon for Stone Machine Electric?
Yes, but I don't know how far off that horizon is. We'll be going into the studio at the end of July though. Maybe some cool person will read this and want to put it out on vinyl with us. Is it too early to start soliciting?
Do you have a pre-show ritual?
Not really. Does loading in count?
Err… Umm…What is loading in….?
Loading our equipment into the venue. So post-show ritual would be loading out!
Tell me about the genesis of Heavy Mash?
It's pretty simple. We've played a few shows at Division Brewing in Arlington, and Wade (the owner) asked if I'd put together a fest of sorts. He's a real music fan, and he loved the line-ups I had put together previously. Bam - Heavy Mash!
Tell me a couple of your favorite Division Brewing creations.
I'm a big fan of the Clifton Clowers!
I'm thinking there should be a Stone Machine Electric brew.What are your thoughts?
Wade has mentioned it, maybe I can get him to do one for Heavy Mash.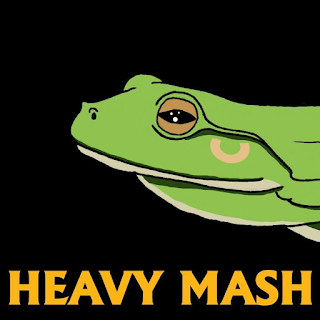 What can you tell me about the lineup for Heavy Mash 2018?
That depends on when this interview is published. We'll have 10 bands, both local and from other parts of Texas.
When and where will Heavy Mash 2018 be?
October 13th at Division Brewing!(Arlington, Texas)
What advice would you give someone about putting together a festival lineup?
Crap, I have no idea. I just started with bands I knew and wanted to be a part of it. This is only the second year, so I hope it goes as good as last year - that's where I'm setting the bar.
When did you first discover that you had a talent for drawing?
I'll let you know when I discover that. But really, I've drawn since I was little. I slowly challenge myself in order to get better. I also get stuck on motifs, so if you see something in a drawing over and over, you'll know why.
You're driving cross-country and you can only listen to one album.What album would you choose?
Firehose - if'n. I feel like I should choose a longer album though. On second thought, I'm switching it to Frank Zappa - The Grand Wazoo!
What's the longest time you've gone without bathing?
I really have no idea. Take that however you wish.
Have you ever heard a song and immediately wished you had written it?If so…What was the song and artist?
Fugazi - Repeater
If you could insert yourself into any one band what band would it be and why?
I'd say Om. Love the vibe of the band as a whole, so that means I'd screw it up. That last part is not the why, just the result!
How many times have you seen Acid Mothers Temple live?
Three times now. Amazing live show every time! I love their version of The Wizard more than the original.
How many live shows did you see last year?
Crap, do I count the ones I played? About 15-ish not counting those.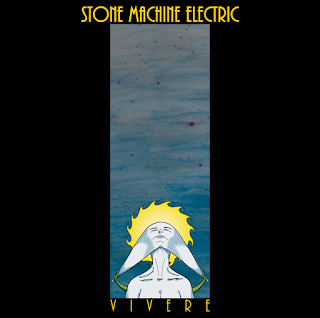 The year is 1986.Where are you at and what are you listening to?
I'm in Fort Worth, 6th grade, and probably listening to Van Halen or Iron Maiden
What is your day job?
I'm an architect. Can you tell by looking at my art?
Jack White or Jack Black (if you had to choose)?
Jack White. I dig his stuff and the White Stripes.
Favorite book?
Pass. When I do buy books, they are usually architectural in nature. I just ordered Lebbeus Woods' Pamphlet Architecture 15: War and Architecture. That sounds heavy, right?
Is there an architecture book you would recommend to someone with a casual interest in architecture?
Not really a book, but Bernard Tschumi did a series of "Advertisements for Architecture" that I love. It makes me think of culture jamming.
Favorite movie?
Lost Highway. I dig David Lynch stuff.
Favorite band?
That depends on what mood I'm in. Right now, um, Here Lies Man. I'll go with that. I was late on listening to there first one.
Favorite guilty pleasure? I never know how to answer this question, because I don't know I'm guilty until someone says "you like that?" or something. I like Coheed & Cambria's "A Favor House Atlantic".
Favorite meal?
I'm no foodie, but I do like going to Serious Pizza before a show in Deep Ellum.
Describe William "Dub" Irvin in fifteen words or less (guitarist/vocalist for Stone Machine Electric).
Fired. Just kidding, but what can I say that doesn't ruin the mystery of Dub?
**I am probably the only one on the planet that does not know what hentai means.So I took advantage of technology and Googled the meaning.The following definition is straight from Wikipedia….Outside of Japan, hentai is anime and manga pornography.In the Japanese language, however, "hentai" is not a genre of media but any type of perverse or bizarre sexual desire or act.
-El Pedo Caliente (a.k.a. Uncle Jameson from the Fistful of DOOM show)
https://stonemachineelectric.bandcamp.com/ https://slowdraw.bandcamp.com/ https://momentarygamelanensemble.bandcamp.com/ https://derwooka.bandcamp.com/ https://www.facebook.com/derwooka/ https://divisionbrewing.com/