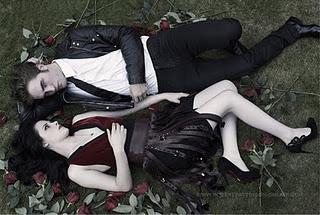 In honour of the new TVD episode tomorrow night (or today, depending on which country you're in :P) I thought I would write about a couple of my favourite vampire movies, books and tv shows. I am always more than happy to delve into the fantasy realm, and I feel it my duty to expand my conversation topics in order to gain more readers.
So, without any further ado, here are a few of my favourite vampire-y things.
Books
The Twilight Saga by Stephenie Meyer: Yes, yes. I know what you must be thinking. Everybody loves Twilight.... or they hate it. I love it because I read it before it was a big deal - and I still remember one of my friends describing it to me and it sounded like the most complicated, beautiful thing I had ever heard of. And so it was - first time I read it, I was in Europe at the end of 2008. I could not put it down. And then I bought the next 3 while I was over there so I could complete the series, they were just THAT GOOD. I think the movies have slightly deterred from the beauty of the books, but hey - who doesn't love Robert Pattinson and Taylor Launter? :P I suppose they make the movies worthwhile :D
The Vampire Academy books by Richelle Mead: If you have never read them, and you are a die-hard vampire fan, then you SHOULD. Join Rose, Lissa and Dimitri as they battle sickly crazed Uncles, Strigoi (the darker form of vampire), and the Royals (along with their laws). There are 6 books in the series and well worth the read. While Richelle does repeat some details in each of the books as a reminder for those who have forgotten, or some background knowledge for those of us silly enough to read them in the wrong order, and this does become somewhat tiresome - you can easily skim through this. A minor fault on an otherwise intriguing series.
The Vampire Diaries by L. J. Smith: Well duh. I love The Vampire Diaries as a TV show, as if I ain't gonna like the books. Ha. 'Nuff said.
The True Blood series by Charlene Harris: Of COURSE True Blood was going in here :D I don't think you can call yourself a vampire fan if you don't read True Blood. Granted, they are somewhat of a soft-porn novel; there's so much sex and violence it makes your head spin. BUT it does have Eric and Sookie, and a whole heap of other random shit like fairies and angry ancient vampires etc. I might be weird but I find it 'light reading'. Haha. If you're a fan of the TV show but don't read the books then you're silly. The books are always better [welllll..... TVD I might make an exception :P).
The Black Dagger Brotherhood series by J. R. Ward: I have a confession to make. I haven't actually read this series. HOWEVER I was told by a very good friend of mine how fantastic it is, so that's why I'm putting it up here :) It follows the story of 6 vampire brothers and warriors who defend their race against some weird kind of humans. It is on my 'Books to read over the Summer' list :).
Movies
Underworld, Underworld: Evolution and Underworld: Rise of the Lycans: Totally my top 3 vampire movies. I love how they jump back to the past to help fill in the raging battle in the future. And well, there's Kate Beckinsale. How can I say anything bad about her? She makes one sexy vampire.
Interview with a Vampire: I have two words: Brad Pitt. I mean, I don't like him at the best of times, but in this movie? As a vampire? Yep, I would tap that. Really interesting movie too.
Fright Night (1985) and Fright Night (2011): I love old school scary movies, and while 1985 isn't THAT old school, it still has the rockin' hair-dos and cheesy acting. But the 2011 version has it's perks too - Colin Farrel. He's delicious as a vampire too; and he makes a fabulous scary next-door-neighbour-type killer. On a whole the movie did remind me of When a Stranger Calls and Disturbia, it was still good to watch.
Dracula (1931): Haven't seen it? GO. NOW. This is a classic cult film and you can't miss out. If you have - I don't even really want to speak to you. Just - watch it.
30 Days of Night: Umm. This movie was scary. Like, really, really scary. And it had a really sad ending, BUT it had Josh Hartnett so it's okay. (If you can't already tell, I LIKE my good-looking male actors. They play a big role in whether I watch a movie in the first place ha).
The Twilight Saga: New Moon and Eclipse: I actually didn't like the first movie at all. I feel really bad for saying so - but other than Rob, Taylor and Cam Gigandet, there was nothing else appealing to me about it. They left out key scenes and rushed the romance between Edward and Bella so much that you hardly had time to appreciate the longing they had for each other in the book. Anyway! Now that I've justified why I didn't like the first movie, I'll say why I DID like the second and third :) New Moon was great because it was more Jacob! I am a raging Edward fan, but Jacob in New Moon is my favourite. He's such a sweetheart, despite the turning-into-a-werewolf/shape-shifter thing. One always cries like a baby when he 'breaks up' with Bella (it was even sadder in the book) and (though it isn't Jacob-related) when Harry Clearwater dies (omg, how cute was his little spiel about Kung-Fu?). And as for Eclipse, well, in my opinion the saga just keeps getting better. The new 'Victoria' (Bryce Dallas Howard) - loved her as a baddie. And who can resist the electrifying pull of a threesome? Bella: "No Edward, I need to be friends with Jacob". Edward: "Stay away from him Bella". Jacob: "Bella come visit me! I'm suicidal here!". Gosh I love it. And the awesome pack (coven?) of vampires who come after Bella. EPIC. I so look forward to Breaking Dawn.
The Blade Trilogy: I'm not much of a Wesley Snipes fan, but I DID really like this trilogy. Not my usual type of vampire movie, but good nonetheless.
TV Shows
The Vampire Diaries: I didn't really need to say this. If you follow my blogs then you already know how much I love this show. Here are the links to my rantings about it if you would like more than just this tiny rabble :)
For 3.01: http://janeymoo.blogspot.com/2011/09/its-rippah-time-my-lovelies.html
True Blood: Granted, I like the books, ergo I like the show. Though sometimes I feel a little uncomfortable watching it with anyone else. :/ Lol.
Buffy the Vampire Slayer: Sarah Michelle Gellar in her pre-Ringer days. Gotta love it.
Angel: I just like David Boreanaz, to be honest. I like the idea of Angel (fallen angel cursed with a soul, running around killing bad supernatural-ies all the while having a guilt-complex, much like our beloved Stefan). Yeah, it has it's moments.
Supernatural: I know I know, it's not an ACTUAL vampire TV show. But c'mon, the episodes 1x20 "Dean Man's Blood"; 2x03 "Bloodlust"; 3x07 "Fresh Blood"; 4x05 "Monster Movie" (remember, the shape-shifter who loved old classic movies? Dracula?); and one of my personal favourites, 6x05 "Live Free or Twi-Hard". There's enough there to warrant a vampire-y category I reckon :D
And I believe I am done folks :) Leave a comment if you think of anymore, or send me a shout out on twitter! Follow my sane account @janeymoo, or my not-so-sane-but-equally-awesome account @jayneymoo.
Thanks for reading!!