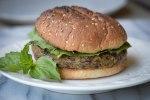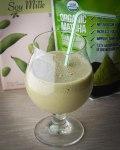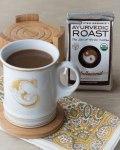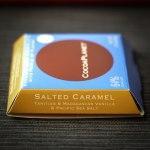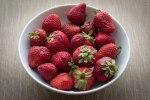 These veggie burgers made for two healthy and filling lunches — I'll definitely be getting them again. I loved the pop of whole sesame seeds and the generous hand with za'atar spice mix — it was kind of like falafel on steroids! I enjoyed one burger simply on a whole wheat hamburger bun, and another broken up into a bowl with julienned, sauteed zucchini, shredded cooked beets, and sliced avocado.
First, I've gotta give props to my adventurous husband for sipping the banana matcha smoothie I placed in front of him without a second of hesitation. A dull shade of tannish green, it tasted far better than it looked! I really enjoyed the tiny hint of bitterness from the matcha (I used a teaspoon for two servings), and it paired well with plain soymilk and ripe bananas, no extra sweetener required. I look forward to trying it out in savory recipes as well — a half teaspoon mixed into a tablespoon of salt, and you've got a topping for poached eggs, popcorn, and more.
I'm a huge fan of coffee, but once I've gotten my morning cup of caffeine, any more during the day just makes me jittery. An afternoon cup of decaf often sounds like a good idea, but my stomach doesn't like the extra acid, and I've dealt with acid reflux issues in the past. For a while now, I've been trying to find a good coffee substitute for those times when I want a nice warm mug of coffee minus the caffeine and acid.
I'm happy to say that Ayurvedic Roast is a great option! It's a 100% organic mix of roasted barley, chicory root, and rye mixed with Ayurvedic herbs. I tried brewing it a couple of ways, and extracted the most flavor by boiling it on the stove for ten minutes, one heaping tablespoon per cup of water. I've been enjoying it with a splash of whole mlik, and it really hits the spot. It comes in two varieties, original and vanilla.
CocoaPlanet Salted Caramel Dark Chocolate
These disks of chocolate are perfect for a portion-controlled desert. The chocolate and caramel flavors are so intense that you'll be happy with a small portion. The dark chocolate has little spherical pockets of caramel throughout (they call them "pearls of flavor"), so each bite has a burst of caramel, and it doesn't squeeze out all over the place like other liquid-filled treats. CocoaPlanet also recommends dissolving the chocolate disks in a cup of hot milk for instant, flavored hot chocolate.
Sur La Table Coupe Cereal Bowl
I just love the size and shape of this bowl. It holds 16 ounces, perfect for my morning bowl of oatmeal or an afternoon strawberry snack. The coupe line is basic but modern, with shallow, sloping sides and a low profile that's great for food photography, too. I picked up a pair of these, along with a couple dinner plates (you can see one in the photo of lettuce cups above), and I'm glad to have such basic but stylish pieces in my collection.
Where To Buy
1. Sweet Earth Za'atar Burgers via their Facebook Store Locator App
2. Kiss Me Organics Matcha Powder at Amazon
3. Ayurvedic Roast Coffee Substitute at AyurvedicRoast.com
4. CocoaPlanet Salted Caramel Dark Chocolate at Amazon
5. Sur La Table Coupe Cereal Bowl at Sur La Table
Whether I'm sent a product free of charge or have purchased it myself, all opinions are my own. Samples provided by Sweet Earth, Kiss Me Organics, Ayurvedic Roast, and CocoaPlanet.