Things have been pretty busy of late, and over the last few months (well quite a few months ago in some cases) we have been featured by various other creatives online such as Rosie Simons, Design Juices who showcased us as inspiring, Origami Chicken where we provided a moodboard on Etsy Warmers and Faye Brown designs. Recently the fabulous Hannah Byatt asked if we would like to answer some questions for her blog, so our head designer Lesley Stevens provided an interview. Read the full piece here, and see how Hannah posted some amazing pics of our products! We look forward to welcoming Hannah onto our blog soon in return…
Thank you to all others who I have not mentioned but have featured us, and do get in touch if you like what we do and want to include our products or request a post or moodboard from us. We're always happy to collaborate…and of course we love it if you love what we do! Even better..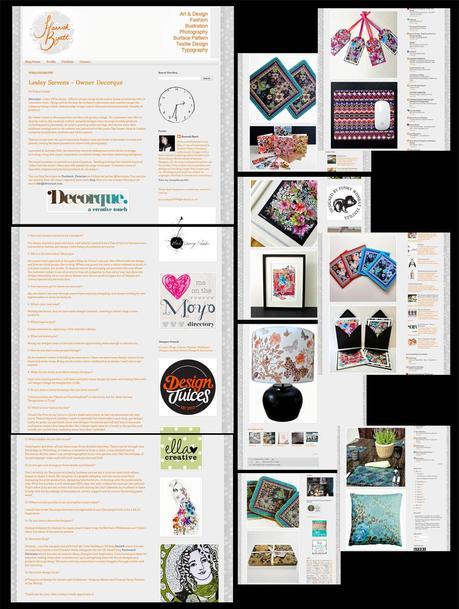 While I'm doing a post on features, in the run up to Top Drawer in September we featured in Giftware Review magazine, and they also did a nice little post online featuring our Cork Placemats. We are also pleased to be featuring in the Oct/Nov issue, so grab yourself a copy and see our unique stationery range in print!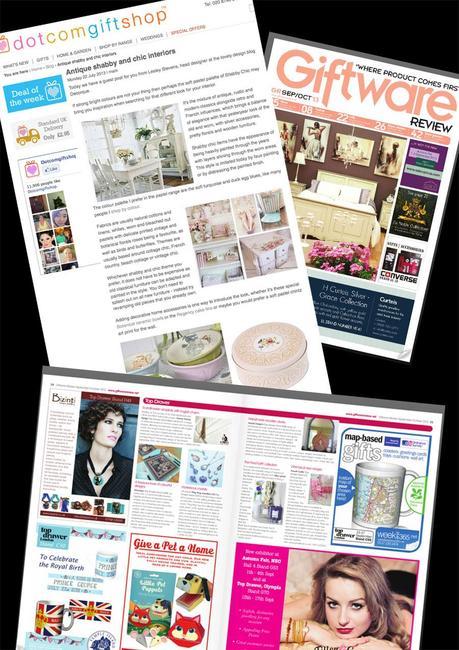 We also had a nice post go live on the Dot Com Giftshop's blog, as we gave our advice on Antique and Shabby Chic Interiors, and we are so delighted that they have chosen our blog as one of their 21 favourite blogs! See our badge down the right hand side, so you know you are in a good place! We also provided Wedding Dates with a Top 10 Wedding Gift Idea post which featured a moodboard and plenty of inspiring gift options.
And finally the lovely ladies at MOYO magazine, asked us a while back if they could feature cork range in their magazine as they were doing an entire piece on unusual materials that surface patterns are printed onto. So we were happy to oblige and supply some imagery and a bit more info on our unique, digitally printed home accessories range which they called 'Decoration on Cork'. Not read the article yet? Well click the link here and have a read, we're on page 70….and if you want to know more we have a whole page on our main website dedicated to why we use this fantastic material and turn it into a highly decorative yet useable piece of homeware.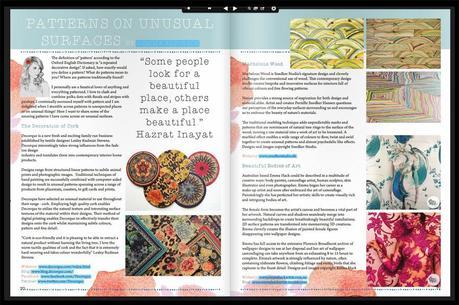 Hoping the run up to Christmas is as fruitful as it has been over the last few months for features and posts. Get in touch anytime!
Author information

Harriet Stevens
Head of Print, Social and Graphic Design
Heading up Decorque's online presence through social media, as well as managing all of the businees print production and graphic design needs - right through from product production through to marketing and advertising collateral. I also create designs for the collection, combining my love of surface pattern, textiles and graphics.Twitter
Google+