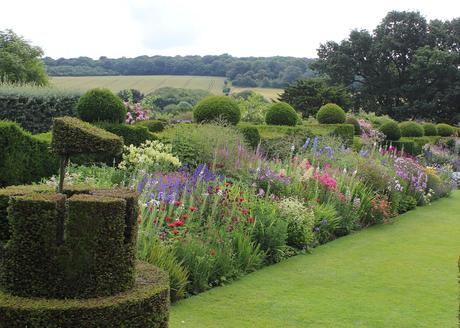 I spent most of last week trundling around Yorkshire with a large group of friends indulging in visiting gardens, plant buying and eating cake – what's not to love.  I have been on this holiday for four years now, to different parts of the UK, and this year for some reason I was acutely aware that my taste and preferences in terms of gardens had changed, or maybe had become clearer.  I also found it interesting that some of my preferences were at odds with many of my traveling companions and this seemed to be possibly a generational divide.
It is some years since I wrote 'reviews' about specific gardens as they can become quite repetitive to read and my plan was to write a post which captured the gardens that I loved, and why I loved them as well as what I didn't feel enthusiastic about but maybe others did.  However, looking at my photos I got stuck at the first garden we visited which I adored and took so many photos of.  So before I write a more analytical post of the gardens I thought I would indulge in a little flurry of herbaceous border photos.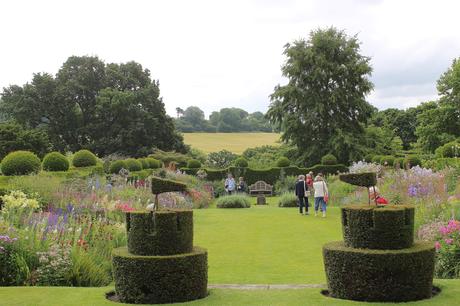 The garden in question is Felley Priory, which is in North Nottinghamshire – we stopped on the way to Yorkshire.  I had never heard of it before but I learnt from fellow travellers that it hosts a wonderful plant sale later in the year so obviously is well known in the area.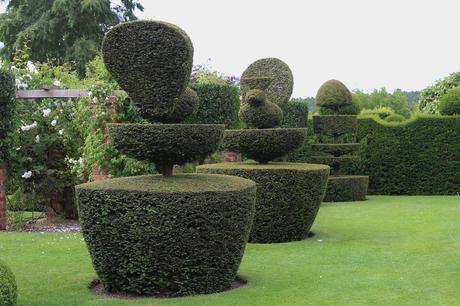 If you asked me if I liked topiary I think my response would be indifferent but when I stop and think about it I realize that there is a deep sub-conscious attraction to some of these idiosyncratic creations.  I love the topiary at Levens Hall in the Lake District which reminds me of Alice in Wonderland and whilst not on the same scale as Levens Hall I loved the humor in the topiary at Felley Priory.  The topiary is something you encounter before you come across the herbaceous borders which are behind the yew hedges you see in the photo above.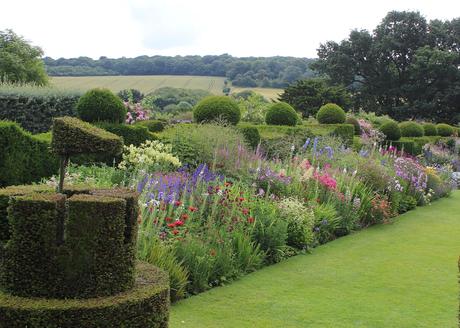 For me the borders were breathtaking.  The planting was of an exceptional quality with a high level of unobtrusive maintenance.  Being someone who struggles with plants flopping I spent some time peering between the plants to see if I could see what supports were being used.  Our group, including professional plant growers and gardeners, all felt that there was no support so well was it hidden.  But supports there were, hidden away and clearly demonstrating the benefits of putting in supports early in the season so the plants grow up through them and not my approach of retrospective staking which never looks good.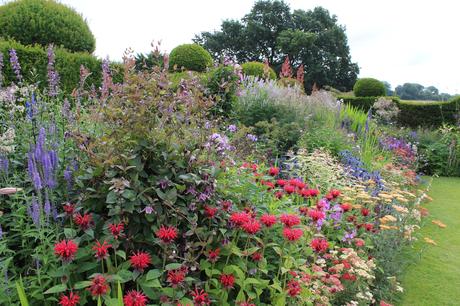 I also loved the color combinations in the borders which was wide ranging but not clashing, as many of the borders we saw later in the week were.  There is also something about the scale of the flowers to each other.  Nothing is big and blowsey and overshadowing anything else.  Each plant is part of the overall whole but allowed to shine in its own way. Some of the other borders we saw elsewhere had a complete imbalance of flower size and color meaning that the border did not make a cohesive whole but felt very bitty to me – well that was my view.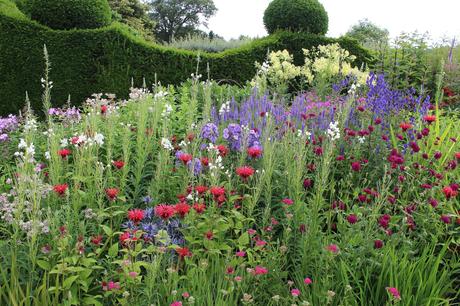 I really liked this part of the border which is essentially red, white and blue but so subtle due to the inclusion of the burgundy scabious which provides a good link between the red mondara and the blues of the phlox and the eryginium. The skill is that the mondara is a bluey red, if you know what I mean, as opposed to an orangey red again adding to a harmonious whole. I also loved that the gardeners were happy to use white meadow sweet which many would worry was a weed.  The meadow sweet isn't planted in a large clump or solid 'drift' but instead the planting is starting to move more towards the matrix style of planting which we came across a few more times on our trip and is, for me, the way forward.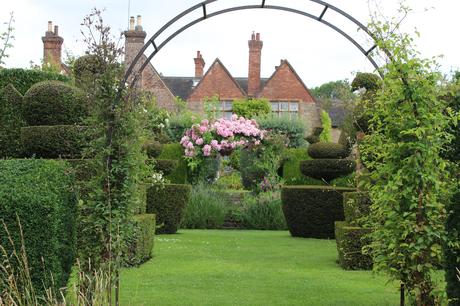 Advertisements