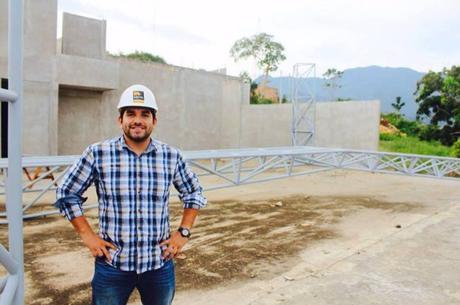 Selva Constructor, Karolo's latest business venture, is an architecture and construction firm based in Tarapoto, Peru.
CIPE began working with Peruvian NGO, Instituto Invertir, in 2008, with the belief that developing business and leadership skills in young Peruvians from the country's diverse regions would help build a culture of entrepreneurship and civic participation – creating alternatives to the limited social and economic opportunities. This, in response to the general populations' frustration with the shortcomings of the country's democratic system and an increasingly anti-democratic rhetoric from leaders in certain areas of Peru. The initial vision of what program success would look like has been far exceeded thanks to the initiative of young Peruvians like Karolo Pérez Alvarado.
Long-time CIPE Development Blog readers may recall being introduced to Karolo back in January 2010. As one of the inaugural fellows in the first ever EmprendeAhora (EA) program in 2008, Karolo and his teammates were awarded first prize in the business plan contest for their idea to inject adventure into bio tourism in the San Martín region of Peru.
Having struck up a friendship with Karolo during my visit to Tarapoto, San Martín, naturally we made it official on Facebook. In the years since I have maintained contact from afar and watched as Karolo grew from a young man with a fun business idea into a successful entrepreneur serving as a driving force behind his community's development, and an inspiration for young entrepreneurs around the country.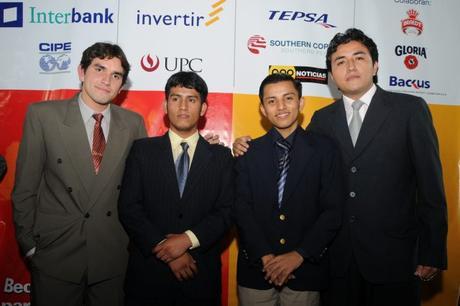 Karolo (far left) and his teammates from San Martín won first place in the inaugural business plan contest in 2008.
BioAdventure was born in 2008 during the EmprendeAhora (formerly Lideracción) program. The idea for BioAdventure was one that Karolo had nurtured since he was a kid. EA gave him and his team the tools to bring it to life. The challenge with a tourism related business is that you need a steady flow of tourists.
Despite the natural beauty of the Amazon jungle in San Martín, it lacks the same tourism infrastructure and tourist flows as a place like Machu Picchu. While BioAdventure did well, it was a business with limited growth potential. Karolo's ambitions were bigger. He wanted to develop a business with unlimited growth potential so he sold his shares and decided to put his architecture degree to use.
So began Selva Constructor, a design and construction company launched with the funds from the sale of BioAdventure. Under Karolo's leadership as Design Manager, Selva Constructor has positioned itself as one of the most important construction companies in the region and is recognized for its innovative and modern designs and use of advanced technology.
In any given week Selva Constructor is working on projects for 8-10 different clients and in 2015 generated approximately 1 million Peruvian Nuevo Soles (roughly $304,000 USD) in revenues. Its portfolio includes industrial buildings, multifamily homes, single family homes, and remodeling projects. Selva Constructor has 8 employees in its headquarters and on average 60 laborers on construction sites, providing work for more than 50 families. These employees now possess benefits and a stable income. Aside from the obvious contribution to the community's infrastructure development, Selva Constructor adds to the tax base that supports the development of the San Martín region.
Given the demands of running a small business (categorized as 100 employees or less) and staying competitive in the local market, you would think Karolo does not have time for much else. But Karolo possesses a strong conviction to inspire more young people to live their dreams as entrepreneurs. On a number of occasions over the life of EmprendeAhora he has traveled to Lima to share his experiences with the latest cohort of EA fellows.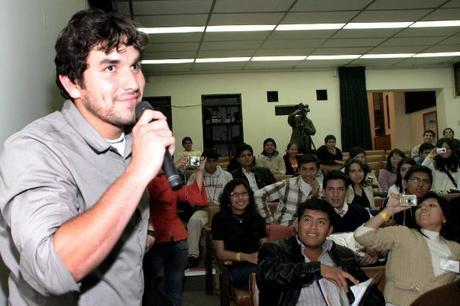 Karolo shares his experiences and advice with a new cohort of EmprendeAhora fellows.
Karolo has also served as a speaker and coach at CADE Universitario, an annual gathering of young leaders from all over Peru with a desire to improve the country; and at various regional leadership conferences. Many of the young people he has coached over the years have gone on to start their own businesses, including Grupo San Pedro and ECO Rutas, a family operated adventure company in Tarapoto.
Karolo is a prime example of the level of impact that entrepreneurship and leadership programs can have on the medium and long term development of a country. Eight years later, Karolo still credits EmprendeAhora for the success he is having today. "[Lideracción/EA] definitely changed my plans! Before Lideracción I thought I would finish my architecture degree and work as an employee in a high impact or multinational firm, but after the training and coaching I received, I can't believe in 8 years that I founded two businesses and am now working on a dream called Selva Constructor."
The exciting thing is that he is one of hundreds of EA alums that have found success as traditional or social entrepreneurs, or as leaders in the political sphere. In fact, over 250 of them gathered together at three alumni events late last year to further consolidate the network. The success of alumni serves to inspire the new cohort of fellows that join the program every year.
The success of EmprendeAhora is a testament to CIPE and Instituto Invertir's commitment to bringing business and leadership skills to budding entrepreneurs so that they may avail themselves of opportunities and gain more faith in how democracy works. In Peru we see the impact of this strategy on a daily basis, whether it be through the pictures and posts I see on my Facebook feed, evidence of hard work that EA alumni put in each year into making the latest edition of the program the best it can possibly be, or through testimonials like Karolo's.
While 1,030 EA graduates may not seem like a lot in the aggregate, take the case of Karolo – in which his company has a direct impact on 50 families and his mentoring affects innumerable young entrepreneurs – and extrapolate. Only then do you begin to get a sense of the true impact of this program.
Brent Ruth is a Program Officer for Latin America and the Caribbean at CIPE.