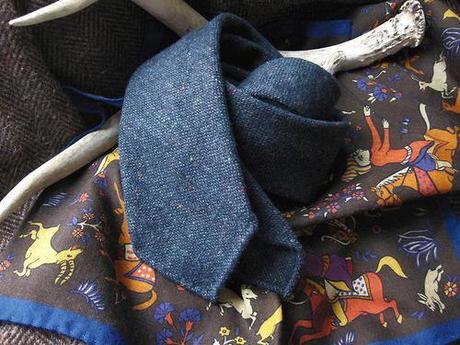 The wet and rainy weather yesterday was made better by a package I received from Vanda Fine Clothing. Gerald and Diana heard I was looking for a blue Donegal tie, and generously offered to gift me one of theirs. The tie turned out to be more handsome than I expected. 
Every time I wear a Vanda, I'm reminded of how much I enjoy their neckwear. Vanda specializes in lightweight constructions - meaning their ties are made with a thin, pure wool interlining to help the fabric hang well, but there's otherwise no padding inside. This allows their ties to knot distinctively and beautifully, as the shell fabric is allowed to express itself without being overly controlled by any stuffing. Whereas some ties on the market these days feel stiff and thick, Vanda's are essentially the opposite: light and airy, with a touch of casual sensibility. 
The Air Force Blue Donegal tweed you see here was woven for them by Molloy & Sons - a small mill in Donegal, Ireland owned and operated by a father-and-son team (literally Sean Molloy & his son). Unfortunately, Donegal tweed has yet to receive any government protections, so while Harris Tweed has to be woven in the Outer Hebrides of Scotland in order to carry the name, anyone can weave a fabric nowadays and call it Donegal. Indeed, what's marketed today as Donegal is usually just someone trying to describe their fabric as being flecked with irregular bits of color (a "design" special to tweed weavers in Donegal), rather than make claim on the origins of the material itself. This, on the other hand, is the genuine stuff.  
There is one change to Vanda's construction since I last bought from them. Apparently they've had to add a label in order to legally protect their products. In keeping with the spirit of their company, the label was added in the most discrete way possible - sewn into the inside fold of the tie, impossible to see unless you were actually looking for it. I actually like the change, as it adds a bit of branding without at all being noticeable about it. 
In any case, many thanks to Gerald and Diana for the kind gift, and congrats to them on their new marriage. It seems strange to receive a gift from newlyweds, rather than it being the other way around. I think the generosity of Singaporeans is another reason why I should get more Singaporean friends.