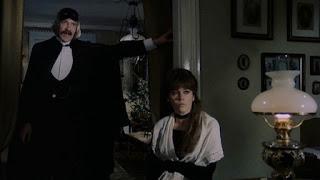 Henrik Ibsen's A Doll's House must have seemed timely in 1973, as two film versions appeared almost simultaneously. Patrick Garland's adaptation starring Claire Bloom (who'd played Nora Helmer on Broadway) received a theatrical release, while Joseph Losey's take featuring Jane Fonda was relegated to television. Neither is an ideal adaptation: Garland's film is faithful but stiff, while Losey's makes significant, often questionable changes to the play.
Heiress Nora (Jane Fonda) marries banker Torvald Helmer (David Warner) in rural Norway, raising a family in seeming happiness. With Torvald poised to become manager, trouble develops. Nora receives a visit from Krogstad (Edward Fox), a recently-fired employee of Torvald's who tries blackmailing her with a secret from Nora's past. Torvald refuses to change his mind, while Nora's further pitched into despair when family friend Dr. Rank (Trevor Howard) reveals that he's terminally ill. Nora contemplates suicide as her world crumbles around her, but decides on another, even more drastic course of action.
Losey's Doll's House wasn't made in happy circumstances. Originally slated for a theatrical release, it had trouble finding financing or a distributor, eventually being dumped on television when Garland's smoothly produced movie finished filming. It didn't help that Fonda, at the height of her counterculture infamy, and Losey, an American leftist exiled abroad, hated each other's guts, which caused an unpleasant experience for all concerned. The movie rated little notice beyond mild controversy over Fonda's casting; where Garland's film is readily available today, Losey's Doll House is near-impossible to find.
Despite its television fate, Losey's movie is much more cinematic than Garland's. It's filmed on location in Roros, Norway with often-elaborate camerawork by Gerry Fisher including a lengthy tracking shot of Nora and Krogstad overlooking the village) or Losey's trademark elaborate set pieces (a shopping montage underscored by ambient sound, the whirring, elaborate Christmas party). Compared to Garland's set bound direction, it's quite energetically filmed, even if many of the outdoor scenes mostly just provide local color.
David Mercer's adaptation significantly expands Ibsen's source material, for good and ill. The film adds a long prologue of Nora meeting her friend Kristine (Delphine Seyrig), just before the latter breaks off her relationship with Krogstad. This emphasizes the humanity of Ibsen's villains: Krogstad's also seen bickering with Torvald and playing with his children, underscoring how he's a victim of circumstance, while Kristine urges Nora to reveal the truth about her gift to Torvald to circumvent Krogstad's blackmail. Similarly, Mercer makes Nora aware of Rank's illness much earlier in the story, dissipating the shocking reveal.
The cast, unfortunately, is wildly uneven. Jane Fonda performs with commendable energy but seems out of her depth in a classical part. Fonda fares best playing tightly-wound women with a vulnerable core; she isn't wholly credible as a naïve-turned-liberated woman. Trevor Howard is affectingly restrained and Edward Fox magnetically savage, but David Warner plays Torvald as a sour jerk throughout, making us wonder why it took Nora so long to wake up. Delphine Seyrig, a beautiful and engaging actress, struggles with an inconsistent characterization.
Even with these changes and shortcomings, Ibsen's play retains its potency. Nora's forced to realize that she lives effectively as her husband's plaything, indulged and treated as a child rather than a fellow adult. Thus the denouement, when she realizes that Torvald's concerned only about her as a reflection of him, and her shocking decision to abandon husband and family to find herself. It's clear how Losey and Garland, faced with the Women's Lib movement, found A Doll's House timely. Shame that neither of them got a proper grip on the material.