In order to help us look at the varying golf cultures around the world, our friends at The Golf Guru wrote us this article which provides a glimpse into golf in Phuket Thailand...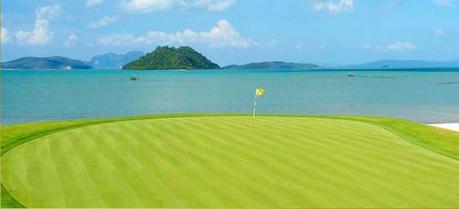 A Different Taste of the Game in a Phuket Golf Club
Boasting some of the most fantastic and breathtaking golf courses and clubs in the world, the island of Phuket still continues to attract golfers of all ages, gender and skill levels even if it means having to spend some serious amount of money. Playing in a Phuket golf club or courses really do require you to spend but every dollar that you take from your pocket will be guaranteed to be worth it since you will be enjoying world-class facilities and an elite and definitive aura and ambience that makes the place a perfect option for a golf holiday with families and friends.
Superb selection of courses
The island is proud of being home to nine golf courses that have been easy favorites of top golfers from all around the globe and even by intermediates and beginners alike who just love to try out playing in different parts of the world. Having to stay in a golf club in Phuket and play in any of their courses, you will be introduced to different kinds of challenges coming from the geographic makeup which is undulating, resulting to holes that are spectacular to say the least. There are also a lot of bodies of water like lakes that were formed through the floods from the past, dating back to the old tin mining industry.
There are also steep-sided hills that can be seen in the island and serve as usual backdrops as you play. But one golf course stands apart for having the sea as its view which is the famous Mission Hills. A different kind of view, a different kind of perspective and a different kind of feel is what awaits golfers as they play while facing the Phang Nga Bay.
Weather, temperature and club etiquette
If you have really decided to stay and play in a Phuket golf club, better make sure that you are ready for the scorching heat of the sun. 2pm onwards is the usual start of tee-off and during this time, the course is pretty much packed already. But the heat will be lessened as refreshments are made readily available around the area to keep you hydrated during the course of the match.
And when it comes to golfing etiquette, you may find Phuket a little bit on the weird side of things as you may see their locals who are playing golf walking ahead after taking their shots while others do play for money. Betting is also present in the golfing scene which results into the players taking all the time in the world before swinging their clubs.
Caddies
Golf clubs and golf courses in the island of Phuket require golfers to have at least one caddie which is mandatory in the island. The caddies, who are usually women provided by the golf courses charge around 200BHT to 300BHT plus a tip of 200BHT for 9-holes and 300BHT for 18-holes are likewise expected to be given to them. But the money that you pay them will all be worthwhile as they will practically make your life easier on the golf course as you can expect them to carry your bags while directing you around the golf course plus they can also fix your divots and pitch marks.