Hi Huneybees,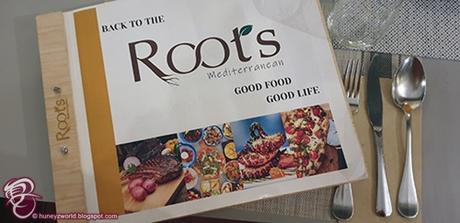 If you are feeling adventurous and looking to try something new in the coming weekends but unsure where to look, why not make a beeline to ROOTS Mediterranean to experience dining in an Italian "Osteria", a Greek "Ouzeri" and a Spanish "Tasca" all under one roof?!
Unlike your usual western restaurant, myself and yours truly Queen Bee loved Roots Mediterranean for its delightful fare of Italian, Spanish, Greek and even Levantine cuisine creations, especially with its great selection of Italian Antipasti, Greek Mezze and Spanish Tapas.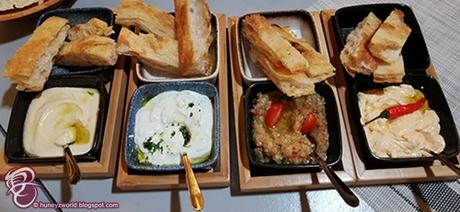 As a starter, Huneybees could try Greek classics such as Tzarziki (SGD8), the most loved dip made with Yoghurt cucumber, garlic and extra virgin olive oil or Hummus (SGD8), the most iconic Middle Eastern dip meticulously prepared with chick pea cream, sesame paste , lemon and extra virgin olive oil.


Taste of Spain includes Papas Bravas (SGD8), a baked potatoes appetizer with Spanish spicy dip or the Tortillas de Papas Y Queso Fundido (SGD8) , a traditional Spanish omelet with potatoes topped with melted cheese.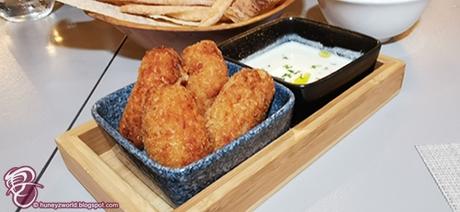 For Huneybees who love all things Italian, you could go for the Bruschetta (SGD8), toasted Italian bread topped with fresh chopped tomatoes, extra virgin olive oil, fresh basil, and a touch of garlic. Alternative you could opt for the Stracciatella Truffle (SGD8), the creamy heart of the burrata cheese served with black truffle sauce and warm focaccia bread.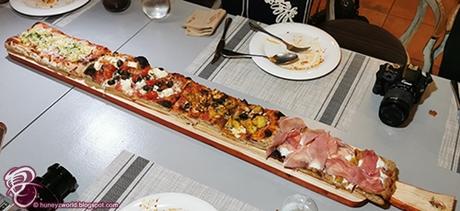 While the variety for starters are simply amazing, which also include your usual selections of salads, soups and cold cuts, the main course were mainly Italian at Roots Mediterranean with a limited Greek selection. Having stated that, the quality and selection of pastas, pizzas, raviolis and risottos were really good with a page specially devoted to ravioli alone!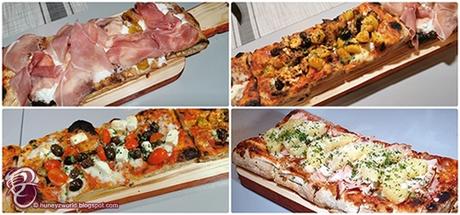 Pizzas at Roots Mediterranean were all in "Teglia Alla Romana",which is extremely trending in Italy at the moment thanks to the high water content in dough,  making the final product very digestible, light and fragrant.
Comes in several flavours of either red (tomato sauce base), pink (tomato sauce and cream base), or white (non-tomato sauce base), these pizzas were uniquely shaped in rectangular and available in 3 sizes – 25cm (SGD18), 50cm (SGD25) and 1 meter (SGD50). Classic round pizza for the conservatives are also available but in red only.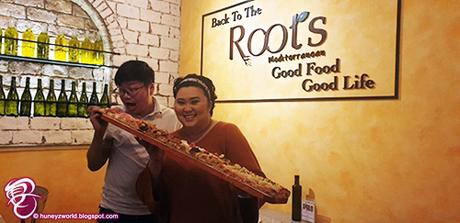 For Instagram worthiness, we suggest Huneybees with at least a group of 3 or more pax to mix 4 different flavours into 1 meter order!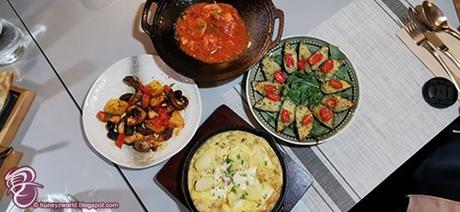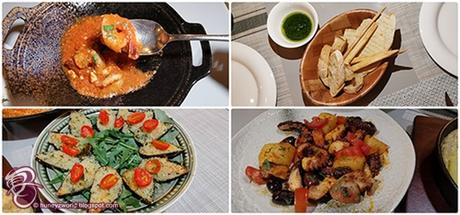 Yours truly Queen Bee's favorite starter at Roots Mediterranean was Octopus Gallego (SGD18), a Roots Mediterranean's version of the Spanish classic comprising Octopus chunks, oven-warmed potatoes and seasoned with smoked paprika and extra virgin olive oil, while mine has had to be Gratinated Mussels (SGS18),a crispy baked mussels stuffed with a tasty mix of breadcrumbs, spices, parmesan and extra virgin olive oil.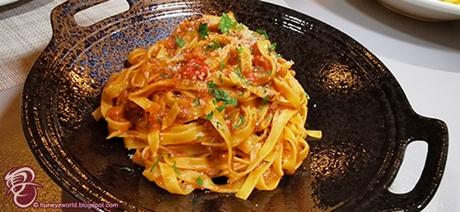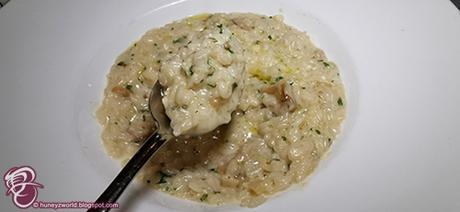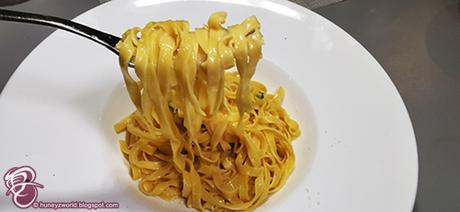 As for the mains, Tagliatelle Bolognese (SGD20) and  Risotto Porcini Mushrooms (SGD24), which was made of Carnaroli rice, porcini mushroom, parmesan, butter and parsley were Christina's preferred choice.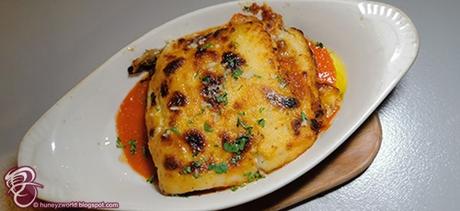 For me, it was definitely Moussaka (SGD20), which is a Greek national dish that was made from potatoes and eggplant layered with minced meat and béchamel!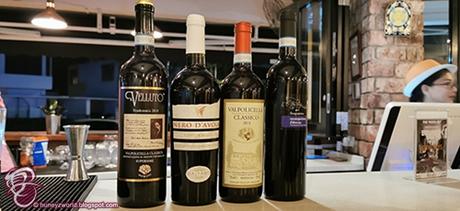 To complete lovely dining experience, yours truly Queen Bee has had her best Sangria (SGD12) to-date there while I had a glass of water - simply because I could not drink and drive after. Nevertheless I would choose not to drive the next time when I return - due to the limited parking lots in the area - to enjoy at least a glass of wine as I always believe there is no good meal without a fine glass of wine and Roots Mediterranean actually offers an extensive wine list with wines starting at SGD29 and beers from Italy, Spain and Greece starting at SGD7.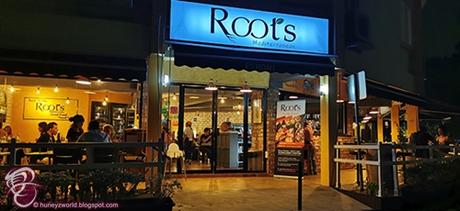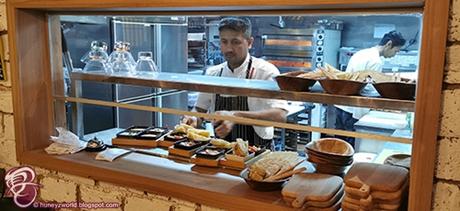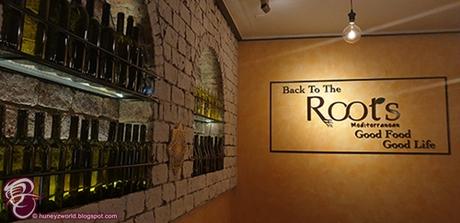 Decorated using earthly tones, brick walls and wooden tiles and a wine cellar, Roots Mediterranean has a convivial ambience that contrasts with the sleepy private residential area along Greenwood Avenue, where it is presently located. Much credit goes to the team of friendly staff and the wide range of delicious food at reasonable price tag that makes this restaurant such a great gathering venue for family and friends.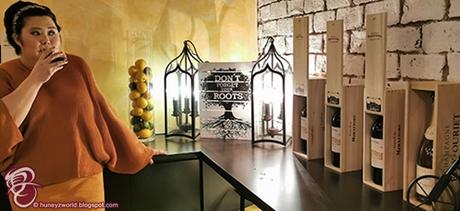 Roots Mediterranean is located at Hillcrest Park, 2 Greenwood Avenue, 289189 and is also available on some delivery apps. Check out some of their ongoing promotions in store too...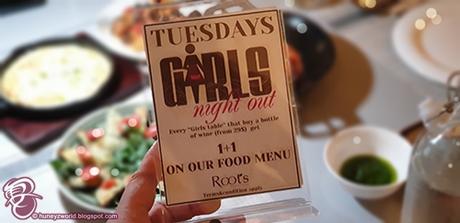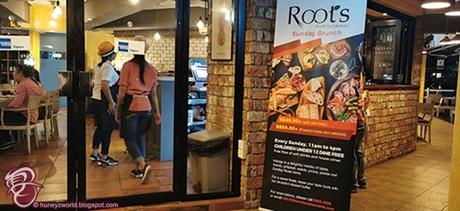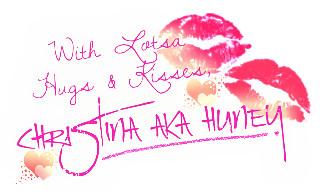 Don't forget to stay tuned to my blog / like my blog's Facebook page / follow me @huney_84 on Twitter & Instagram  for the latest updates!


http://www.huneyzworld.blogspot.com