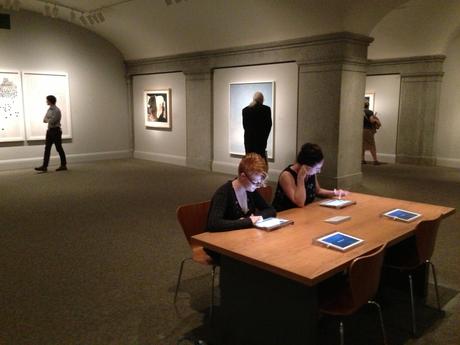 Visitors using tablets in the exhibition.
The exhibition A Democracy of Images: Photographs from the Smithsonian American Art Museum opens today, celebrating the thirtieth anniversary of the establishment of the museum's pioneering photography collection. The exhibition title refers to Walt Whitman's belief that photography was a quintessentially American activity, rooted in everyday people and ordinary things and presented in a straightforward way. The exhibition features 113 photographs selected from the museum's permanent collection and includes works by Timothy O'Sullivan, Berenice Abbott, Ansel Adams, Trevor Paglen, William Eggleston and Ana Mendieta.
As is often the case with exhibitions, this represents just a fraction of the 7,300 photographs in the museum's collection. An accompanying website provides information on the works on view and also allows you to explore more than 500 related works. In this way, visitors (both online and on site) can get a broader view of American photography as well as deeper access into our collections. The website is available on iPads in the galleries and is also accessible from your own device - be it computer, tablet, or smart phone - americanart.si.edu/photographs, Enjoy!