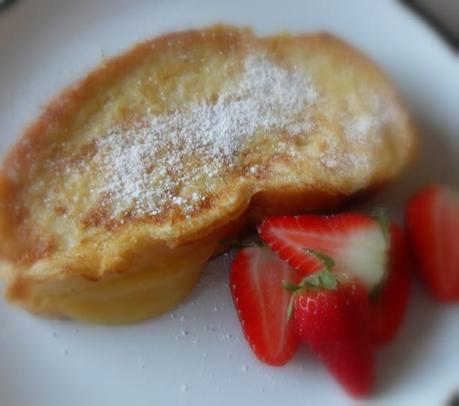 I had some French Bread that needed using up today and I fancied some French Toast for breakfast. But I didn't want the same old same old.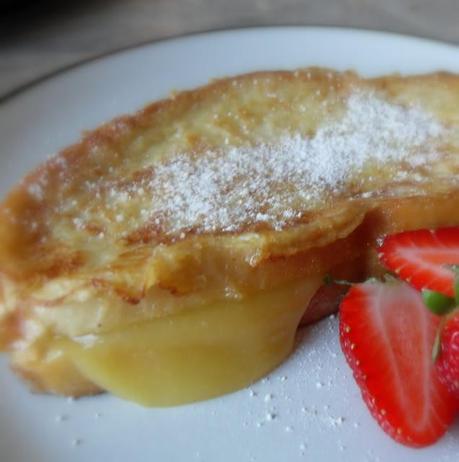 I thought I might like to stuff it . . . but once again, I didn't want the same old, same old.  Then I spied a tasty jar of lemon curd in my cupboard.  (I usually make my own, but I always have a jar of ready made to hand as well, coz . . . I'm a lemon curd addict!!)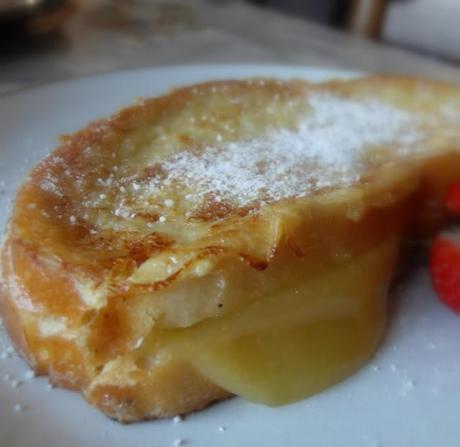 I've seen French Toast stuffed with fruit and cheese and ham and all sorts, but I've never seen one stuffed with lemon curd . . . and so I thought I thought why not!!  I'll go for it!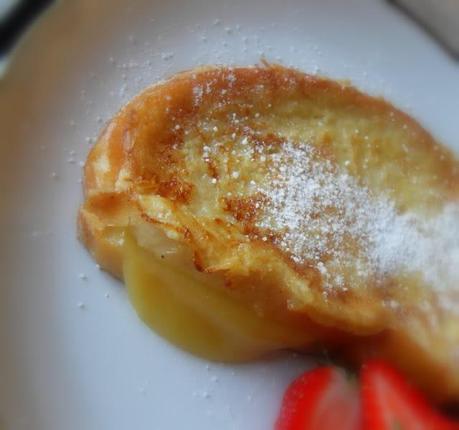 And so I did . . . stuff it with lemon curd that is.  And deliciously so . . .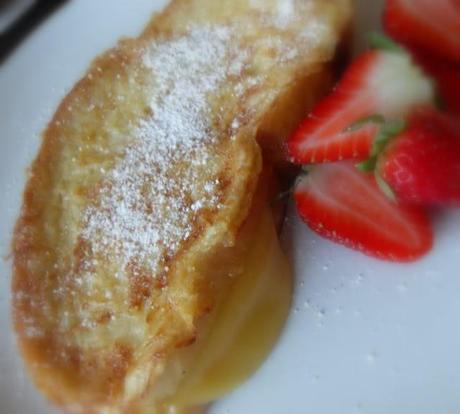 I served it up with some fresh Strawberries.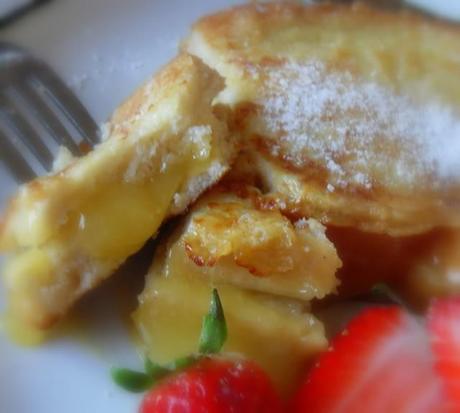 It was good . . . very, very goooood!  'Nuff said.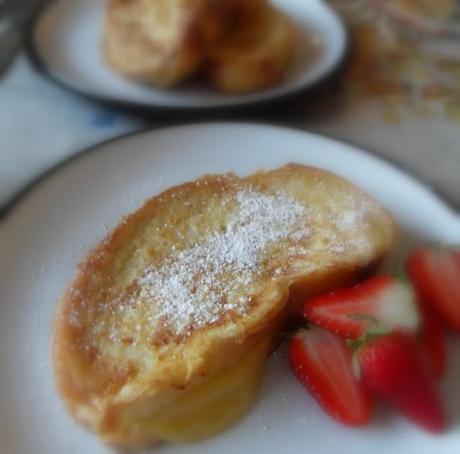 *Lemon Stuffed French Toast*
Serves 4
Printable Recipe
A wonderful way to use up stale bread, with a tangy lemon curd filling.  Serve with some golden syrup and fresh berries for a delightful breakfast treat!
One (16 ounce) loaf of french bread, unsliced
295ml of milk (1 1/4 cup)
3 large free range eggs
1 TBS sugar
1 tsp vanilla
pinch salt
a jar of lemon curd
unsalted butter and vegetable oil for cooking
To finish:
Icing sugar to dust
an assortment of fresh berries
golden syrup (optional)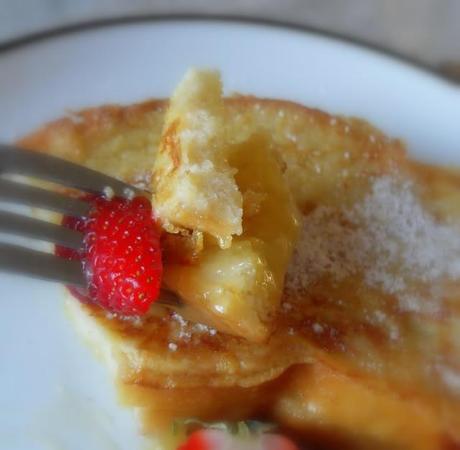 Preheat the oven to 150*C/300*F/ gas mark 2.  Butter a baking sheet.  Set aside.
Cut the bread into  8 equal sized, each about 1 inch thick.  Cut a pocket into each  piece of bread, using a serrated knife, carefully slicing into, but not all the way through.  Spoon about 1 dessertspoon full of lemon curd into the pocket created in each piece of bread.
Whisk together the milk, eggs, sugar, vanilla and salt.  Dunk the stuffed slices of bread into the egg mixture, allowing them to soak it up for several minutes, turning to coat it evenly on both sides.  You want it saturated, but not falling apart.
Warm 1 TBS of butter and 1 TBS of oil together in a large heavy skillet over medium heat.  Cook the slices of stuffed bread in the heated fat until golden brown and lightly crisp on one side, flip over carefully and brown and crisp the other side.  Place them onto the prepared baking sheet and keep warm in the oven while you cook the remainder, using more butter and oil as necessary.
When all the toast is ready, place it onto heated plates and dust lightly with icing sugar.  Serve immediately with some fresh berries and  golden syrup (if desired.)