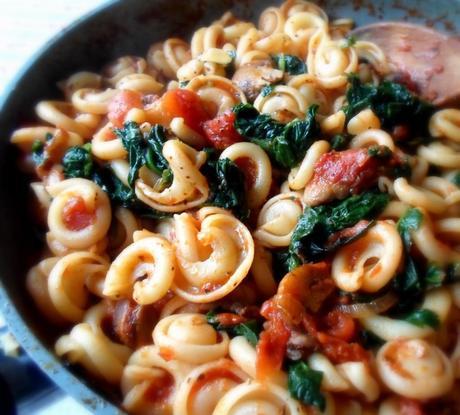 I have never been to Italy, but I have long loved Italian Food.  The Toddster, he's not so fussed.  He, as you all know, is not fussed about pasta or pizza and so he says he doesn't think he would enjoy visiting Italy.  I always tell him though, they eat a lot more than pasta and pizza in Italy!     I could quite happily live on just those two things alone, but I really do hope that one day I will have the opportunity to find out for myself.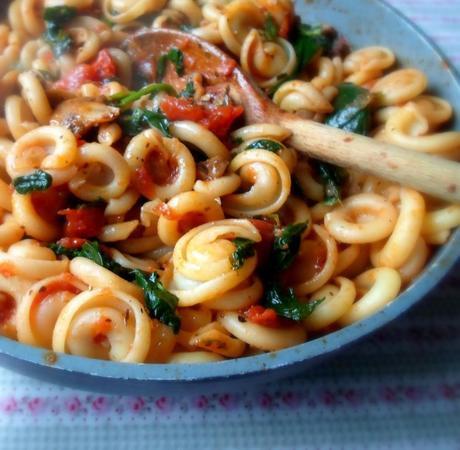 Yesterday I took a boo in the refrigerator and decided to make myself a dish that used up some of the bits and bobs that I had hanging in there . . . some spinach, a few TBS of sun-dried tomato pesto, a handful of button mushrooms, some leftover seasoned tinned chopped tomatoes and a rather tired looking banana shallot in the vegetable drawer.  I felt a little bit like an Italian Grandmother when I was doing it . . . or as how I perceive that an Italian Grandmother would cook . . . kinda like my grandmother, but with more exotic ingredients!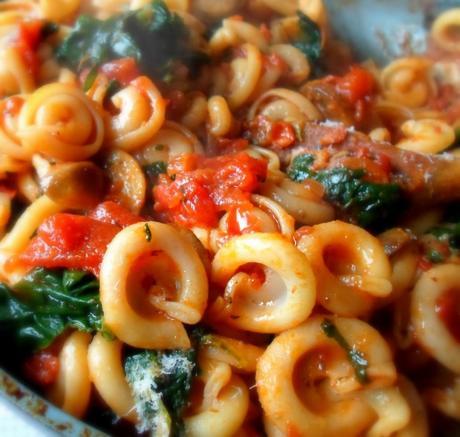 This is the type of cooking that I really like to do most of all . . . being inventive with what I have on hand.   When I first moved over here to the UK there used to be a show on every afternoon at about 4 pm called Ready Steady Cook.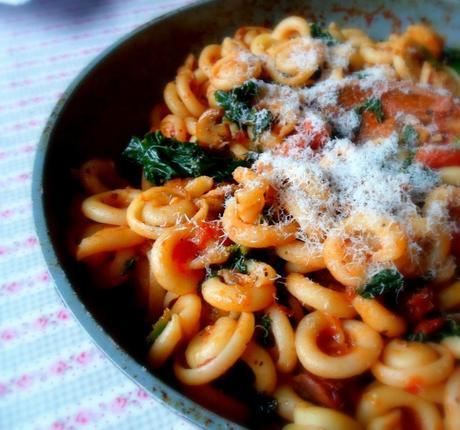 There would be two guests and two celebrity chef's,  a moderator/presenter and a studio audience.  Each of the guests would give their chef a bag filled with a few ingredients and the chef would then have to live up to the challenge of creating as many tasty dishes as they could with these ingredients in 20 minutes of cooking time.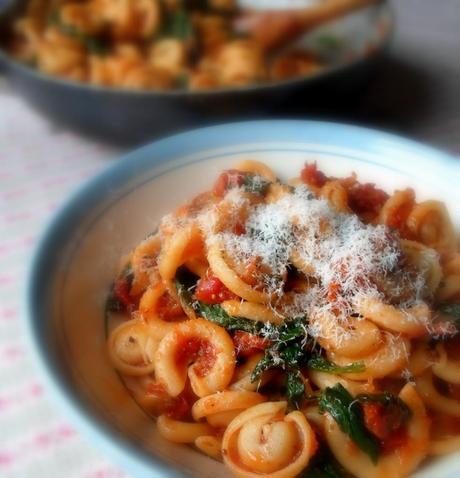 Oh how I loved that show.  I was always so amazed at what the chef's came up with and in such a short time.  Truth be told, they probably had somewhat of an inkling ahead of time what was going to be in the bag . . . but it made for interesting viewing at any rate!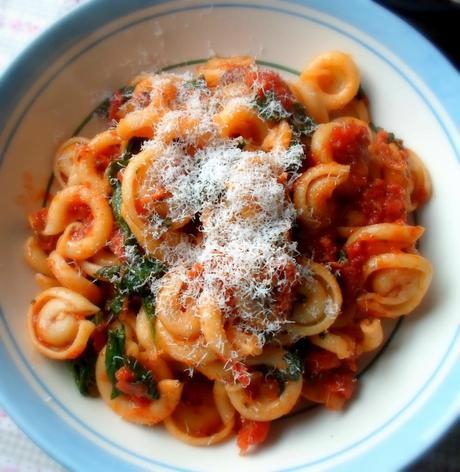 Anyways, that is what I like to do here at home.  Take what I have and then try to create something tasty out of it.   I also like it to look good.  Sometimes I am successful, and sometimes I am not.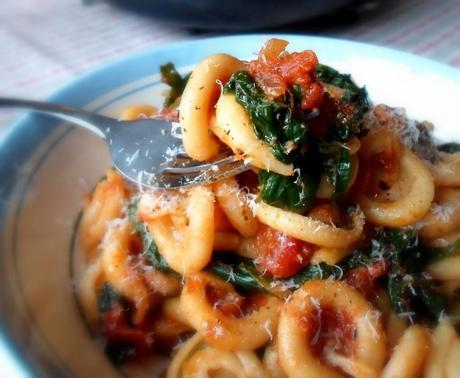 Today I think I was.   I loved all of the colours and flavours of this dish.   It was simple and yet it tasted divine . . . and I got to indulge in a a tasty rare treat of pasta.  I called it Kitchen Sink Pasta because it has a bit of everything in it . . . all but the kitchen sink!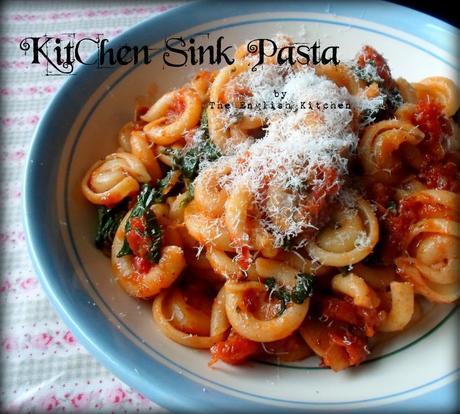 *Kitchen Sink Pasta*
Serves 2
Printable Recipe
One of those quick and easy meals for when you are short on ingredients, except for little dabs of this and little dabs of that.  Quick, simple and delicious.
130g (6 ounces) dry pasta (1 1/3 cup)
1 TBS olive oil
1 banana shallot, peeled and chopped
1 small clove garlic, chopped
1 handful of fresh button mushrooms, sliced
1 TBS sun dried tomato pesto
370g of chopped tomatoes with oregano and basil (a generous cup ful)
1 TBS Balsamic Vinegar
fine sea salt and freshly ground black pepper to taste
a couple handfuls of baby spinach leaves
Finely grated Parmesan Cheese to serve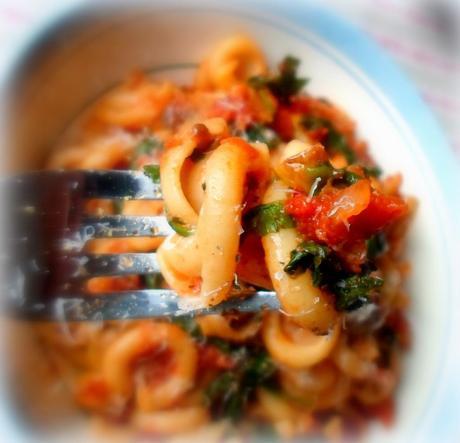 Bring a pot of lightly salted water to the boil.  Add your pasta and cook as per package directions.  (Today I used a cup shaped pasta that would hold the sauce well.)  Drain well. Rinse with hot water.  Drain again and keep warm
Heat the olive oil over medium high heat.  Add the shallot and cook, stirring until golden brown.  Add the mushrooms and garlic,  Cook until the mushrooms begin to brown, stirring occasionally.  Stir in the pesto, tinned tomatoes and vinegar.  Bring to the boil and cook rapidly until the sauce reduces substantially.  Season to taste with salt and pepper.  Stir in the spinach leaves allowing them to just wilt.  Add the cooked pasta and toss together.   Divide amongst two serving bowls, topping each with a grating of cheese.
I have decided to enter this recipe into a fab contest going on at the moment over at the Tuscany Now Blog.   They are offering some really nice prizes and I think this recipe is contest worthy! #TuscanyNowCookOff  What have I got to lose?  Nada, or as the Italians would say  . . . Non un diamine de molto!  MWHA!