Check out the original post A dazzling white smile with Crest 3D White Whitestrips Professional Effects on Bewildered Bug
People say that a dazzling white smile will get you anywhere, but the reality is that most people don't have that naturally.  So, in an effort to get the best and whitest, we go to great expense at times to have our teeth professionally whitened at the dentist, but we don't really have to because we have convenient whitening kits like the Crest 3D White Whitestrips Professional Effects.
History of my smile obsession
When I was younger I remember asking my Mom why her teeth were yellow (sorry Mom) and she told me "yellow teeth are stronger" and that "white teeth are week and can break easier".  I'm not sure how true that is to this day, but I still only halfway believe her – after all, you're taught that teeth are white right?  When you're 5 or 6 years old, white is white…there's no apple white and warm white and different whites.  It was just so much simpler…white was white and teeth were white.
I am also one of those adults that have been scarred by their traumatic teenage years in braces (and fine, I had headgear too) and I am extremely picky about my teeth, how they look, if something is in it…in the same way anyone else who has ever had braces tends to be!  So when I find something I don't like about my teeth…it become an obsession…so the color of my teeth became an obsession – I started using whitening toothpastes and mouthwashes and could not help but wonder WHY my teeth were getting no whiter.
As someone in Architecture and Interior Design, you'd think I would have caught on to this early on, but it was not until I had to get a tooth capped right smack dab at the front and center (cause I'm cool like that) that I noticed the difference.  The dentist held up a card with a variety of  shades of white plastic teeth to match the color of my teeth – and I was NOT pleased with the color the matching tooth ended up being.  Not because it did not match, but because it matched too well….the color of stained, ugly, cream teeth – the teeth that were their natural color in my mouth.
A dazzling white smile easily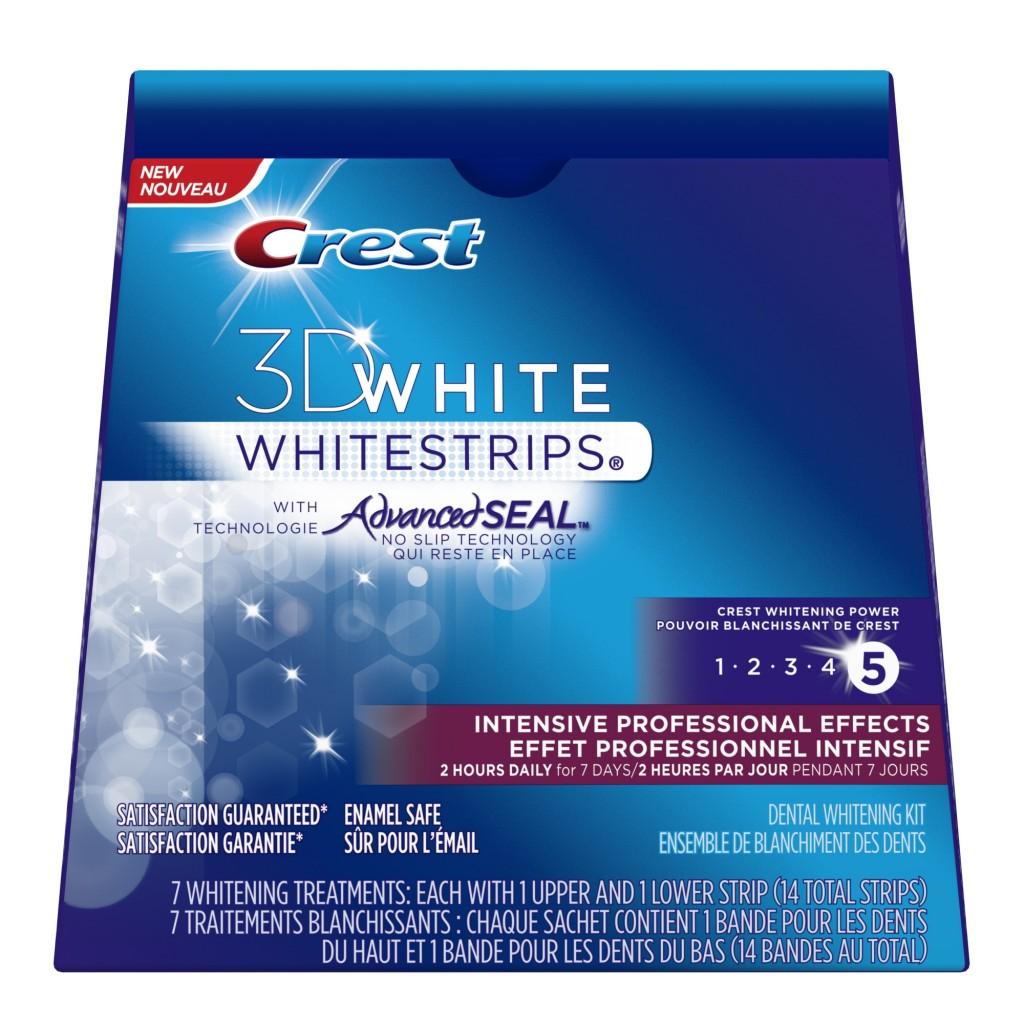 This is what you need to look for in stores
I was so glad to have the opportunity to try Crest 3D White Whitestrips.  I had been wanting to try it forever, but was scared because I have sensitive teeth and both dentists I go to (in two different countries) have warned me against using any bleaching agents because of the sensitivity issues.  In fact, they even told me they would not advise me to do the one at the dentist's office.  So, when I had the opportunity to try the strips at the P&G Mom Launch event, I was pretty excited, and very nervous – but the thought of walking around the new Four Seasons Hotel in Toronto with so many brilliant blogging and PR minds while we all slurred our speech and had plastic wrapped around our teeth just won out.  I went for it.
Not only did I go for it – I went for it for the full two hours and yes, I saw a difference with no sensitivity issues.  It was not icky tasting like I expected, although it felt a bit weird at first, and was pretty comfortable once I got used to feeling the coating at the back of my teeth with my tongue.  However, just a warning, a few of the other bloggers found it a little too weird and some found that their teeth were too sensitive for this product.
If you are looking for an affordable whiter smile, I would encourage you to try it yourself when they come out in stores in July 2012 – after all, it is cheaper to purchase Crest 3D White Whitestrips Intensive Professional Effects at your drugstore, grocery store or mass retail store than to spend hundreds of dollars on a professional whitening for the same effects.
The strongest whitening system that Crest offers, Crest 3D White Whitestrips Intensive Professional Effects removes stains below the enamel surface and uses the same clinically proven & enamel safe ingredients as those used in the dentist's office.  They are discreet enough that you can use these strips at work or when running errands.  You just put them on, get used to talking with them (takes about 10-15 minutes?  Maybe even sooner) and then go.  And the talking issue is only cause you're not used to having something coating your teeth.
And just in case you don't want to spend anything to try the product, feel free to enter my contest to win a pack of the new Crest 3D White Whitestrips Intensive Professional Effects, courtesy of the P&G Mom program.  Just enter below.
Here are the rules:
-Enter in the rafflecopter form below – you just have to do the tasks listed (and please be honest, I do check).
-This giveaway is open to Canada only (sorry girls and guys elsewhere) and will run for two weeks from March 22 – April 05, 2013 at 12:00am EST.
-By entering the giveaway you are accepting the fact that if you win, your contact information will be shared with a P&G PR agency for the purposes of mailing your prize.
-This giveaway may appear on other blogs as part of the #PGmom program, however, to be fair, you can only win once per giveaway.  That means if you win here, you cannot win on another blog involved in the program for this particular giveaway and vice versa.  If your name is chosen more than once, another winner will be selected, just to make sure that as many of you as possible can take advantage of the program.
Good luck!
a Rafflecopter giveaway
I have been compensated for this post , but regardless of compensation or not, the opinions expressed in this post are honest and my own, as are those in all the posts on Bewildered Bug.
Bewildered Bug - ...just trying to navigate through this obstacle course called life...