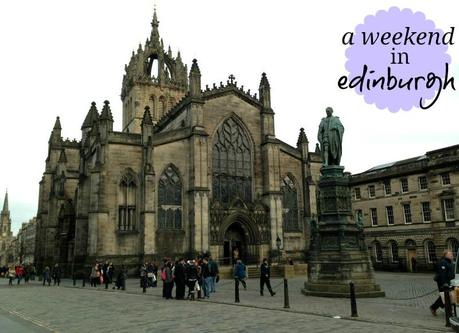 You may have seen me talking on twitter, or posting pictures on instagram, about my weekend away in Edinburgh last weekend, and I've finally got round to sorting the pictures! We (being myself and Rich, and his brother and her husband) 
had an amazing time, and completely fell in love with the city. We managed to get a lot done in two days - visiting the zoo, the castle, meeting their cousin for dinner on Saturday night, looking round the National Gallery, doing an underground tour... and a lot of eating, naturally. 
Lots of people have asked about where we went and what we did, so I will run through some of the best stuff we did and the yummiest places to eat that we found. If you are thinking of going on a wee city break, I would recommend Edinburgh without hesitation!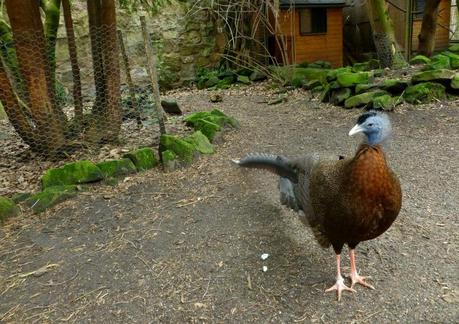 First up, we headed to the zoo. We'd heard about the pandas on the news as they are hoping to breed them this year, so booked in a visit time in advance - well worth doing. Anyway, we loved the zoo and seeing the pandas; hearing about the tricky breeding process (female pandas only come into heat for 2 days a year!) and their hopes for getting more pandas back into the wild. The guide was so informative and made our zoo trip that little bit more interesting! We spent a good 3 hours at the zoo and was great value at about £15 per adult.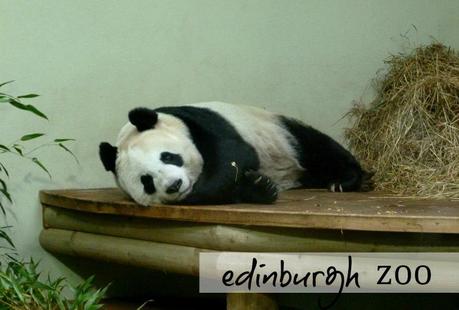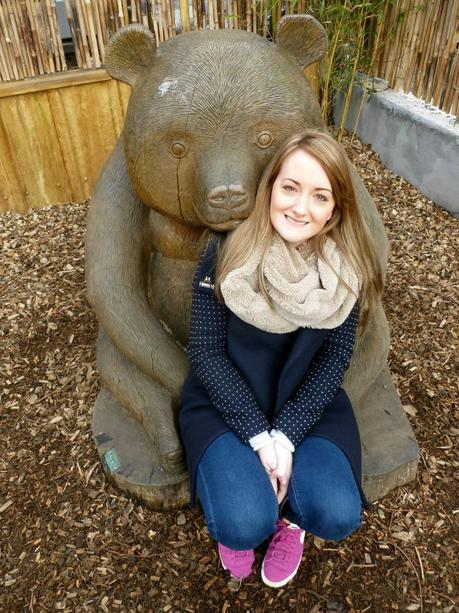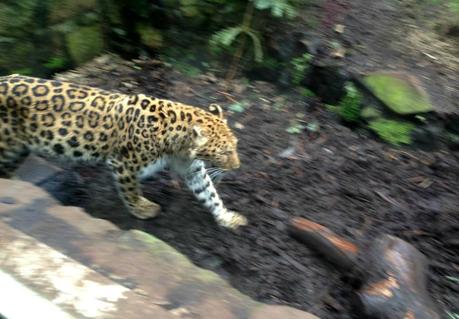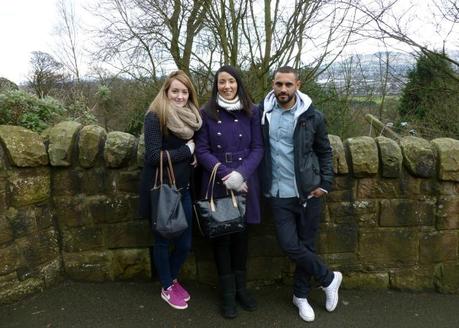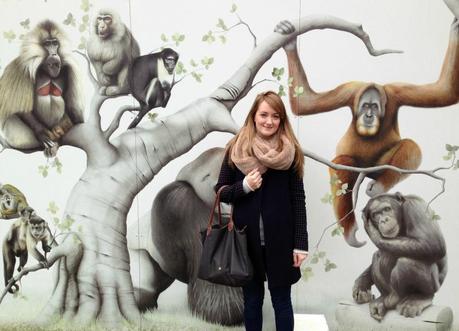 After going to the zoo we went for lunch (see below!) and then headed up to the Castle. Again, we paid for our tickets in advance so managed to avoid queues (it was actually pretty quiet as it was about 3.30pm by this point) and started. We only had about an hour before they started to shut things up which was a shame, but were still able to get a good look round. In is a really interesting place with lots to see (the crown jewels!) and with incredible views over the city. It only took about 10 minutes to walk there from the main shopping street (Princes street) so isn't far from town at all.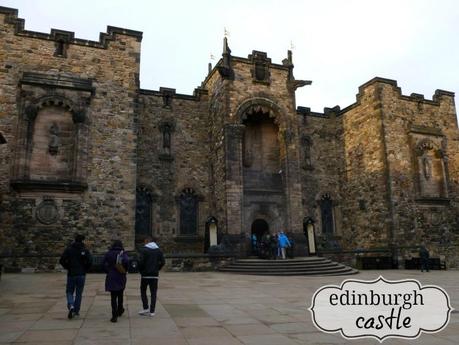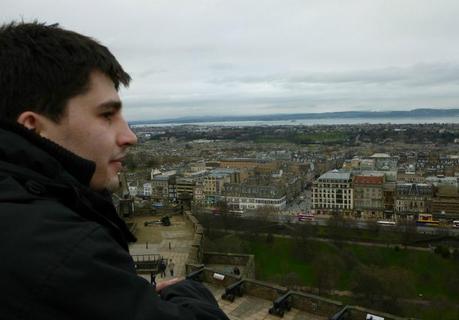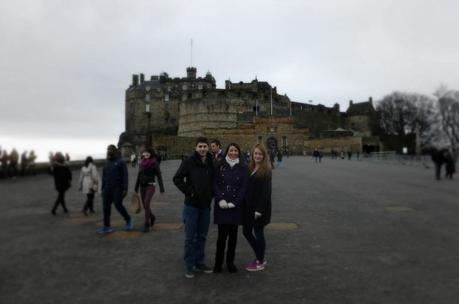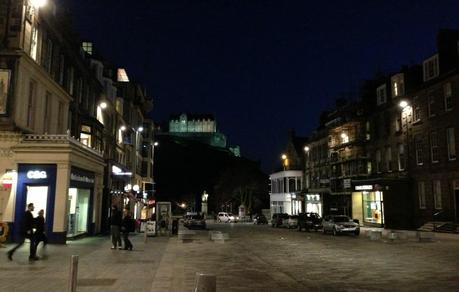 We stayed right on Princes street (in the EasyHotel, a real bargain!) which was the perfect location, looking right out over the Castle and on the main drag of shops. 
One thing we did which I didn't get any snaps of was the underground city tour - The Real Mary King's Close. I would say this was probably the best thing we did all weekend; the tour guides take you underground Edinburgh's Royal Mile to explore the hidden streets and homes of those who worked, lived and died underground. The tour guide was funny and knowledgeable, giving you a real insight into life in the 17th century. If you have an hour of free time and fancy seeing Edinburgh from a different perspective I'd recommend this entirely!Now, on to the food...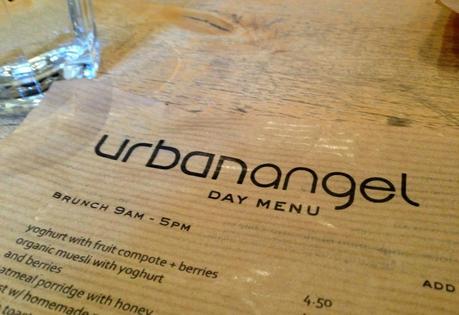 For breakfast, we were recommended Urban Angel, and I'm so glad we went! I had the best eggs benedict with smoked salmon (royale) I've ever had, and Rich had some insanely good french toast with bacon and maple syrup. Breakfast heaven! Their lunch menu also looked delish - if you have a chance you must go.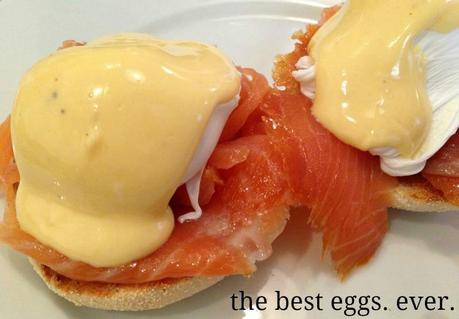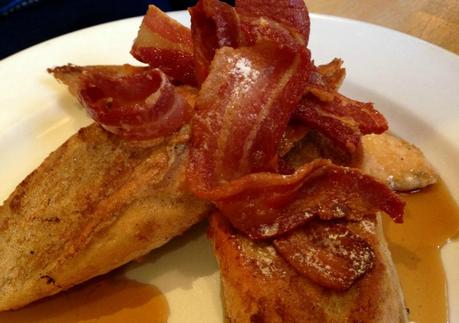 For lunch on the first day (between vising the zoo and the castle) we stopped off at Ecco Vino for a quick beer and bite to eat. Wayne and I shared an antipasti board... my god. It was incredible! Cured meats, cheese, roasted veg, salad, olives, baked chorizo and breads. Take me back!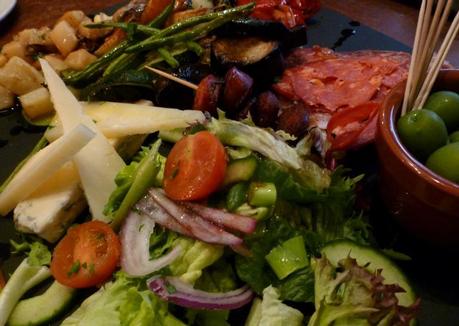 And on the second day we went to another highly recommended lunch spot The Outsider. I had courgette, lemon and rocket linguine (yum), while the others had some pretty amazing burgers (with garlic fries - mmm) and a pigeon breast dish. It has a great atmosphere, super friendly staff and affordable menu. If I lived in Edinburgh I could see myself eating there a lot!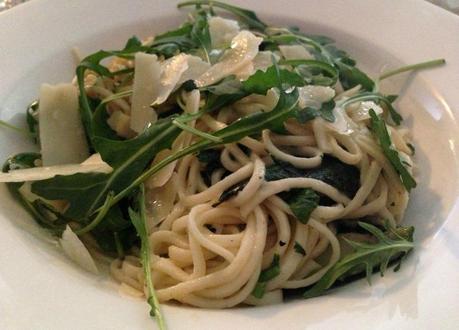 Now for those tea and cake stops. Yes, we did fit them in. The pictures below are from Eteaket; a very cute loose tea specialist tea rooms which had gorgeous cake... and over 30 varieties of teas to choose from! They came in an individual pot with a little timer to make sure it brews for the perfect amount of time. A great concept and gorgeous cakes! I'd also been highly recommended Love Crumbs but we didn't get a chance to visit... next time.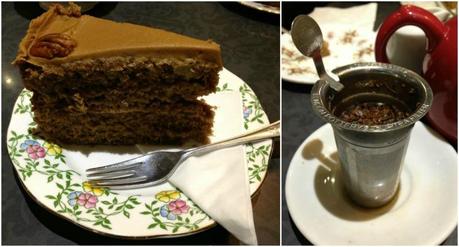 And finally, dinner. On Saturday night we met Rich's cousin and her housemates for dinner at Stac Polly; an authentic Scottish restaurant right by their house. I went for haggis parcels to start, followed by cod with a pea puree and pak choi, and Rich went for a steak. The food was lovely, particularly the cod which was perfectly cooked, if a little overpriced. Nevertheless, it was the perfect location for a proper catch up with good food and drinks. I tried one of their light lagers which was so good - I'm a convert!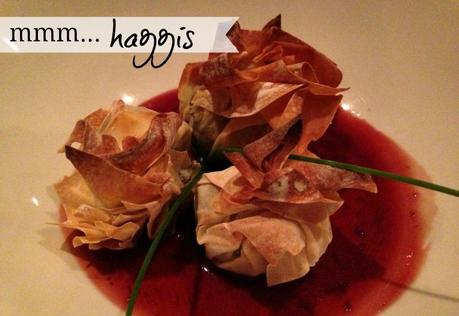 And that brings me to the end of my Edinburgh snaps! Hopefully for those who are thinking of visiting this has provided some good ideas of things to do and places to eat. I really loved the city and could see myself living there! I imagine it's a great place to live as a student, if a little hilly... I had thighs of steel by the end!