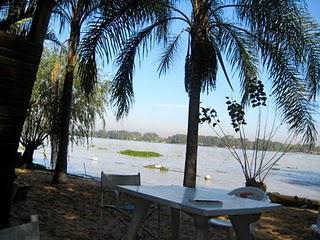 It wasn't until I moved here in 2003 that I visited the
Delta de Tigre
, although I had heard of it often, especially from my vacation landlady Maria Teresa. But I was always too busy dancing tango and recovering from late nights to take a day off to visit nature.
A few months after my permanent arrival (and long before I met Ruben), I was invited to spend a day there on a "date." The man in question was a non-English speaking porteño who happened to be blind, but who managed very well on his own. He explained to me over the phone what train to take, where to meet, and I was glad to finally visit a place out of town I had heard so much about.
It was a day in May, and especially cold. I wore my winter parka. I went to Retiro and caught the train to Maipu, where he and I met as planned, and then we took the lovely
Tren de la Costa
to the end of the line,
Tigre
.
Once there, he asked me a lot of questions as to where to go to buy tickets for an island excursion. My Castellano wasn't very good and I was a bit overwhelmed, but eventually we made it to a
lancha
(motorboat bus) and disembarqued at one of the islands to find a restaurant for lunch.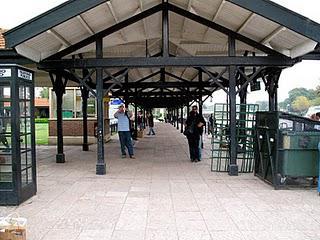 Tren de la Costa

The truth is that I was totally freaked out with fear that he might fall as we walked near the shore, or getting on and off the boat, and I couldn't really remember when he asked me if we had come "right" or "left," or where the passerby had said to find a good restaurant. And it was all in Castellano.
But somehow we found a restaurant and had a lovely lunch outside near the water and made it back to the train for the return trip to Buenos Aires, leaving me just a little worse for wear.
After that, I visited Tigre with Ruben a few times also on day trips to take friends and visitors. One time we took a catamaran and had lunch on board as we toured the canals and rivers. Another time we went with friends to
Bora Bora
on a prepaid excursion which included lunch on a secluded island about 30 minutes from the
Estacion Fluvial.
Although the voyage was short, we seemed a million miles away from the concrete jungle of Buenos Aires.
This month we had planned to camp overnight with Ruben's nine-year-old grandson Franco, but he had a broken arm and a cast, and we were in full swing of the tango tourist season with teaching, and so it was for only a day that we took Franco to Tigre, his first time. Our very favorite place,
La Puerto la Pista
, was too far (90 minutes by motor launch) to go for only a day, so we were like all of the other tourists at the
Estacion Fluvial
choosing a day trip to an island that appealed to us for a package price.
We wanted a place with a beach, about 30 minutes away by motor launch, a restaurant, kayaks, and a play area for kids. Visiting the booths at the station, we were promised everything, but we chose not to buy a package that included a prix fixe lunch. Lucky for us.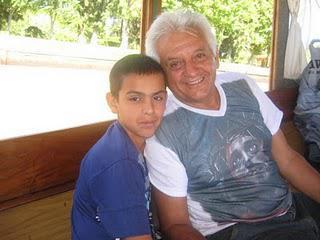 There was no one else at El Ciervo Rojo when we arrived, no beach, and no one had cleaned up the facility since the weekend. Of course we arrived hungry, and to give credit where it's due, the picada we ordered was delicious, if small and expensive. There were no kayaks, and the one canoe was grounded because the water level was very low. So Ruben and Franco fished and swam; I read my book. When it was lunch time, Ruben went to check on the menu and the parrilla, neither passing muster. So we went next door and had a great asado, despite the frowns of the guy at
Ciervo Rojo
.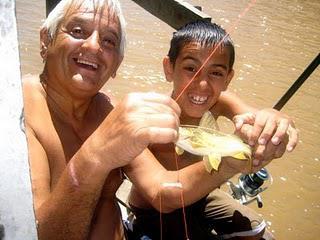 Ruben y Franco--happy fishermen!

All of this is by way of saying that there are many options for a nice day or weekend in Tigre; and it behooves one to check them all out. The booths at the station are there to sell, so buyer beware.
I completely understand the appeal of this natural green Garden of Eden with its canals, rivers, islands and lagoons. And why the wealthy porteños built mansions there last century for an escape from the hot city, even if they were only occupied for a couple of months during the summer.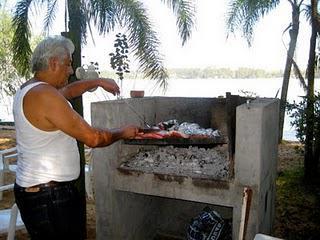 Now there is renewed interest in Tigre as a weekend/summer vacation destination. It is truly a place away--no roads, no internet, no cable TV (or at least very little). It's best to stay overnight and take your own provisions to make your own asado, to truly appreciate the beauty and far-from-it-all escape that is Tigre.
Or ask us and we'll take you.
Ruben the Survivor Man
makes it happen for you!  :)