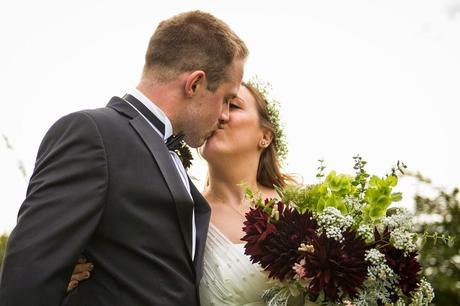 Photo courtesy of MartinCartwright
A dark, almost mahogany Rip City dahlia drew excited squeaks of delight from a passer by at
Stirchley Community Market
, one sunny summer evening.Chatting with the emitter of said squeaks, it transpired she was Kate, and bride-to-be of my market neighbor Andrew – a.k.a.purveyor of fine culinary delights,
'Urban Herbs'.
Kate had previously fallen so deeply, darkly in love with these velvety dahlias, that she had already chosen the dusty antique color of her bridesmaid dresses specifically to tone with them – hence her squeaks on spotting my Rip Cities.
Talking serious flowers a few weeks later at the Tuckshop, she described the wild and natural bunches she had in mind to decorate her informal country wedding at the beautiful
Wethele Manor,
near Leamington Spa, in Warwickshire – a perfect fit for the homegrown, 'just picked' style of my flowers. I love it when 'wild' is part of a bride's vocabularybecause then I know I have found my perfect customer.And Kate was indeed a pleasure to work with as, apart from her obsession with dark dahlias, she was exceedingly laid back and open to the many ideas we swapped via our shared
Pinterest
board.
Pinterest is surely a tool designed for florists!It's a perfect way to create a scrapbook of ideas, to get feedback from the bride-to-be and is a bit like climbing into someone else's imagination: a brilliant tool to find out what feel, which style and colours float the bridal boat.
With dahlias and budget decided upon, we opted to double up the bridesmaid posies as reception table flowers and designed them to be the perfect size to pop into trimmed jam jars just before the meal.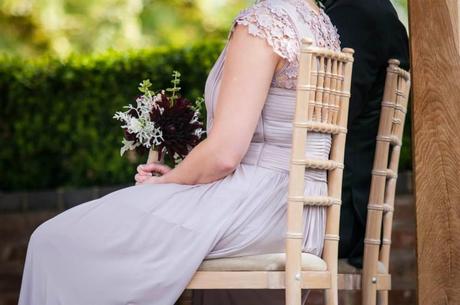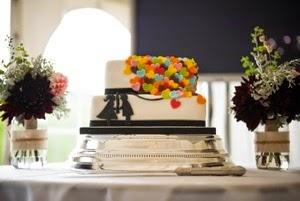 Photos courtesy of Martin Cartwright
We also chose to keep the table flowers simple – floating dahlia heads in bright, almost Indian colours, with candles in glass bowls.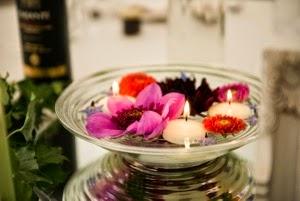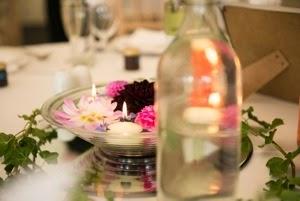 Photos courtesy of MartinCartwright
As a tribute to Andrew's day job, I wanted to work herbs into the flowers, so we had the vibrant blue of borage in the table bowls, scented lemon balm foliage in the bride and bridesmaid posies, and Kate supplied me with a couple of deliciously scented blackcurrant sage plants from which to pluck the diminutive shocking pink flowers to complement the dark dahlia buttonhole for the groom.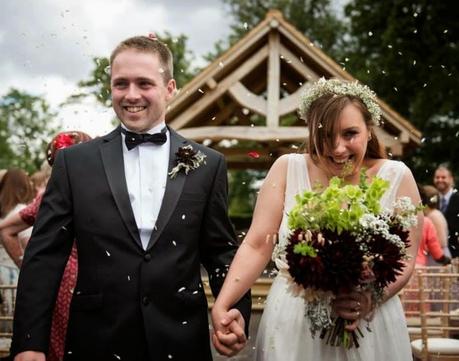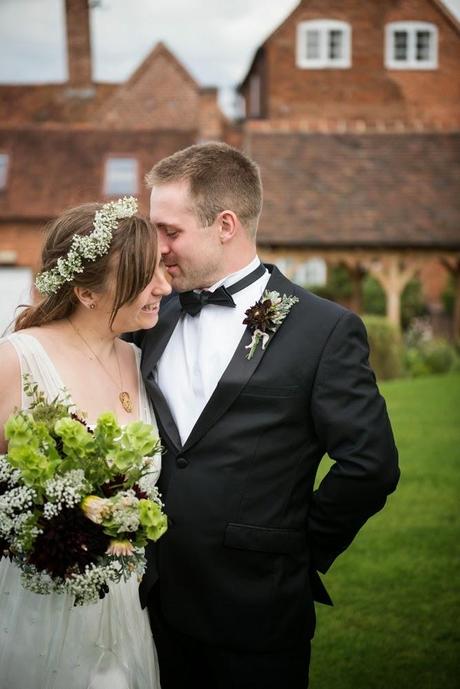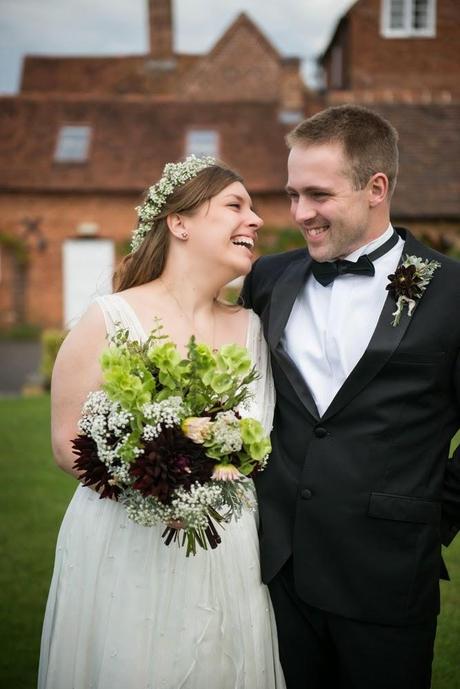 Photos courtesy of Martin Cartwright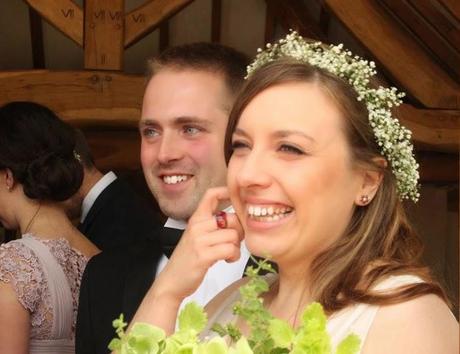 Photo courtesy of Kate and Andrew
Kate had been to see me when I was at the height of flower crown frenzy, just before my stall at
CocoMad
, a local music festival.  She was infected by my enthusiasm and was easily persuaded that a floral tiara was exactly what she needed! Like me on my own wedding day, she wanted something light and small.  But whilst I ended up with a mid-size shrubbery, pruned to size with kitchen scissors before the ceremony, Kate got a simple gypsophila circlet with a narrow satin ribbon tie.  With her unfussy, elegant dress, it completed her look to perfection.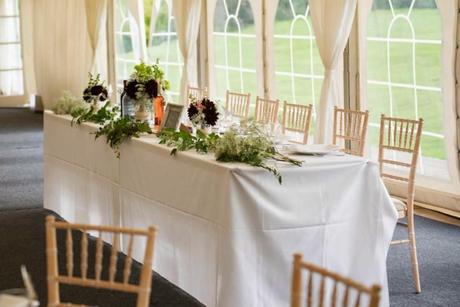 Photo courtesy of Martin Cartwright
When I arrived at the Wethele Manor to dress the tables, I loved the famous couples theme which Kate and Andrew had chosen to identify the tables for their guests. I think Gomez and Morticia would approve of the gothic blackberries and ivy which garlanded the top table for the bridal party, and those dark dahlias, of course!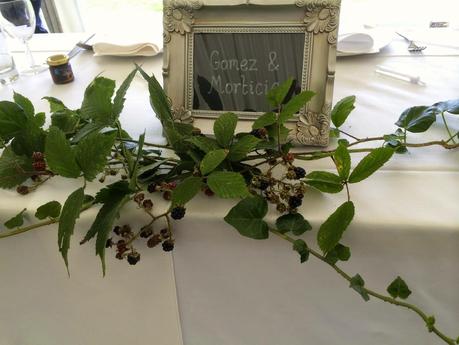 photo by Tuckshop Flowers
 The day was captured beautifully by friends of the bride and groom and  by photographer, Martin Cartwright  -  I'm delighted to share some of their lovely shots, so thanks go to them, and to Kate and Andy for being a joy to work with throughout the whole proceedings.  May you flourish and prosper together, along with your
Urban Herbs
!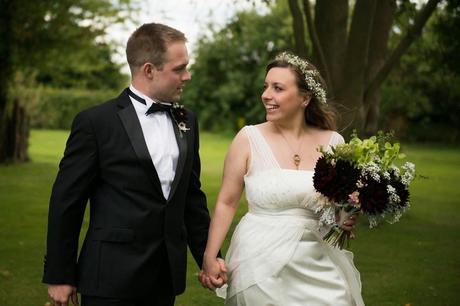 Photo courtesy of Martin Cartwright