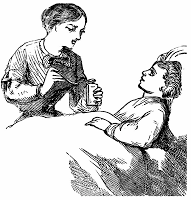 Outside in all weathers, the London Walks guides know a thing or two about battling the common cold.
Our series continues with Richard IV…
Any suggestions? As London Walkers how do you combat the common cold? We want to hear your remedies! Send 'em in to the usual address.
Yesterday, LW's Kim recommended SherlockHolmes on TV as a great recuperation aid to a bout of the flu. Today, our resident Sherlock Holmes expert Richard IV shares his favorite cold remedy…
Haven't an actual remedy for the flu, but find Twining's Lemon & Ginger tea keeps the tubes clear and is great if the voice is feeling a bit weak! (Unlike Oliver's earlier Sanderson's post, mine CAN be taken by the faint-hearted...)
Richard IV


Richard IV is an actor, swordsman and an expert on early detective fiction.  Here's a little taster from his Sherlock Holmes walk. Velvety voiced and perfect timing, he makes for some awfully handsome listening! No surprise to learn that he's narrated numerous documentaries and audiobooks.




A London Walk costs £9 – £7 concession. To join a London Walk, simply meet your guide at the designated tube station at the appointed time. Details of all London Walks can be found at

www.walks.com

.