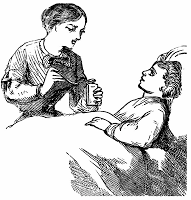 Outside in all weathers, the London Walks guides know a thing or two about battling the common cold.
Our brief series continues with Kim…
Any suggestions? As London Walkers how do you combat the common cold? We want to hear your remedies! Send 'em in to the usual address.
Kim writes… If it's a cold, you keep going - tissues, Hall's Soothers and paracetamol get me through.   Did have one lady at Christmas who was convinced that there were eucalyptus trees in St James' Park as she could smell them. Didn't have the heart to tell her it was me crunching away on the cough sweets.
If it's flu - and it rarely is the real thing - then you are stuffed (see also our earlier post on Man Flu).  You are laid up and can't move and it's going to take about three weeks to get back on your feet.  Happened to me a few years ago - again at Christmas so there's a pattern here – and I slept downstairs for a week as my coughing kept everyone else awake.  Couldnt do anything but discovered Alibi on TV. 24 hour Agatha Christie, Sherlock Holmes and Morse got me through - highly recommended viewing.
(If you are laid up while reading this, the ITV website currently has a number of Sherlock episodes available on ITV Player. You can find them HERE.)
Kim

Kim, who has worked in the House of Commons and the European Parliament, is another 24-carat Blue Badge Guide: she won the London Tourist Board's Guide of the Year award in 2001.
A London Walk costs £9 – £7 concession. To join a London Walk, simply meet your guide at the designated tube station at the appointed time. Details of all London Walks can be found at www.walks.com.