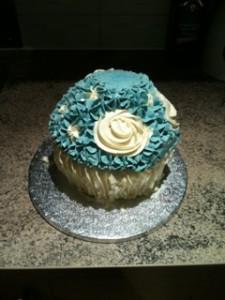 Why is it that as soon as you mutter the word diet, a giant cupcake appears by magic?
I have always had a mini obsession with the bite size portions of happiness also known as the cup cake. After all these small but perfectly formed pieces of heaven are what make those hours in the gym worthwhile. Now we all know that great things come in small packages but when it comes to cake I'm afraid I have to disagree.  The cupcake craze continues to sweep the globe and what could be better that those miniature bites of butter cream covered sponge decorated to perfection? A GIANT CUPCAKE!
Giant cupcakes make exciting gifts for almost any occasion, birthdays, christenings, weddings or even a thank you gift. If the thought of trying to bake your own giant cupcake fills you with dread, you can find them at Cupcake Crumbs.