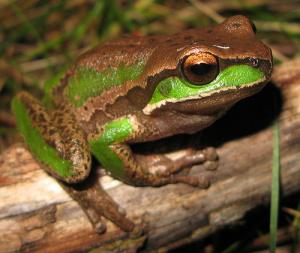 Preserved specimens at museums always draw a crowd due to the extraordinary rarity to see whole animals preserved in liquid. Not only are they are crowd pleasers; they allow museums to catalog species we know exist on this planet.  An exciting new discovery by graduate student Tina Cheng and her team will put museum specimens to another great use.
The main focus of this study was the fungus Batrachochytrium dendrobatidis (Bd) and it's spread across Mexico and Central America. Bd causes chytridiomycosis, a disease that is currently devastating amphibian populations with approximately 40% of total species affected by it. The disease changes both morphology and behavior and eventually leads to death.
Museum specimens are normally preserved in formaldehyde, which interacts with proteins found in DNA. This allows the fixation of body tissues to occur. Ms. Cheng and her team were able to use old specimens from the Museum of Vertebrate Zoology in Berkeley, Calif, to establish where and when the deadly fungus Bd first appeared.
Swabs were taken from frog and salamander specimens (collected in the 1960s) that inhabited the mountains of southern Mexico, western Guatemala and the cloud forests of Monteverde, Costa Rica. Interestingly, the swabs showed the presence of Bd corresponding with the earliest reports of Bd related deaths of amphibians in the wild.
Ms. Cheng and her team were effectively able to take a 'freeze frame' of time to show the spread if the disease. It appears Bd spread in a southerly direction across Central America in the 1970s – 1980s.
Using museum specimens in molecular research is a massive step forward in research science, as it was previously believed formaldehyde would denature the proteins needed for testing in DNA. Encouragingly, this study shows tiny stretches of DNA can survive the preserving process, leaving the opportunity for additional research to be conducted using museum specimens. As scientists are currently in the process of establishing how Bd spreads, how to stop it and how to treat infected individuals, this new research method could not have come at a more important time.