I don't traditionally cross the ditch to feature weddings from our Ozzie friends but today's wedding by Leanne Jade Photography had me head over heels the moment I got laid eyes on it! I knew it was perfect for Kiwi brides looking for modern alternative inspiration, and clearly this chic creative Brisbane wedding has it by the bucket load! From the super cool venues to the couples elegant but edgy style, it's not hard to see why I just couldn't resist getting this one up on the blog!
A huge thank you to cool cats Emily & Joseph + photography guru Leanne Dixon for sharing this unique wedding with us! We love it a lot. xox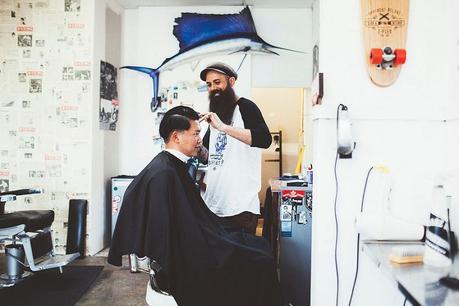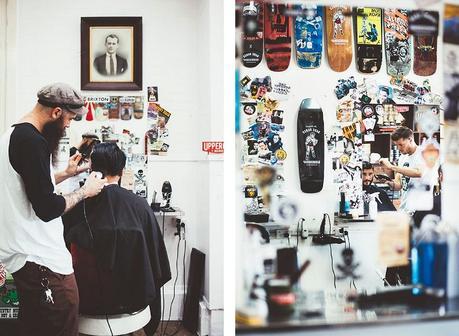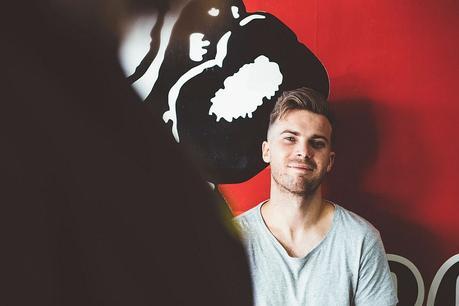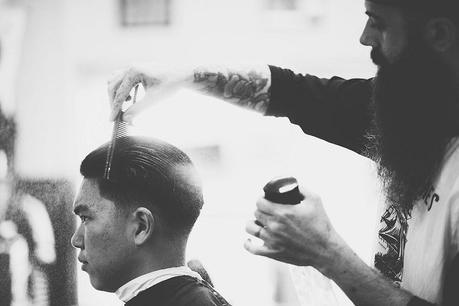 Who Emily & Joseph Thiang
Where Brisbane, Australia
Guests 60 guests at dinner and reception. 100 at the after party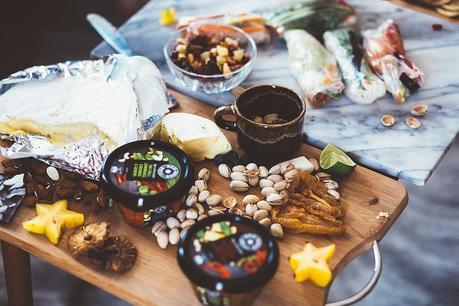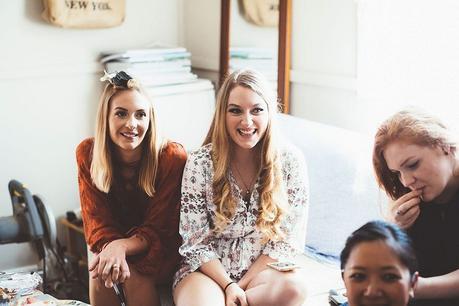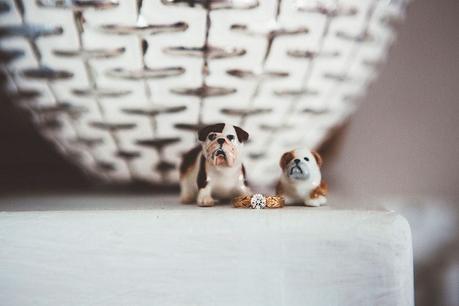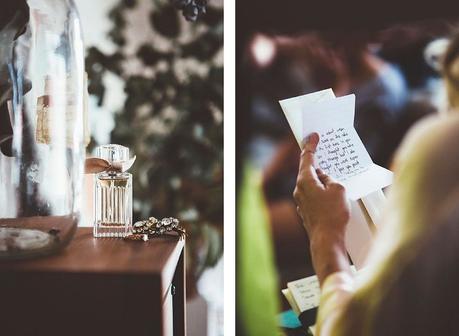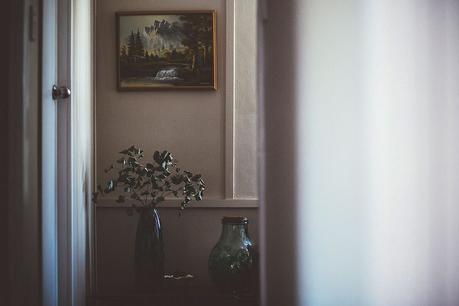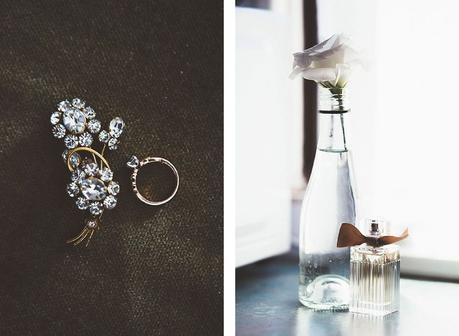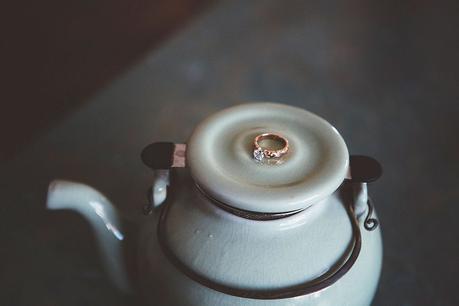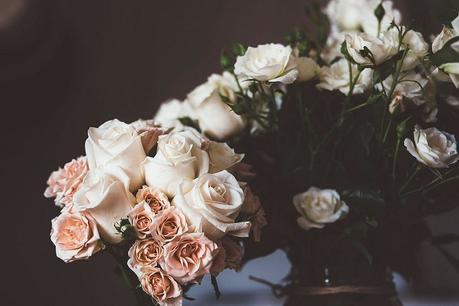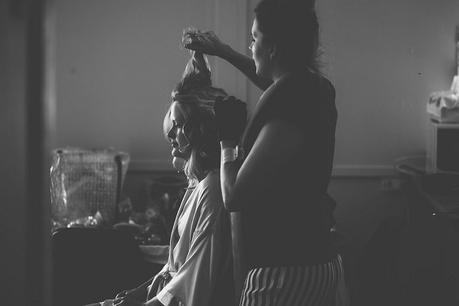 Joseph custom made a vinyl with some songs he wrote, some old, some new. One of the songs had the lyrics "will you marry me?" while this played he got on one knee and proposed.
Classic, elegant with dark forest greens everywhere. I just wanted it to be simple and let the venues really set the scene.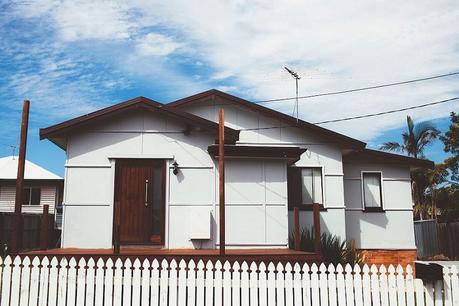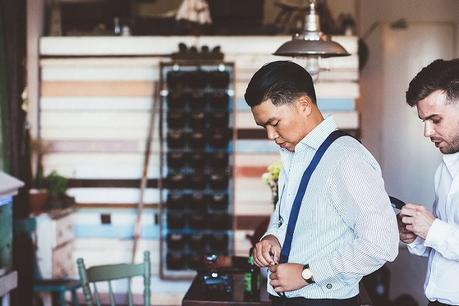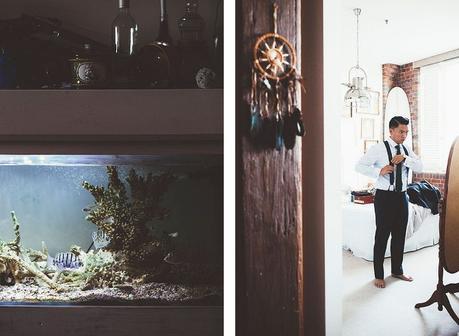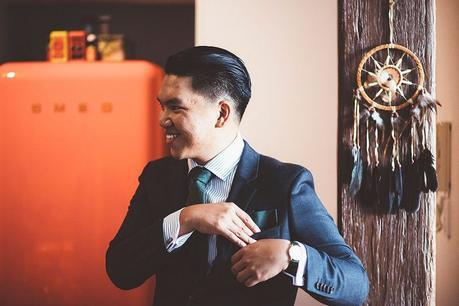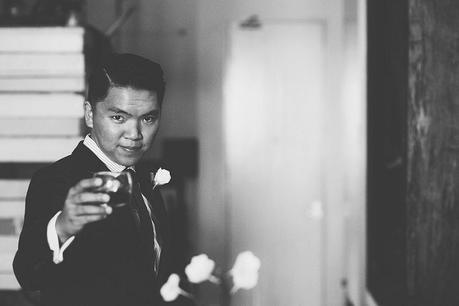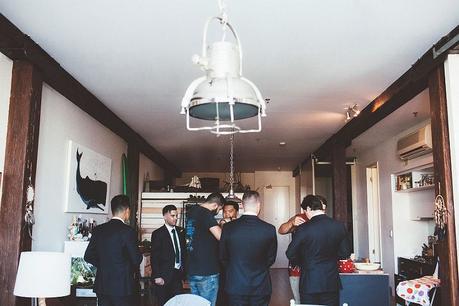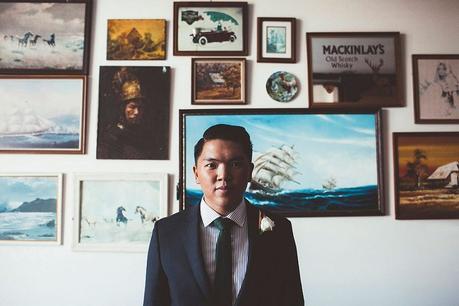 I tried to DIY most of the wedding from wedding invitations, making the arbour and filling it with greenery, sewed up napkins and table runners. The only thing I didn't DIY was the bridal bouquet and I am sure glad i got a professional to do it otherwise those roses would have wilted in an instant in the Aussie heat.
The venues were already very beautiful so there were minimal decorations. Forest green and calico fabrics were used as table runners, napkins. Natural greenery in deep green colours was used to decorate the arbour and table settings. I made my own candles.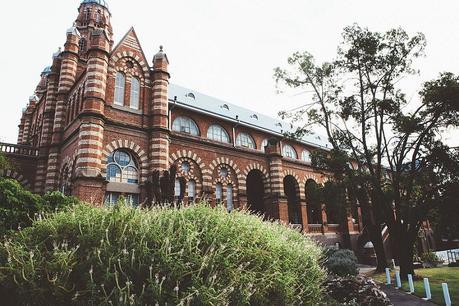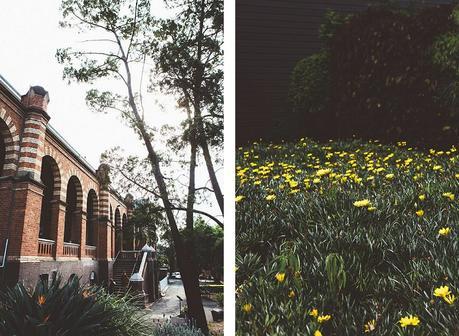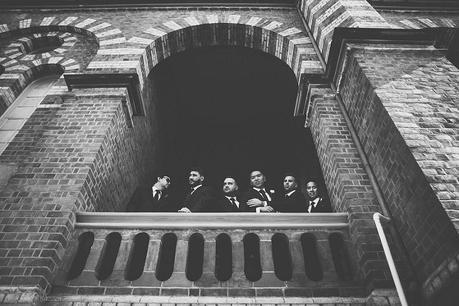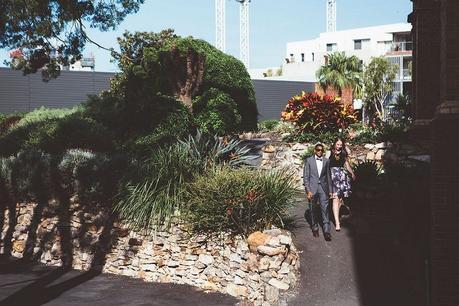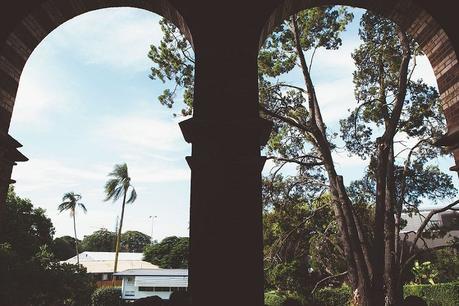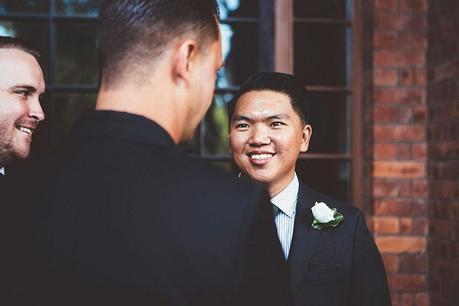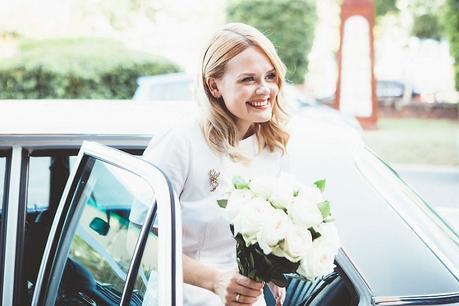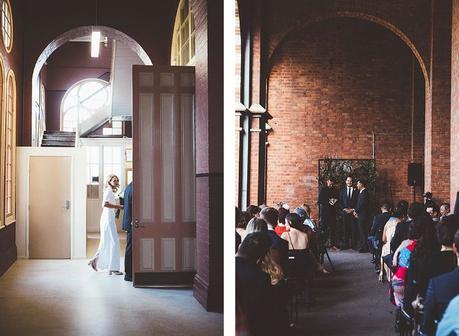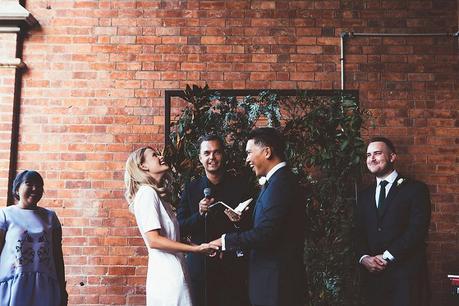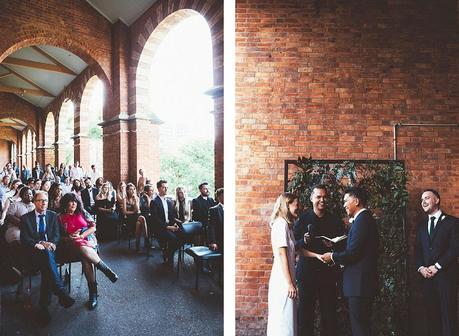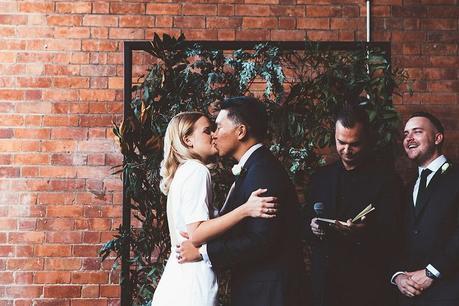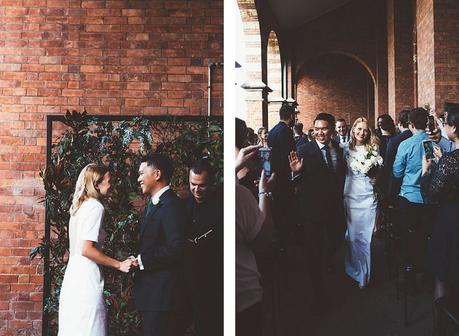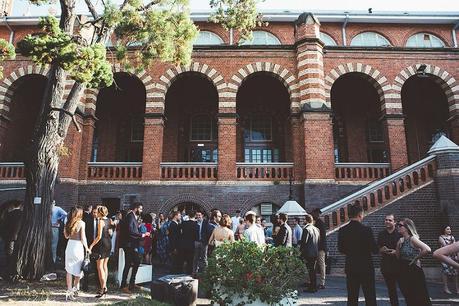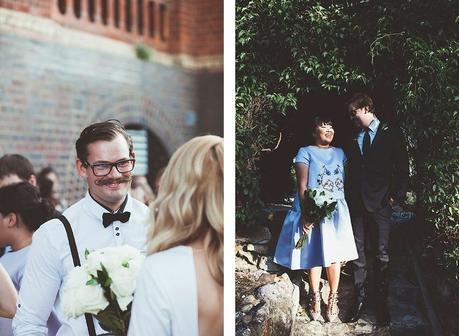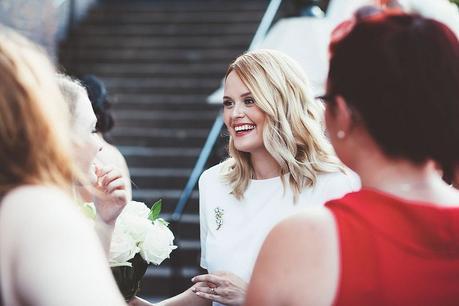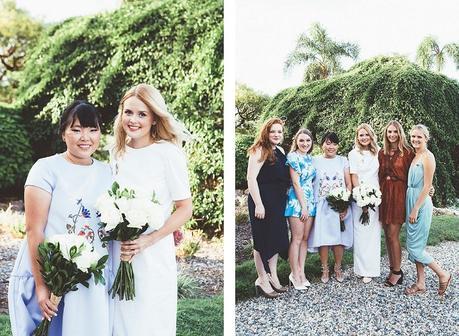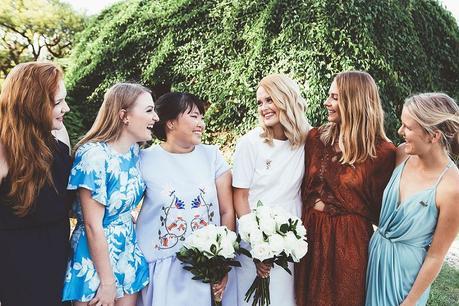 My dress experience was...
When I first started looking for a dress I didn't want any lace. This made the search quite difficult so I ended up finding an image of a dress I liked and asked a local dress maker to sew it for me. I bought a lovely mid weight cotton fabric that had a tiny bit of sheen to it that worked really well with the structured design. It took a couple of months for the dress to get made and I went in for fittings to make sure the dress would fit perfectly.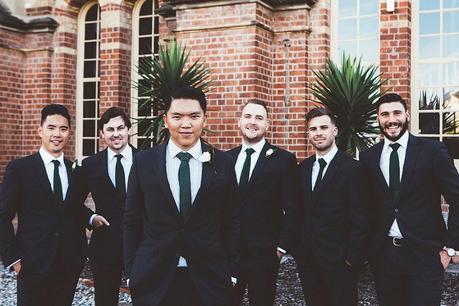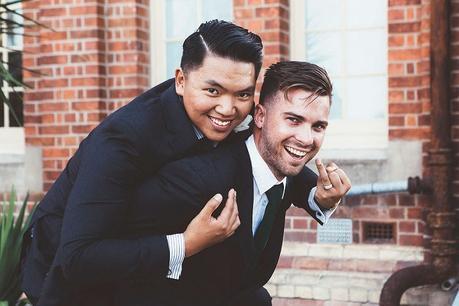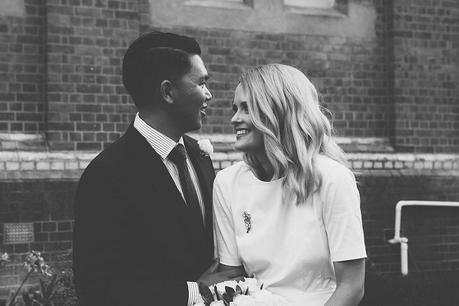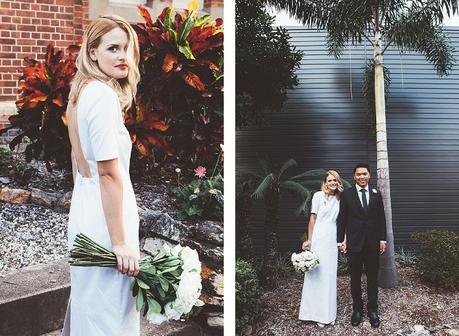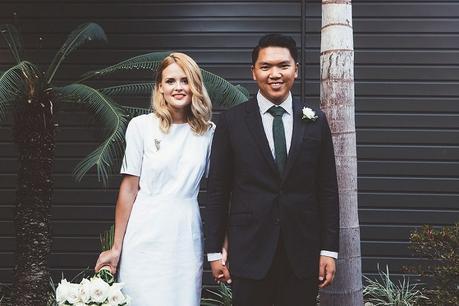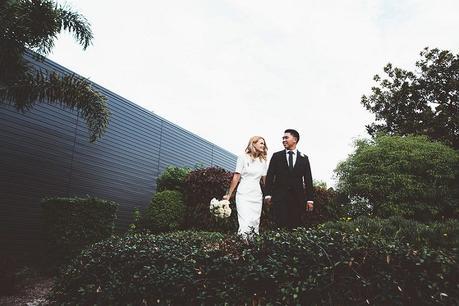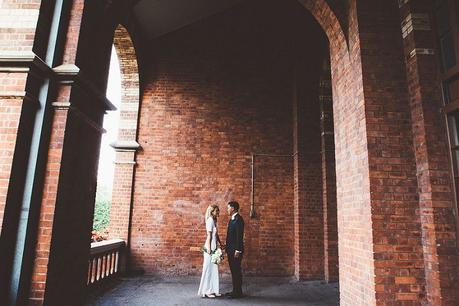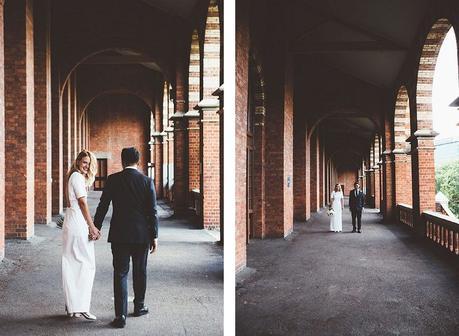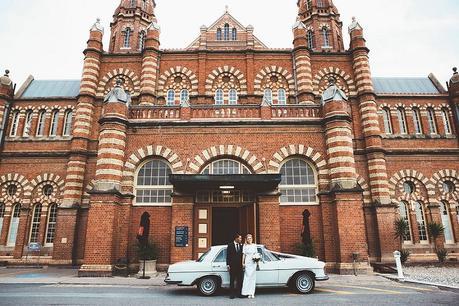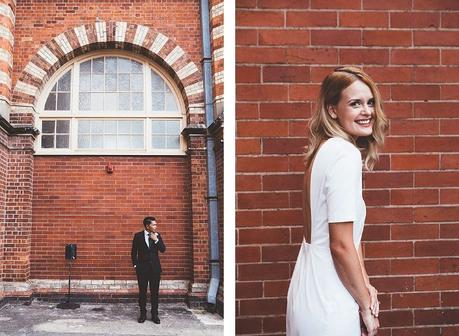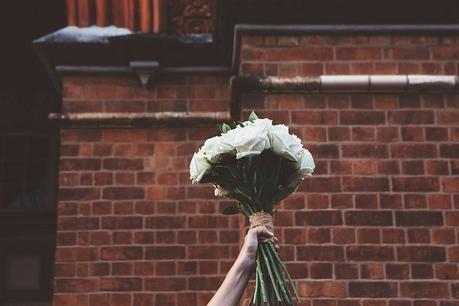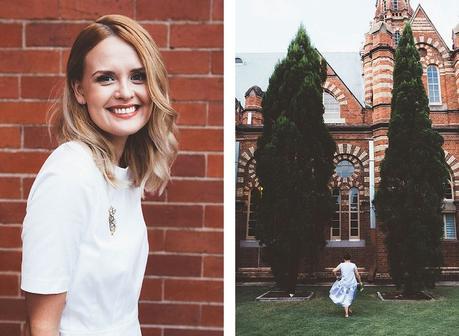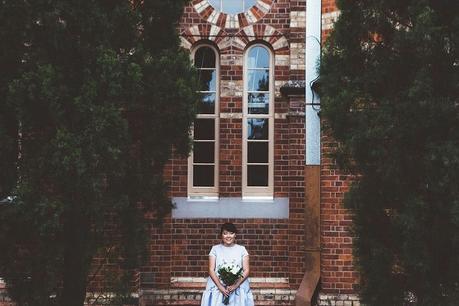 An unexpected moment was...
When Joseph and his friend brewed the beer for our wedding. A month before the wedding we tried the first ale and it tasted amazing! Unfortunately the week before our day, Brisbane was hit with some crazy hot and humid weather and the beer turned foul. Like disgusting. Fortunately we had two backup kegs that were fine and everyone was happy with the alcoholic Ginger Beer! During the reception, Joseph's Dad looked for every moment to cheers everyone. But in Chinese culture, they say "YUMMM SIIIING!" instead of cheers. But the tradition is to see how long you can hold the "YUUUUUUUUM". By the end of the night, all of our friends were shouting out for "Yum Sings". (Which means "Drink to Victory")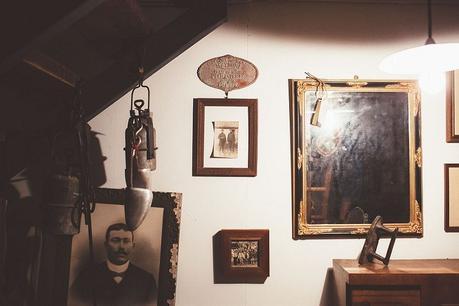 One of our favourite moments was...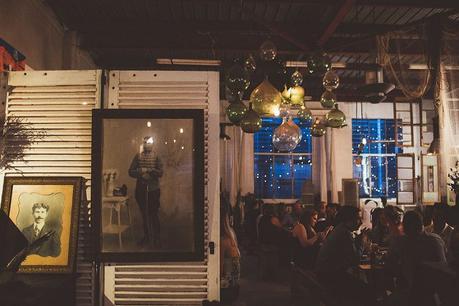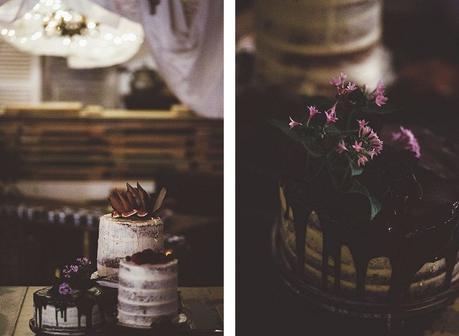 What does marriage mean to you?...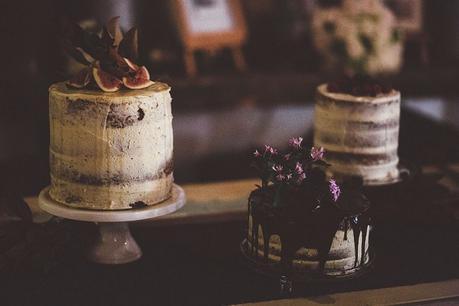 Our advice to engaged couples...
At the very end when we said goodbye to everyone and jumped in a vintage Porsche. The day was extremely humid and by that time of night it started to pour with rain. The car was quite old and had trouble starting, changing gears and the windows didn't wind completely up. It felt like a very unglamorous exit but we loved every second.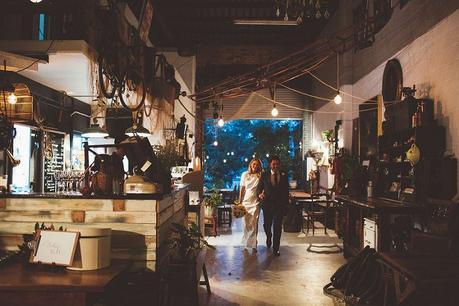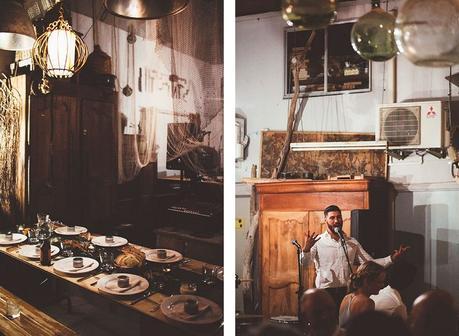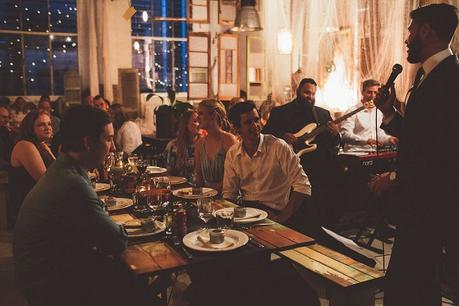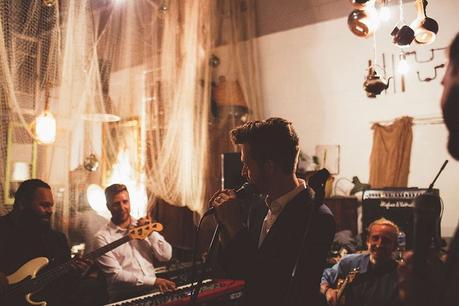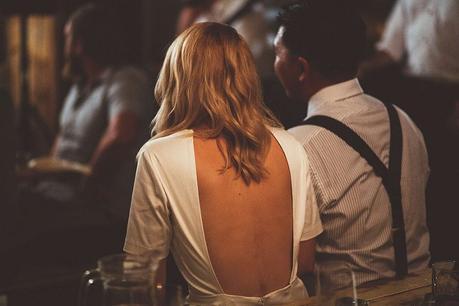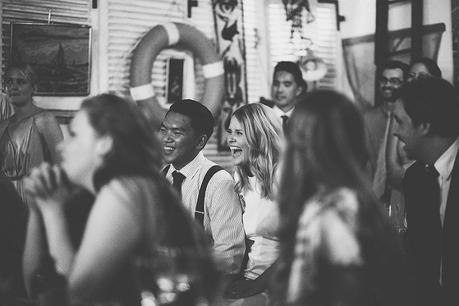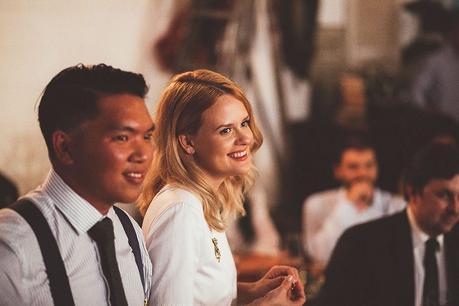 Committing to someone for life and loving their perfections and imperfections.
If you don't have a wedding planner get a reliable friend to be the go to person on the day. Give their contact details to all the vendors involved on the day. And of course - don't take it too seriously. Enjoy the day even if things go wrong!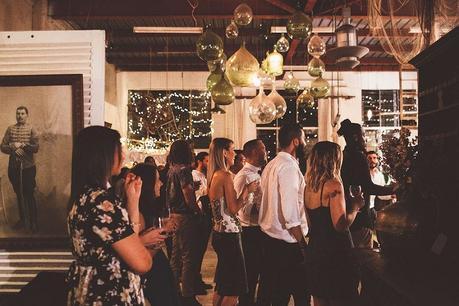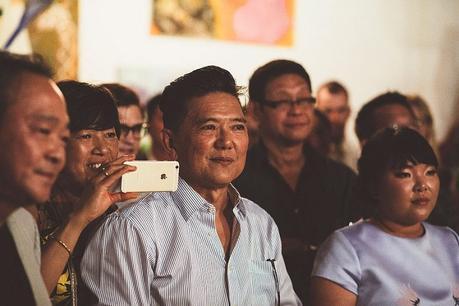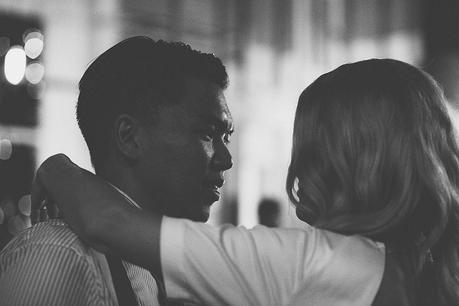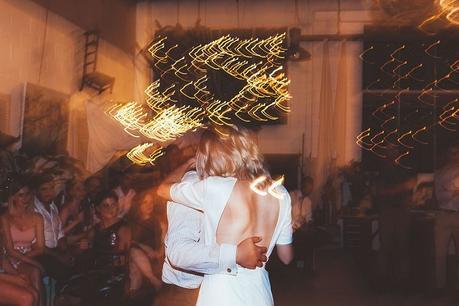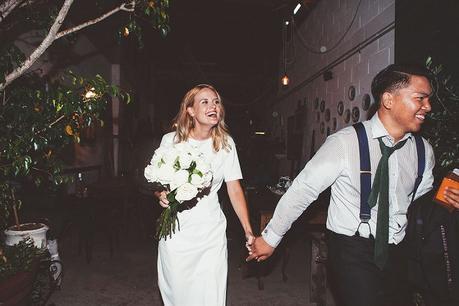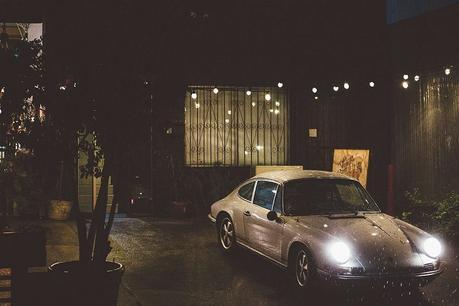 CREDITS
Photographer Leanne Dixon of Leanne Jade Photography
Flowers Best Florist Espresso Bar
Ceremony venue The Old Museum (We met at The Old Museum so we decided this would be perfect for the wedding ceremony)
Reception venue Vieille Branche
Catering + Cakes Gramercy Coffee  (cakes were Carrot cake, Chocolate cake + Lemon)
Drinks Brewed by the Groom + friend
Stationery + Signage Created by Emily Thiang, printed at Hair + Makeup Erin Gallienne
Celebrant James Turner
Brides dress Made by Gwenda from Sew n Design
Brides shoes Vintage
Brides accessories Grandmothers vintage brooch (given to the bride as a child)
Bridesmaid dress Vivetta
Bridesmaid shoes Valentino
Grooms suit, suspenders, tie + cufflinks T.M.Lewin
Grooms socks Happy Socks 
Grooms watch Gold Citizen with Vintage Green Leather Strap (Joseph had a much loved watch that he wore so much the band had fell apart, I hunted down a dark green watch band to match Joseph's tie and attached the band to the watch face and gave it to him on the wedding morning.)
Groomsmen suits T.M.Lewin
Brides rings MJS Jewellery 
Grooms wedding band Cort Jewellery
Transport Friends vintage Mercedes
Music Aisle song was Case of You by James Blake. First dance was Embrace Me by Ella Fitzgerald. These were performed live on the day by a band. We had a live band for the whole reception. They were all of our friends and brought such an authentic vibe to the night.