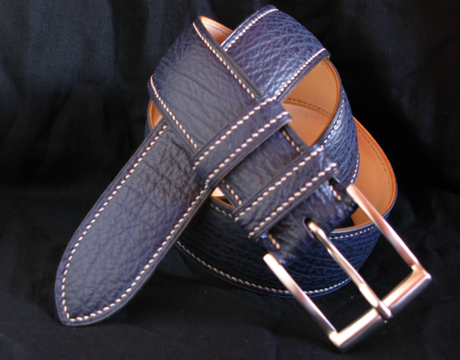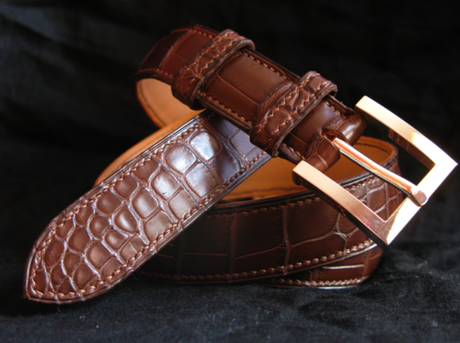 I've been searching for someone to make me a nice, handcrafted leather belt, and in my quest, I came across Bertrand Montillet - a highly talented Parisian who learned his trade through technical school and then perfected it while working for Hermes. Monsieur Montillet makes every kind of accessory you can think of. Bags and cases for musical instruments and eyewear, card holders and wallets, and, of course, belts. These can be made from your regular run of fine calfskins, or something from the exotic side of the market, such as crocodiles, ostriches, and stingrays. Since everything is custom, the client's imagination is the only limit. 
I came by Montillet's work through this thread at StyleForum, where member T4phage reported on a blue sharkskin belt he commissioned from Montillet. The Parisian craftsman was kind enough to document how he made the piece through a series of photos.
In the first image, we see the tools and materials he's selected for his work. Once these have been laid out on his workbench, he cuts the skins into their necessary shapes, and then backs the exterior leather with another piece of thicker leather. Montillet notes that all exotic skins have to be reinforced in some way. Well made belts are reinforced with high-grade leather, while low-quality ones can be reinforced with materials as cheap as plastic.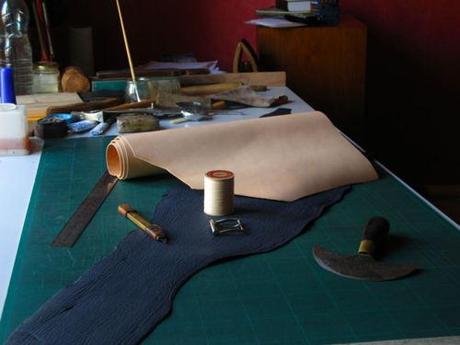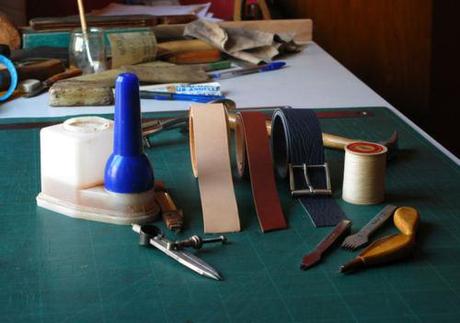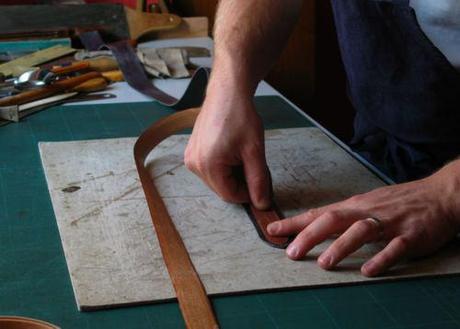 After the exterior leather has been reinforced, he attaches the backing leather, buckle, and keeper loop. The edges are then scored and punched, and the threads are waxed in order to give them a level of resilience. This prepares the painstaking process of saddle stitching the belt by hand from end to end. As many readers here doubtlessly already know, a saddle stitch is the process of passing two needles through the same hole, with an awl first piercing that hole and guiding one needle through. This is the same technique used in handwelting bespoke shoes or sewing together handmade luggage, and you can see it demonstrated in this Hermes promotional video. 
Some say this handsewn technique creates a stronger, yet more flexible, stitch than anything a machine can achieve. Whether that's true (or even necessary for most goods), will always be up for debate among enthusiasts, but connoisseurs will simply value it for its artisanal quality.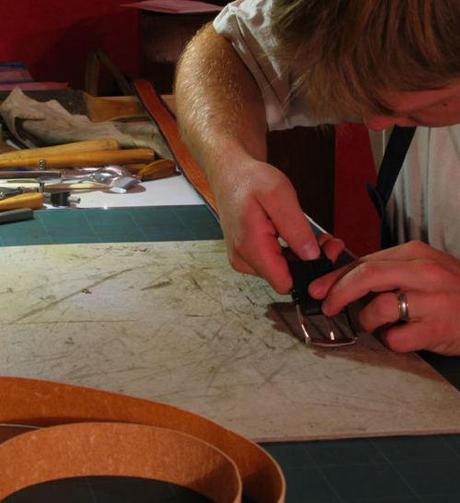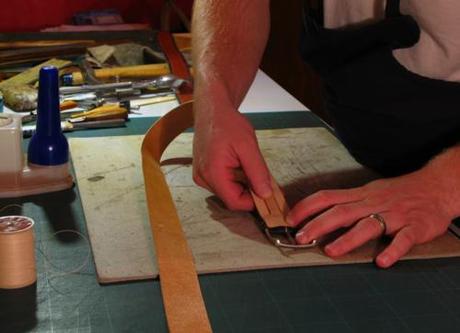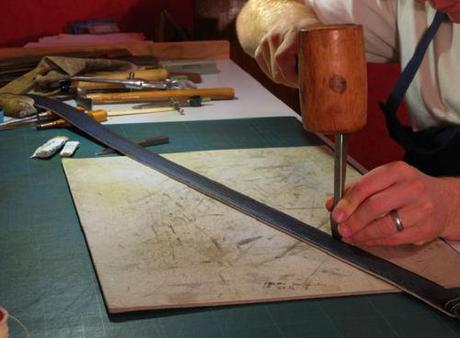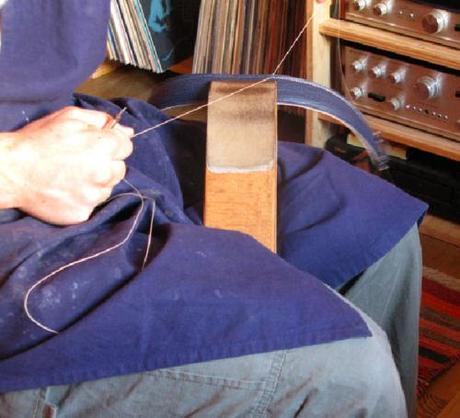 Once the belt has been stitched, Montillet completes his work by smoothing the edges and putting on whatever finishing touches may be necessary. The entire process of making a belt by hand takes between six and ten hours, depending on certain details, such as the fineness of the hand stitching that is sought. You can see the production process more fully documented here.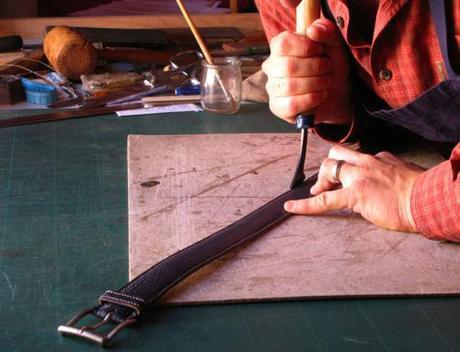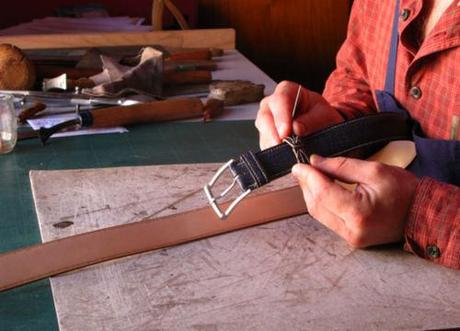 In my conversation with him, I asked Monsieur Montillet where he thought the best leathers come from today. He answered by saying there's no such thing. What is "best" is determined by the job at hand. The leather required for a fine pair of shoes, for example, may not be what's optimal for a belt or a motorcycle seat. Leather shoes need some resilience against moisture, as well as be very malleable. A belt may not need such requirements, and a motorcycle seat may need something else entirely, such as good mechanical strength. Each of these qualities will be determined by how the animal was raised and its skinned tanned. Either way, leather can be judge on its appearance, strength, consistency, and how it ages. Good skins will become more beautiful over time, while cheap leathers will age poorly. Since the construction of leather goods depends on many technical decisions, and the leather will show its quality mostly over time, it's important to have a skilled craftsman you can trust.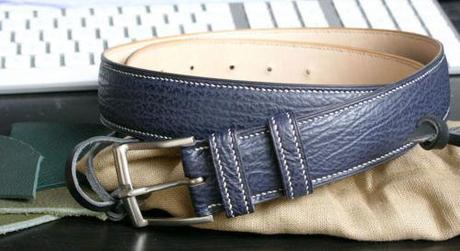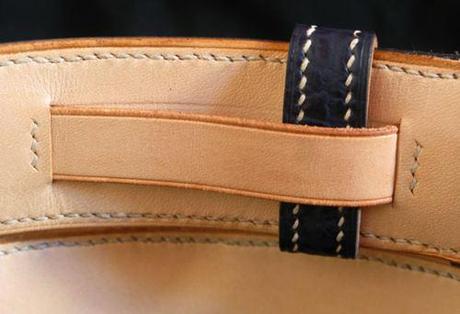 I've been looking for a craftsman to make my belt for a few months now, and it's difficult not to keep coming back to Bertrand Montillet. His work looks absolutely incredible, and they feature an appreciable level of sophistication and precision. Some pieces are folded over like origami, while others are hand stitched in a way that looks both organically human and mechanically precise. Take a look below for yourself.
If you'd like to commission something, contact him through his website, but take note that he only speaks French.