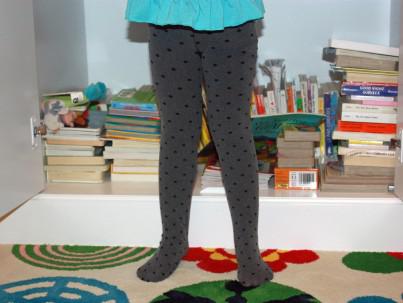 Mama: "what's that?"  My daughter was referring to the tights I was putting on while getting dressed to deliver a speech.  I said: "tights".  She looked at me as if the word didn't register.  "Pantyhose", I said.   "I want to wear pantyhose."
Despite being extremely pressed for time having been at the zoo all morning, racing to volunteer at my son's class and then rushing to pick up my son before going to our music class all before the event, I obliged.  We went to her room and I pulled out a pair of tights I was saving for when the weather was cooler; charcoal gray with black polka dots.
"Put them on, put them on!" she said.  I pulled on the tights and she paraded around my bedroom as I finished getting ready, a priceless moment.
I felt proud of myself as for just that day; I had mastered chatting with and distracting her, as I got ready.  It is a fine balance for if I am stressed, it shows and then the getting ready takes twice as long.
As I drove to the event, I savored the sweetness.  As the night wore on, it struck me just how influential I am to her at the moment; a constant reminder that I need to be on my best behavior. The realization made me a bit fearful for I am not perfect and heaven forbid I teach her a bad habit.  I am not certain why this came up now when I have already been through this stage with our son. (Perhaps because he stopped wearing my shoes and wanting his nails polished a lot earlier!)  The realization stayed with me as I spoke to an audience of  60.
After the event, several of us involved stayed to have dinner.  One of the other moms commented on how she would go home not having seen her children since she dropped them off at school this morning and would sit and watch them sleep… Yet another struggle we all as parents have: balance.
I remember when we first became parents how surreal it all seemed; like a movie where we were pretending.  Thinking we were too "young" to have kids as we were still learning ourselves.  As time went on this feeling mostly went away with only an occasional re-appearance.
But the night of the pantyhose, the feeling resurfaced; am I really mature enough to be her role model?  Knowing on one hand of course I am but continuing to question.
"Penny-Toes"
The next morning the first words out of her mouth were: "I want to wear my "Penny Toes" Repeated over and over to the point of tears as it didn't occur to me what she was saying  "Show me, what you would like, I said."  She took me in her room and pulled out the tights.  Wear her "Penny Toes" she did.  My constant reminder that her eyes are all on me and that she is my greatest audience.
Your Turn
Have you had this experience  of having your children be your "Constant Reminders"?